Overall GPU market
Jon Peddie Research has published its latest report on the state of play in the GPU market. For the market as a whole it was a good quarter, with GPU shipments up 9 per cent. However year-to-year comparisons show total GPU shipments for desktops fell by 13 per cent, and for laptops shipments fell 22 per cent.
The third quarter is traditionally the strongest of the seasonal cycles for GPU shipments. Over the previous 10 years Q3 has seen an average upswing in GPU sales of 7 per cent, so this year's 9 per cent uplift is good. Those figures include all GPUs, encompassing Intel and AMD integrated graphics.
Focus on discrete GPUs
The market that most HEXUS readers will be interested in, that of sales of discrete GPUs, as equipped in AiBs (Add-in-Boards), was up 27.6 per cent from last quarter but was down 3.8 per cent from a year ago. About 30 per cent of PCs sold came equipped with discrete graphics and the attach rate of GPUs was 138 per cent, both those figures were up from the previous quarter.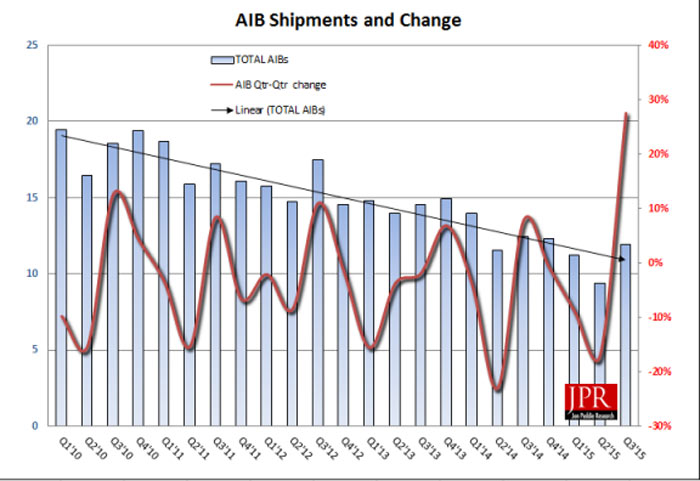 If you look at the chart above, showing the AiB sales trends since 2010, you will see that the most recent quarter looks very much as if it is a 'break out' quarter. As noted above, AiB shipments were up 27.6 per cent, this compares very well with the 10 year Q3 average of 12.6 per cent. The downward trend line has been well and truly smashed through and often such a statistical feature means that a trend has been broken.

Looking at the balance between AMD and Nvidia you can see AMD appears to have paused its downward trend in Q3 but still has a long way to go if it is to recover to the position it was in a year ago. JPR says its positive but slight gain in market share in the most recent quarter was helped by two big introductions; the HBM equipped Fury graphics cards.
The year ahead is looking very interesting with new GPUs and associated supporting technologies coming into play. Off the back of the advancements there could be some compelling graphics cards coming out in 2016 to stir up the market.