John Peddie Research (JPR) has just published its market analysis for Q4 2014. Overall, for the graphics processor industry, numbers weren't good with quarter-to-quarter total GPU shipments dropping 3.4, desktop graphics down 2.7 per cent and laptop discrete graphics sales dropped by 3.9 per cent. However looking at specific company fortunes AMD looks in desperate need of compelling new products with a 30 per cent drop in desktop APU sales and both desktop and laptop graphics chip sales down by around 16 per cent.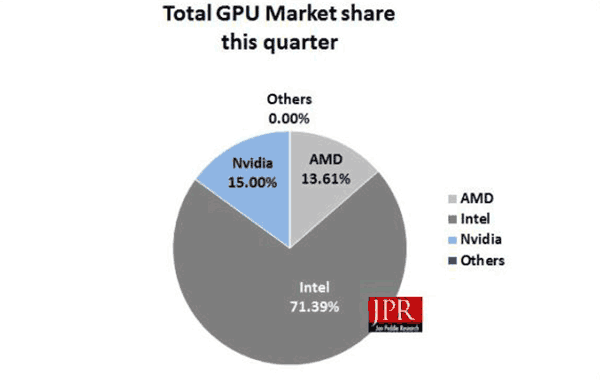 JPR informs us that Q4 results are, on average, flat, meaning you don't usually observe drastic changes in overall sales of PC components like graphics cards. A notable exception was in 2009 with the PC market crash. Looking at this whole-market view the PC market overall was up 3.5 per cent quarter-to-quarter and down a fraction of a percent year-to-year. Desktop graphics card sales were hardly changed at 0.68 per cent down from Q3 2014. The attach rate for GPUs was down a little over 10 per cent at 142.75 per cent. However looking at the big players in the industry you get to see much more turmoil in the market. Let's look at them one by one.
AMD's APU sales appear to have suffered a serious decline in Q4 2014. Sales of desktop APUs reportedly dropped 30 per cent from the previous quarter. Likewise AMD had it tough in discrete GPUs with JPR reporting drops of 15.97 and 16.6 per cent in desktop and laptop GPU shipments.
Meanwhile Intel's performance wasn't stellar with an approximate 4 per cent decline in overall PC graphics shipments. Desktop and laptop embedded graphics shipments were equally affected.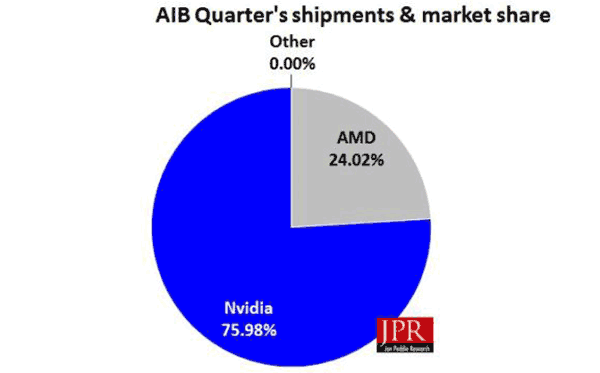 Nvidia managed to make the most of the flat quarter, presumably by taking share from its rivals. The green team's discrete desktop shipments were up 5.51 per cent on Q3, however its notebook discrete shipments were only up a fraction of a percent.
Commenting upon the data, JPR said that Gaming PCs were "a bright spot in the market in the quarter". The research firm also noted the continued success of Nvidia's Maxwell GPUs, sales of which lifted average selling prices (ASPs) in the discrete graphics market.
The last time we looked at JPR data and trends was shortly after the Q3 2014 data was published and commented upon my a Motley Fool investment market analyst.