A recent report by Reuters highlights Intel CEO Brian Krzanich's expectations that semiconductor partners in China will stray from rival ARM's technology and migrate to Intel over the next few years.
In an effort to mark its territory as a mobile chip maker, Intel has invested heavily in Chinese chip partners this year, having signed a deal with Chinese SoC maker Rockchip in May for the manufacturer to sell Intel-branded SoFIA SoCs starting in 2015. Then in September it announced plans to invest $1.5 billion for a 20 per cent stake in a Chinese venture under the government-owned Tsinghua Unigroup, which owns mobile chipmakers Spreadtrum and RDA Microelectronics.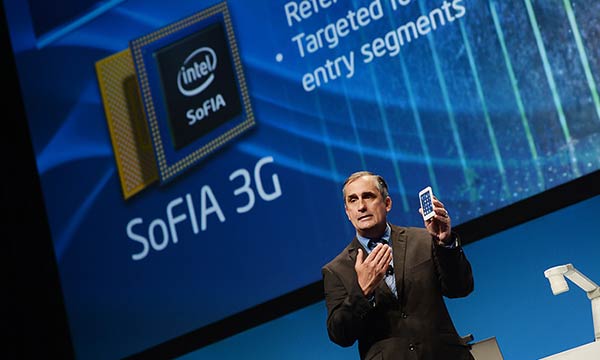 With these Chinese partners specialising in turnkey smartphone and tablet platforms that are easy for manufacturers to use, Intel hopes to take a positive turn from its struggling attempts to establish presence as a chip supplier in the mobile devices market. The new ventures will help Intel push for a larger share in China's mobile chip market, which is rapidly becoming a global entre for the smartphone industry. Furthermore, partnering with a company that is funded by the Chinese state will definitely support this push.
Although the agreements do not prevent Intel's new Chinese partners from using ARM designs, Krzanich expects them to switch to using Intel's x86 architecture exclusively within two or three years. Many businesses throughout China currently use ARM-based mobile chips whilst chip makers typically design their chips with technology licensed from the British company. But Krzanich believes that Intel's architecture and cutting-edge factories will offer its partners a new way of differentiating their products with better performance and features. "If you're a small guy trying to compete, it's tough to be in that battle," explained Krzanich.
Both Rockchip and Spreadtrum are working on Intel-branded SoC designs which are expected to materialise sometime next year. Krzanich expects both Chinese chipmakers to simply phase out ARM designs in favour of Intel parts gradually, since these relatively small companies will probably not have the resources to make separate chips based on Intel and ARM architectures over the long term.