Intel has announced that it will use its custom foundry to manufacture Panasonic's next generation SoCs. The chips will be manufactured using Intel's 14nm Tri-Gate process technology. Panasonic are expected to use these next generation chips in its AV equipment to provide customers with better power consumption, faster performance and overall better viewing experiences.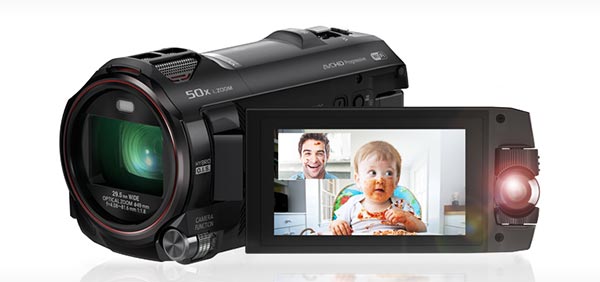 Yoshifumi Okamoto, director, Panasonic Corporation SLSI Business Division was quoted as saying "Intel's 14nm Tri-Gate process technology is very important to develop the next- generation SoCs." Okamoto sees the collaboration helping to deliver "highly improved performance and power advantages with next-generation SoCs by leveraging Intel's 14nm Tri-Gate process technology".
At Intel, Sunit Rikhi, the vice president and general manager of the Intel Custom Foundry said that he was looking forward to working with Panasonic. Rikhi also noted that this deal is "an important step in the buildup of Intel's foundry business," as a deal with a major consumer electronics brand. We also know of five other semiconductor companies with deals to make use of Intel's custom foundry which include Altera, Achronix Semiconductor, Tabula, Netronome and Microsemi.

It will be interesting to see if the Intel process advantage will make a difference for Panasonic and the success of its AV equipment in the marketplace. It is already a well regarded brand, especially in cameras and camcorders. Better performance, and battery life in its portable electronic equipment, can only help its profile.
Intel's full 2015 roadmap leak
Chinese VR Zone has published what is said to be a leaked Intel roadmap which clearly details desktop processor launches all the way to Q2 2015. It's rather more detailed than the Intel roadmap we saw leak from the 3D Revolution 2014 technology conference in Rome, Italy in June.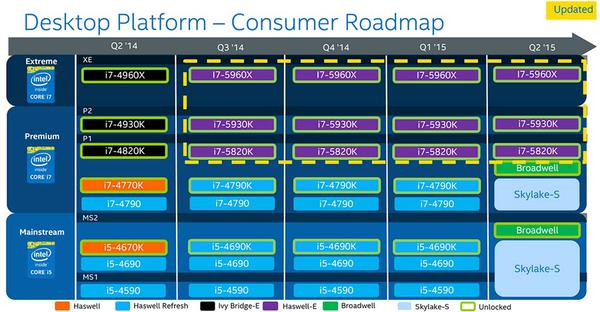 Click to zoom in
The chart shows Intel's Mainstream, Premium and Extreme CPU categories, and introductions to these series, spanning from Q2 2014 all the way to Q2 2015. This chart includes several Intel SKUs, including 'K' versions, for us to look forward to between now and mid 2015 - when Broadwell and Skylake-S arrive.