Last night Intel published its first quarter 2014 financial results. The overall picture was flat, with a Q1 revenue of $12.8 billion and operating income of $2.5 billion which represents a one per cent increase year-on-year. This so-so result actually exceeded Wall Street estimates.
Looking into the underlying figures further we can see some that Mobile and Communications Group losses are getting bigger counterbalanced somewhat by better performance by the Data Centre Group and Internet of Things Group. Also the PC Client Group brought in $7.9 billion in revenue which is just one per cent down year on year.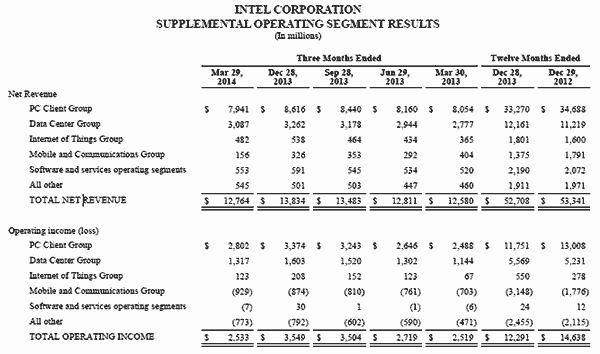 Intel CEO Brian Krzanich said of the results; "In the first quarter we saw solid growth in the data centre, signs of improvement in the PC business, and we shipped 5 million tablet processors, making strong progress on our goal of 40 million tablets for 2014."
Considering the impact of declining PC shipments on Intel's business it is thought that the slight decline observed in this most recent quarter shows a bottoming out of the market. There have also been reports that the end of life of Windows XP is providing a lift to the sales of new PCs at this time. Talking to Reuters Intel Chief Financial Officer Stacy Smith said that she expects PC shipments to only decline slightly through 2014. Smith said that a combination of the "ageing install base of PCs" and new exciting products on offer is creating "pockets of strength," in the fight against PC industry decline.
Looking at its 'tablet processors' performance must be disappointing for Intel. The Mobile and Communications Group's revenue of $156 million in the first quarter is down 61 per cent from a year previously. Krzanich's positive statement, above, doesn't sound very convincing – selling 5 million processors in Q1 doesn't sound very much like being on track to 40 million in a year (4x5 = 20). Also competitors including Qualcomm and MediaTek are very strong in the Android tablets which CFO Smith tells Reuters that the majority of Intel's projected 40 million sales will come from.
It is said that Intel is getting in to wearables early, trying to avoid a repeat performance of its missing of the mobile processing surge a few years back. However wearables are yet to take off and processor design wins for these devices will also be hard fought - if and when that surge does happen.