Intel is said to be releasing a version of its Bay Trail T platform supporting Android during the first quarter of this year. Furthermore Chipzilla's aggressive push into mobiles/tablets has already earned it multiple orders from companies which previously made use of MediaTek chips (among others). So we expect to see Intel powered Android tablets in the $99 budget range in the not too distant future.
Sources speaking to Taiwan's DigiTimes said earlier this week that Intel has created several price and specification combinations for Android tablets employing its chips. This range includes its $99 Android tablet goal and is as follows; US$99-129 7-inch models, US$149-199 7- to 8-inch models, US$199-249 8- to 10-inch models and US$249 and above 10-inch models.
The unnamed sources also said that Intel will be showing off a variety of these tablets at the upcoming CES show. Intel will also reveal new lines of Windows notebooks and 2-in-1s from its partners.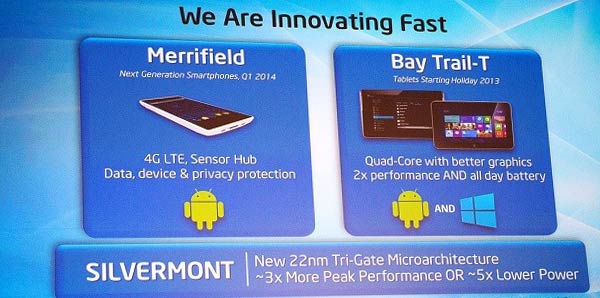 Keen pricing plus R&D support
In a separate report, again on DigiTimes, more details about the strategy behind Intel's 2014 push into mobile is revealed. "Upstream supply chain," sources told the news site that aggressive pricing and offers of R&D support has lead to Intel poaching several tablet vendors which previously had partnerships with the likes of MediaTek.
In a more controversial finding, DigiTimes said Intel was even supplying some chips for free to sweeten the new partnerships but this strategy was firmly denied by Intel Taiwan. The sources also say that while Intel has publically announced it will ship 40 million tablet processors this year it has an even more ambitious internal target of 60 million shipments. Both those figures are a significant jump on the 6 or 7 million sold in 2013.