As predicted, Samsung has invested in Dutch company ASML, following Intel and Taiwan Semiconductor Manufacturing Company (TSMC) in backing the company. ASML is a manufacturer of tools and machinery used to make silicon chips and have big plans to push ahead with research, enabling larger wafer sizes and smaller process sizes in the industry.
The ASML co-investor program was announced early in July this year; ASML announced that it had 25 per cent of the company available for investors to buy in order to raise capital and accelerate its research. Intel came aboard with a total commitment of $4.1 billion straight away on 9th July 2012. TSMC joined Chipzilla on 6th August with a total investment of $1.4 billion. Now Samsung has managed to get out of the law courts and do a bit of investment business, deciding to invest a total of $970 million in ASML stock and R&D funding.
Speaking to Bloomberg, Niels de Zwart, an analyst at ING Groep NV in Amsterdam said "ASML is getting the maximum amount to fund research and development costs, and Samsung opted for only a 3 percent equity stake instead of the 5 percent that was still available. That is good news for existing shareholders."
How the ASML investments stack up
| | | | |
| --- | --- | --- | --- |
| Company | Intel | TSMC | Samsung |
| Investment in stock | 15% for $3.1 billion | 5% for $1.03 billion | 3% for $630 million |
| Investment in R&D | $1 billion | $345 million | $345 million |
With Samsung's contribution the funding program is now complete. AMSL will no longer seek additional participants. ASML now believes it has sufficient funding to "accelerate the development of key lithography technologies needed to extend Moore's Law, notably Extreme Ultraviolet (EUV) lithography". The cash proceeds of the share sales will be returned to current ASML investors via a share buy-back. Nearly $1.7 billion is now available to ASML for R&D.
Why invest in ASML?
As a reminder, ASML has two key ways in which its new chip making machines will benefit investors/customers. First of all, using EUV lithography will enable chip makers to mass produce chips with a smaller process size. This advance can bring economies in wafer usage and faster, less power hungry chips. ASML has stated the EUV process will be up-to-speed to be able to mass produce chips below 20nm by the start of 2013. In time, EUV should facilitate the reduction in process size of chips to 10nm and below. ASML is a leader in extreme-ultraviolet (EUV) lithography.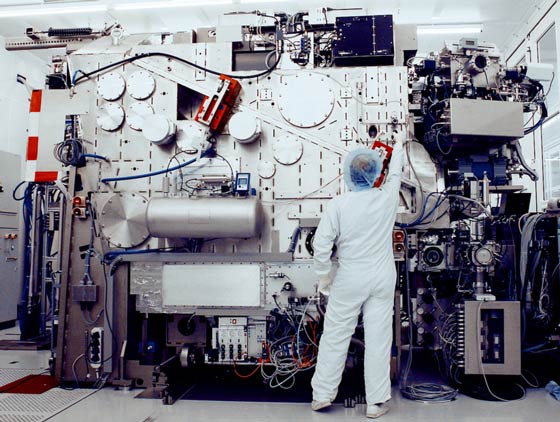 EUV machine in testing
Secondly, ASML is working to make machines compatible with a larger wafer size, specifically in the transition from 300mm wafer manufacturing to 450mm wafers. Intel forecasts moving from 300mm to 450mm wafers will bring "a 30 to 40 per cent reduction in die costs". The same figures will apply to TSMC's and Samsung's manufacturing costs.
What the respective companies get for their bigger and smaller stock investments and R&D contributions is not entirely clear however they have now all boarded the express train and not been left behind at the station. Here's looking forward to the fruits of ASML's R&D.