Design, partners and roadmap
ARM developed the Cortex-A15 in close collaboration with its three lead licensee partners Samsung, ST Ericsson and Texas Instruments. Unsurprisingly they were effusive in their assessment of the new design.
"We believe this new Cortex-A15 MPCore processor core from ARM, with its quantum leap in processing capabilities, will successfully enable many next-generation electronic products and redefine the level of experience consumers will demand from their smartphones and mobile computing devices," said Yiwan Wong, VP of SoC Marketing at Samsung Electronics.
"Integrated into our leading-edge SoC solutions, the new ARM core will enable our customers to build extremely power-efficient devices with an unprecedented level of performance," said Edgar Auslander, SVP of strategic planning at ST-Ericsson.
"As an advanced lead partner and first licensee of the Cortex-A15 MPCore processor, we look forward to leveraging the Cortex-A15 core to deliver industry-leading processors that will provide the high performance demanded by the next generation of connected devices, all within a low power envelope," said Remi El-Ouazzane, OMAP VP at TI.
Moving onto the design itself, the building-block below is a scalable unit of four CPU cores. Each of these units has several shared components, including L2 cache. But the feature that enables the scaling of each of these units - Shorn mentioned 16 cores but we get the impression the design could, in theory, accommodate even more - is the AMBA 4 component. You can find out more on the ARM Cortex-A15 page.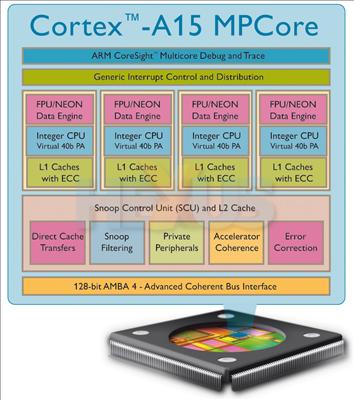 Regarding timescales, TI has already licensed Cortex A-15, and typically we can expect a couple of years between a licensee getting hold of the design and turning it into commercial silicon. That's why the latest ARM Cortex A roadmap below just identifies 2012 in general as when we can expect to see Cortex-A15 based SoCs in devices.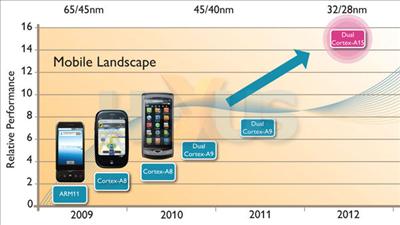 Note the roadmap identifies a dual-core design as the first to appear, so licensees aren't compelled to start at four cores, and the design also scales down to one. Note also, Cortex-A15 designs will be manufactured on the 32nm, or more likely the 28nm process. That is to be expected for 2012.
In summary, ARM considers the Cortex A-15 to be a game-changer unlike anything that has come before it. Not only does it expect to cement its dominance in the mobile device market with this design, it plans to move the fight onto the x86 home turf: desktops and servers. Game on.