The European Hardware Association (EHA) recently updated its consumer preference data with a new survey of PC CPU and GPU buying intentions. It asked about the buying preferences of technology enthusiasts, early adopters and influencers who read EHA publications. This most recent survey took into account over 10,000 respondents from its combined audience of 22 million.
The headlining data culled from the new survey is that AMD gains > 60 per cent in the European CPU preference stats. "The last three years has seen AMD gain a lot of momentum in the enthusiast segment," said EHA chairman Koen Crijns. "With the Ryzen series of CPUs, AMD has eliminated any lingering performance gaps, while offering a great price/performance ratio".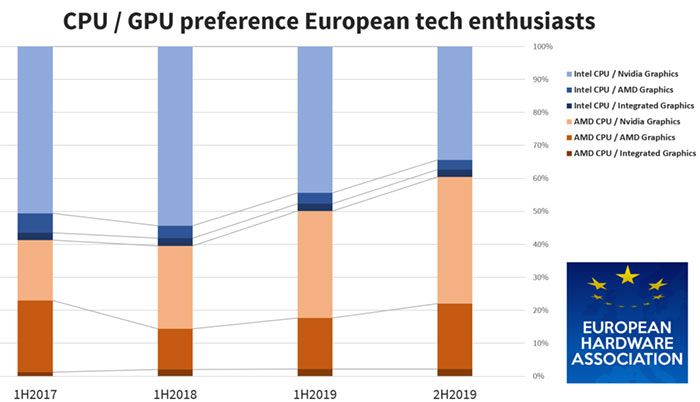 The progress is illustrated better by looking back on previous surveys from the EHA. In 2008 a similar survey showed only a 40 per cent preference for AMD. In a follow-up survey in May 2019 the preference for the red team has grown to 50 per cent.
Crijns again shares some insight into this strong swing towards a preference for AMD CPUs. He reckons that the latest step up in AMD preference coincides with the launch of the 3rd generation Ryzen desktop CPUs. "Ryzen 3000 not only offers better performance under multi-threaded workloads, but also under lightly-threaded applications like PC games," he noted.
Turning to the GPU market, Nvidia is still a dominant force in sales and preferences indicated by survey respondents. 72.8 per cent of the technology enthusiasts, early adopters and influencers who read EHA publications would choose a GeForce graphics card. However the new AMD Navi products have made some impact, helping edge AMD from 19 per cent (back in May) to nearly 23 per cent today. Meanwhile, the survey reveals that AMD GPU buyers "almost exclusively combine them with AMD CPUs". In other words, and expressed in percentage terms, "the combination of Intel CPU with AMD GPU only accounts for 2.9 per cent of the results," highlights Crijns.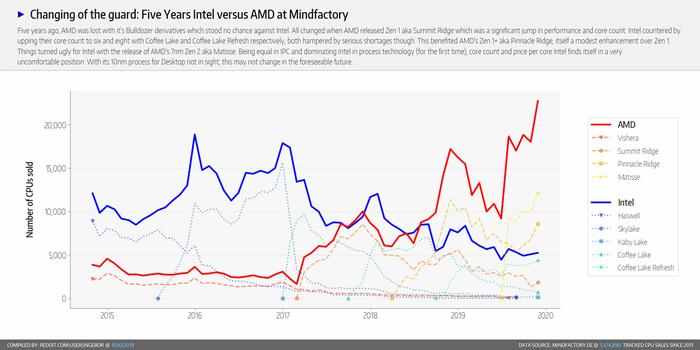 click to zoom chart
To wrap up, there is another interesting graph showing AMD's progress since Ryzen CPUs started to become established. MindFactory.de's tracking of 1.475m CPU sales over the last five years is charted above. More charts and slides are available via Imgur.