According to Jon Peddie Research, AMD has enjoyed a bit of a comeback in PC GPU shipments in the most recent quarter. Its data shows that AMD enjoyed a 9.8 per cent surge in shipments, while Nvidia shipments were flat and Intel's declined by 1.4 per cent. This was enough to push AMD's total graphics market share above Nvidia's for the first time since 2014, when the fastest gaming GPU available was the Radeon R9 290X.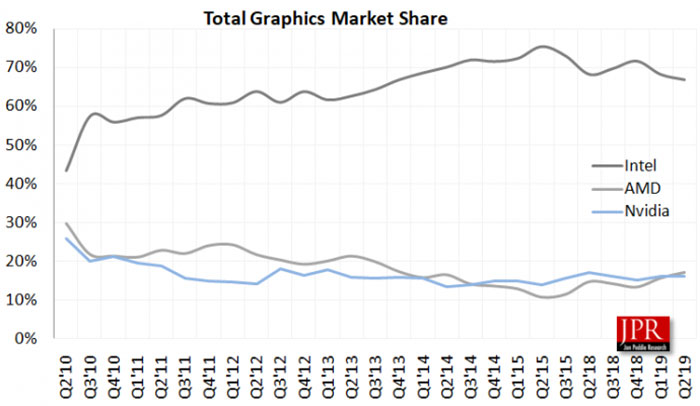 JPR's data shows that in Q2 this year AMD has 17.2 (14.8) per cent of the total graphics market share in PCs, while Nvidia has 16.0 (17.0) per cent and Intel the lion's share at 66.9 (68.2) per cent - figures in brackets are from the same quarter last year. Please note that the above figures are PC market only, including laptops. No games console GPUs, or GPUs sold for other market segments are in these figures.
I would think that AMD's success in Q2 may be down to bargain Polaris graphics cards, particularly the Radeon RX 570 and RX 580, which started to become available at very keen prices a few months ago. These cards may be long in the tooth, and don't have the gloss of support for raytracing or 4K gaming, but offer great bang-for-buck for mainstream modern 1080p to 1440p PC gaming in the popular price segment spanning £120 to £170-ish.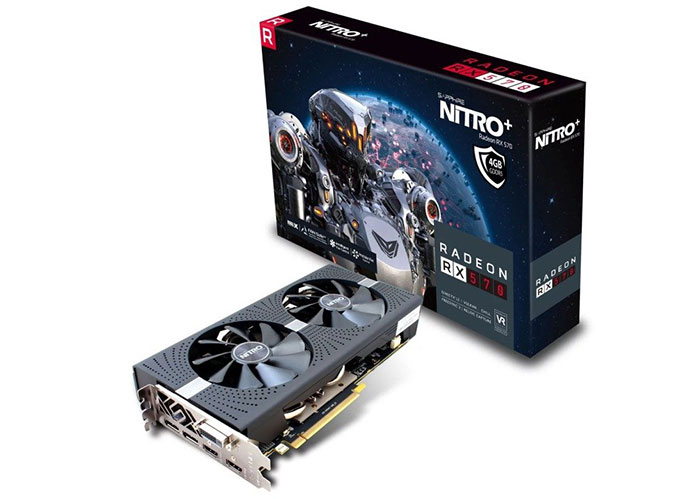 Quick highlights from the latest reports from JPR, as compiled by the market researchers, are bullet pointed below:
AMD's overall unit shipments increased 9.85% quarter-to-quarter, Intel's total shipments decreased -1.44% from last quarter, and Nvidia's decreased -0.04%.
The attach rate of GPUs (includes integrated and discrete GPUs) to PCs for the quarter was 120% which was down -10.38% from last quarter.
Discrete GPUs were in 26.95% of PCs, down -1.99% from last quarter.
The overall PC market increased by 9.25% quarter-to-quarter and increased by 3.07% year-to-year.
Desktop graphics add-in boards (AIBs) that use discrete GPUs decreased -16.62% from last quarter.
Q2'19 saw a decrease in tablet shipments from last quarter.
Interestingly JPR comments that Q2 usually sees a decline in shipments, and that GPUs are "traditionally a leading indicator of the market, since a GPU goes into every system before it is shipped". This means that PC vendors are/were optimistic about Q3, guiding for an approx 13 per cent increase in shipments.
Source: Jon Peddie Research blog, via Tom's Hardware.