Follow the budget
Federica Troni, principal analyst for client platforms research at Gartner, has spoken at ITCVE 2008 on the hot topic of virtualisation and the opportunities it creates for the channel.
She loosely defined virtualisation as: 'The pooling of IT resources in a way that masks the physical boundaries to the end-user.'
In the x86 server market, it appears that typically 80-90 percent of server capacity is unused. One of the key functions of virtualisation currently is to optimise the way the operating system interacts with hardware components.
A manifestation of this appears to be to act as a hypervisor, which allows multiple operating systems to run on a system concurrently. This can be handy when you are updating an operating system, but still want to run legacy applications that use the old OS.
Troni warned that there are some issues associated with virtualisation on x86 servers. There are, of course, costs associated with adopting virtualisation and so it's important to properly manage customer expectations on the savings created by it, as rapid ROI will be required.
She also pointed out that the move to virtualisation is a big one for any business and one that is very hard to come back from.
With it still being a relatively new technology, Troni also warned that choosing solution can be difficult, with there currently being 50 firms offering 100 products – as shown on the slide below. She expects these numbers to halve by 2010.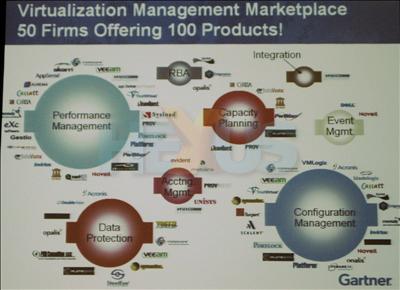 Troni concluded by revealing that Gartner surveys have shown that a quarter of EMEA SMBs are planning to invest in virtualisation in the next year.
Yes, she conceded, virtualisation means that fewer servers will be bought. But conversely more services will be required and budgets will be adjusted accordingly.
'Follow the budget,' advised Troni. You can't argue with that.