Speaking at At IT Channel Vision Europe 2008, here in Rome, Italy, Gartner's research vice president, Rakesh Kumar, reiterates the importance of Green IT.
'If the industry doesn't sort itself out soon, there will be legislation', said Rakesh, referring to potential Government hindrance - an intervention that wouldn't suit any in the industry.
Rakesh, who carries 20 years of experience in the IT industry, revealed a rather astonishing statistic; today, the amount of CO2 emissions coming from the ICT industry is on par with that of the airline industry. Furthermore, the CO2 emissions resulting from ICT are rising rapidly, particularly from data centres.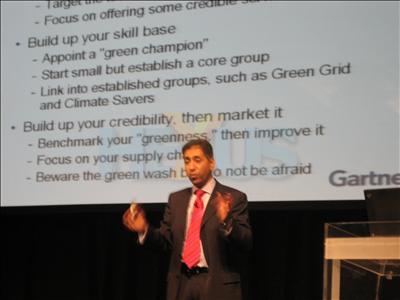 According to Rakesh, money is to be made by going green - customers want green products, and they'll pay to get them. However, it can't be used as a ploy to lure prospective customers, SIs will need to establish a definitive green policy for their business, says Rakesh.
As the Gartner slide (pictured above) shows; 'Build up your credibility, then market it'.