Retreat from retail?
Speaking to HEXUS.channel at ITCVE 2008, Robert Oostergetel (pictured), the OEM global sales director at BullGuard, said 'The OEM channel is the most important one for BullGuard, which is one of the reasons I was taken on. Our strengths lie in the system builder and OEM markets'
Oostergetel joined BullGuard a year ago, having spent the previous seven at Symantec.
'Evesham was BullGuard's largest UK SI partner,' said Oostergetel. 'We also work with Mesh and Zoostorm among others.'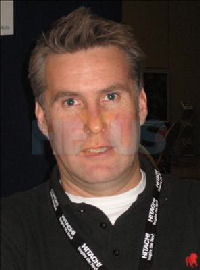 When asked why he thinks BullGuard has out-performed larger rivals in the OEM sector, Oostergetel made it clear that he thinks their 25 percent flat revenue share model has been very popular.
BullGuard is solely a consumer-only product, but Oostergetel did say 'We are contemplating an SMB product,' but wouldn't be drawn further.
He stressed that the retail boxed product is still an important part of the BullGuard offering, but didn't seem keen on adopting the freeware model that has given AVG such a big install-base. 'The challenge is monetising an install-base used to getting something for free,' he said.
Like so many other PC-related products, Oostergetel believes anti-virus, firewall and anti-spyware technologies have become commoditised. 'The need now is to distinguish ourselves in other areas, for example through BullGuard anti-spam and remote backup.'
Unsurprisingly, he wasn't too keen to be drawn on the topic of the recent departure of the CEO, but he did make it clear that the change in executive personnel over the past couple of years represents a new phase in the maturing of the company from a sales and marketing perspective and that the core tech people have remained.
Oh, and he kindly gave us some socks...