Introduction
Gigabyte has proven that it has the wherewithal to create pocket-sized PCs that punch harder than their size would suggest, but given that the company's roots are entrenched in the enthusiast scene, there's understandably an insatiable desire to want to deliver more speed.
The Taiwanese manufacturer has previously attempted to shoehorn dedicated Nvidia graphics into a NUC-like form factor with reasonable success, and there's obviously sufficient demand for such systems as Gigabyte is at it once again with a new offering that has grown taller to accommodate meatier innards.
Dubbed the Brix Gaming UHD and priced at around £875 for a barebone unit, this is the largest Brix system we've ever tested, yet also the most powerful. Measuring 220mm (H) x 110mm (D) x 110mm (W) in size, the machine's footprint remains tiny compared to traditional PCs, and the extra height has allowed Gigabyte to include a potent Intel Core i7 processor and dedicated Nvidia GeForce graphics.
It's a neat-looking thing, too. The brushed aluminium effect around the sides works well, the white LED surround on the lid is subtle enough not to be jarring, while a rubber base keeps everything planted. Connectivity options have been limited on previous Brix solutions, but with the extra available space, the Gaming UHD box makes available five USB ports (3x USB 3.0, 1x USB 3.1 Type-A, 1x USB 3.1 Type-C) as well as Gigabit Ethernet, audio jacks, HDMI, a trio of mini-DisplayPort and a connector for the 180W external power supply.
An integrated Intel Wireless-AC 8260 adapter provides dual-band WiFi connectivity, and the only obvious snag with regards to connectivity is the positioning of the ports. The power button is tucked around back alongside all the USB ports, while the display outputs, on the side of the unit, look ungainly when cables are attached.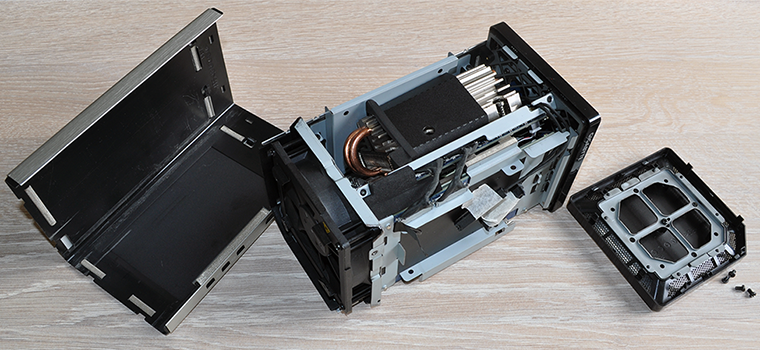 We'd like to see Gigabyte relocate the power button and have at least one front-facing USB port on future models, but given the internal layout and size constraints, we can understand why the ports are where they are. Opening the Brix Gaming UHD is surprisingly simple, with the user having to undo just four screws on the underside to remove the fan cover. Doing so allows half of the system's metal shell to slide up and away.
It's an important process as every buyer will need to make their way inside the machine at some point. Remember, this is a barebone unit, meaning memory, storage and operating system must be added in order for it to function. Gigabyte has done well to ensure accessibility isn't an issue, and getting everything up and running can be achieved with a minimal number of screws and very little effort.
With the shroud removed, we can see two empty 2.5in slots positioned either side of the central column, and both can be populated using the combined data-plus-power SATA 6Gbps cables. What's clever is how the Brix Gaming UHD provides access to memory - unclip a few cables (three, to be precise) and the top board, housing the GPU, flips up and out.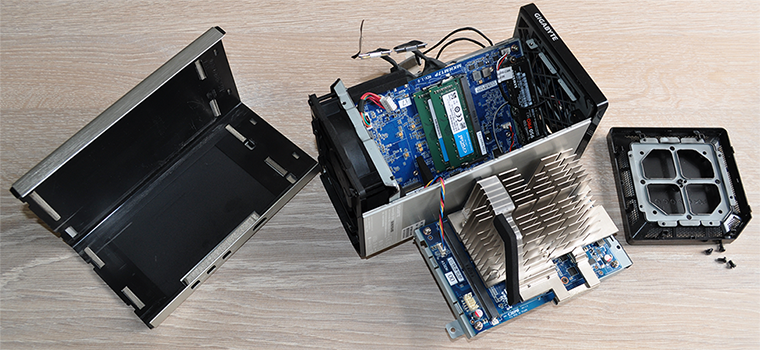 Would-be buyers should note that Gigabyte's installation tutorial video is easier to follow than the manual, though we suspect the target audience will have no trouble during the disassembly process. Get the graphics board out and you can reach the two SO-DIMM DDR4 memory slots as well as a pair of M.2 storage bays. Helping us along with our review, Gigabyte has pre-populated our sample with 16GB of dual-channel Crucial DDR4-2400 memory (out of a maximum of 32GB) and a 512GB Samsung 950 Pro SSD, but do note that these aren't included as standard with the retail product.
How about the core components that are included? Well, the CPU is an Intel Core i7-6700HQ processor. Aimed primarily at high-end laptops, the quad-core chip offers hyper-threading and a 3.5GHz Turbo frequency in a 45W package that's well suited to a machine of this ilk. It's in the graphics department that the Brix Gaming UHD raises an eyebrow as the system is outfitted with an Nvidia GeForce GTX 950 served in an MXM form factor.
Dating back to August 2015, the GTX 950 isn't what we'd hoped to see in an £875 barebone and unless a compatible MXM upgrade is made available, gaming performance in today's latest titles will be limited. And yes, Gigabyte's branding is playing fast and loose with what this box can achieve - the Brix Gaming UHD can output to a 4K display, but don't expect to play games at such lofty resolutions.
The combination of CPU and GPU isn't befitting a modern gaming PC that is likely to end up costing over £1,000 when fully configured, but Gigabyte is only too aware and tells us that a Pascal-based (i.e. GTX 10-series) successor is already in the works.
With that in mind, the current Brix Gaming UHD serves as a showcase as to what the form factor could achieve. The internal layout holds promise, with only one bottom-mounted fan pulling in air and pushing it up through the chassis and out the top. The obvious caveat is that fan noise is bothersome - the PC is clearly audible when idle, then even noisier when under load - and we wonder if a slightly roomier chassis with a larger, slow-spinning fan would make more sense.
Intrigued to see how the literally pint-sized system will fare in our benchmarks? Then turn the page.