Introduction
A number of manufacturers have chosen to ride the Intel NUC bandwagon, and though the form factor hasn't proven as revolutionary as the chip giant would have hoped, Gigabyte has seen considerable success with its own line of Brix mini-PCs.
The Taiwanese outfit has championed its range with a wide range of hardware innovations over the years. Back in 2014 the Brix Pro arrived with Iris Pro graphics on a Core i7-4770R CPU, there was then something for gamers in the form of the GeForce-equipped Brix Gaming, and last year's Brix S was one of the first mini-PCs touting a fifth-generation Core processor, codenamed Broadwell.
Fast forward to today and the latest barebone Brix, model number GB-BSi5T-6200, serves-up the compact form factor in a sixth-generation Intel 'Skylake' flavour.
The palm-sized machine seems familiar, and at 34.4mm x 112.6mm x 119.4mm in size, it's almost identical in stature to the latest low-profile Intel NUC. Note that this sub-35mm model is particularly svelte as it eschews a 2.5in storage bay - users who require such an option would need to consider the GB-BSi5HT-6200, which increases overall thickness to 46.8mm for the sake of drive compatibility.
Either way, this is an admirably small PC and we like the fact that Gigabyte has worked to improve the overall look and feel. Whereas past Brix units have appeared shiny and plastic, this 2016 revision has a brushed-metal aesthetic that gives the entire chassis a more premium look, and even the top-mounted power button has a nicer action.
Connectivity is also bolstered. The front of the Brix is home to two USB 3.0 ports and a pair of audio jacks, and there are two more USB 3.0 ports, as well as an SD card reader, on the right-hand side. On the rear you'll find Gigabit Ethernet, mini-DisplayPort, USB 3.1 Type-C, HDMI 2.0 and a connector for the external 90W PSU. A well-rounded selection for a box of this size, and Gigabyte includes a VESA mounting bracket as part of the bundle, allowing the Brix to be attached to the rear of a compatible monitor.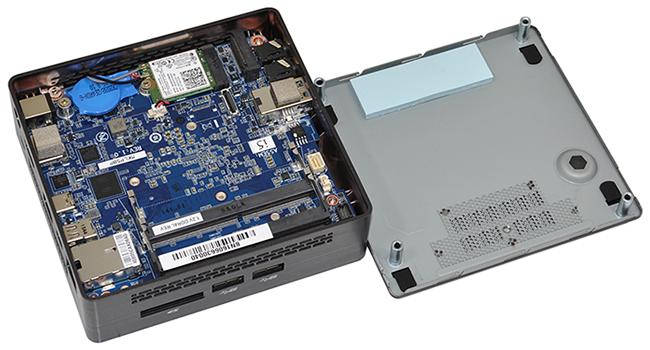 Getting access to the internal components is as simple as undoing four screws, and stating the obvious, all users will need to venture inside the unit as it is sold strictly as a barebone solution. That means no memory, storage or operating system is included as standard.
What you do get is a tiny 105mm x 110mm motherboard outfitted with a dual-core, hyper-threaded Intel Core i5-6200U CPU. Attached to the underside of the board and cooled by a small, low-profile fan, the 15W chip can reach speeds of up to 2.8GHz, offers integrated Intel HD 520 graphics, and adds support for DDR4 memory.
Making the build process as straightforward as possible, both SO-DIMM slots are easily accessible and allow for up to 32GB of DDR4 memory in a dual-channel configuration with a maximum supported speed of 2,133MHz. Note that the memory slots aren't backward-compatible, so you won't be able to repurpose any DDR3 modules you have lying around.
The other component you'll need to add is an M.2 storage device. Designed to support a 2280 form factor, the available M.2 slot supports high-speed PCIe drives, yet while speed should be plentiful, the lack of other storage options could be a concern. Once again, if you do need extra capacity, remember the taller GB-BSi5HT-6200 can accommodate a 2.5in SATA drive in addition to the M.2.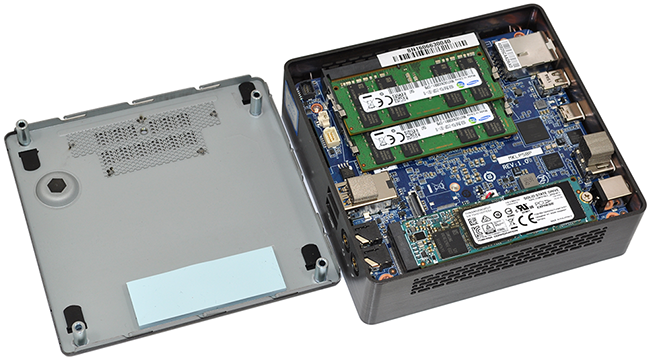 Offering wireless flexibility, the Brix is shipped with a pre-installed Intel Dual Band Wireless-AC 3165 adapter for WiFi and Bluetooth connectivity. For our test configuration, pictured above, we've added 32GB (2x16GB) of DDR4 memory and a 256GB Toshiba NVMe M.2 SSD to see exactly what this pocket rocket can do.
But before we get to the benchmarks, there are two potential stumbling blocks. Firstly, remember that tiny fan attached to the CPU? Well, it keeps the chassis from getting too hot, but it can be heard at all times and gets noticeably loud during demanding workloads. The noise output isn't enough to be deemed a deal-breaker, yet users seeking a near-silent mini-PC will want to look elsewhere. We'd actually prefer the Brix to be 10 per cent bigger in size, just to accommodate a larger heatsink and a quieter fan.
The other sticking point is the price tag. The Brix GB-BSi5T-6200 fetches roughly £330, which remember is for a barebone configuration. Adding dual-channel DDR4 memory, a small NVMe SSD and Windows 10 would increase the total build cost to, say, £500, while our high-end test configuration is likely to set you back somewhere in the region of £670.
Latest-generation Intel Core processors continue to carry a premium, and for this reason alone, Gigabyte's powerful Brix PCs remain a niche solution. Still, a somewhat high cost of entry tends not to deter tech enthusiasts, so let's see how this little machine fares in our benchmarks.