Introduction
The introduction of Nvidia's high-end GeForce GTX 900-series graphics cards has given system integrators added incentive to launch gaming rigs ahead of the lucrative Christmas period.
In contrast to previous-generation machines, the latest crop of gaming PCs are set to be cheaper to run, easier to cool and quieter when in use. The days of your gaming rig doubling as a makeshift room warmer are seemingly numbered.
Attempting to make full use of the efficiency levels on offer from the latest Intel and Nvidia processors, Scan Computers has sent in the 3XS Z97 Performance Q10 - a gaming base unit that claims to be both whisper quiet and mighty fast.
Priced at £1,249, the Z97 Performance Q10 is designed to be "the quietest system" in Scan's 3XS range. Having a specific goal dictates the choice of components and it's interesting to see that Scan opts for the two-and-a-half year old Corsair Obsidian Series 550D chassis.
Though a little long in the tooth, Corsair's sound-proofed case remains a very capable solution. It's been a while since we last laid hands on this mid-tower enclosure, yet seeing it today tells us that newer chassis have cut back quality in an effort to bring prices down - the 550D certainly feels more solid and substantial than some of Corsair's newer offerings. The only catch is that the 550D was launched originally at a time when onboard USB 3.0 headers were few and far between, hence the case still relies on long cables that pass through the chassis and attach to the rear I/O panel.
Still, the choice of chassis makes sense for a quiet build and Scan refrains from spoiling the sleek exterior. Scan 3XS branding is limited to a multi-card reader that's installed in the upper optical bay and hidden neatly behind the aluminium front door. The door on the 550D can be opened in either direction, and along with the side panels is lined with a reasonably-thick layer of sound-dampening material.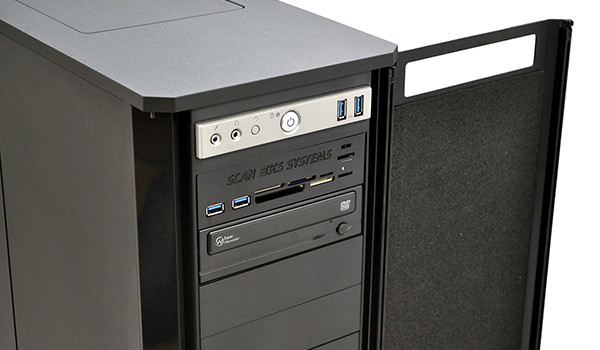 First impressions of overall build quality are positive. The 550D's matte-black exterior has a tendency to mark rather easily, yet our sample PC arrived well packaged and free of any scuffs. As is the case with each 3XS system, the Z97 Performance Q10 undergoes a 24-hour stress test and 88-point quality-control check prior to shipping, and real-time tracking information is made available to keep buyers up to date on the entire build process.
As expected, Scan's online configurator provides a multitude of component choices. The Z97 Performance Q10 can easily be tailored to suit your needs, though there arguably isn't any real need to stray. We can be particularly picky when putting together a spec, yet Scan's default setup is pretty much in keeping with the parts we'd choose were we building a quiet gaming rig of our own.
Running through the pertinent hardware, we have an Asus Z97-K motherboard outfitted with an Intel Core i5-4690K processor (overclocked to 4.6GHz) and 8GB (2x4GB) of Corsair Vengeance Pro DDR3-2133 memory. We'd be tempted to upgrade to 16GB of memory at a cost of £60, though for gaming purposes, the benefit is likely to be negligible.
Elsewhere, the component choices are all about making the system as quiet as can be. In the graphics department, there's an EVGA GeForce GTX 970 SuperClocked ACX which features a dual-fan cooler that doesn't spin up at low load. CPU cooling is handled by a ThermalRight True Spirit 140, and the power supply - a Corsair RM550 - is also designed such that the fan doesn't spin at low load.
Paying attention to the little details, Scan doesn't include any noisy mechanical hard disks, and instead has a single 500GB Samsung 840 Evo SSD installed for storage duties. The optical drive is arguably the system's noisiest component, and can be dropped if surplus to requirements, though considering the small £11 fee, it's probably worth keeping just in case.
Last but not least, the default 550D case fans have been cast aside in favour of two ultra-low-noise Noctua NF-S12As. A wise move, we feel, though we'd like to have seen a Noctua CPU cooler to keep continuity in the design. While it would no doubt have a detrimental effect on overall price - Noctuas don't come cheap - a quality NH-U14S would have been our first choice.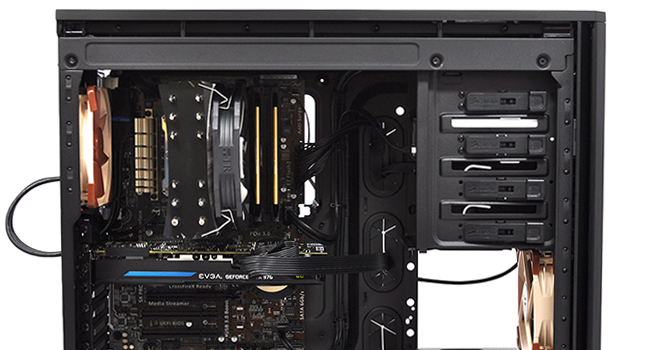 Scan's component choices are good throughout and the build is about as neat as they come. Cable management is very good, there's ample room for expansion further down the line, and the entire rig is backed by a three-year warranty - something that's always worth having on a factory-overclocked setup.
What's more important, however, is the Z97 Performance Q10 lives up to its billing. The system can barely be noticed when idle - you'll need to go right up close to hear the gentle hum of the fans - and it doesn't get loud when gaming, either. We recorded a remarkably-low noise reading of 33.8dB while playing games. We'd normally expect that level of noise from a gaming PC that's idle, but to be able to keep noise levels that low while gaming is a real plus point.
This is very certainly our kind of gaming rig, but would-be buyers should note that the convenience of a pre-built and guaranteed system does come at a cost. Our calculations suggest that buying all the individual components, including a copy of Windows 8.1, would cost around £1,160. Worth knowing, though anyone spending that amount of money on a new base unit should find that Scan's guaranteed overclock and ongoing support are more than enough to warrant the £89 premium.