Introduction
We've developed something of a crush for ultra-small micro-PCs. We might be accustomed to extreme high-end hardware, but we're not shy too admit it: the current crop of tiny systems are really tickling our fancy.
Intel's Haswell NUC and Zotac's Zbox Nano are two recent examples - small, pint-sized boxes that are capable enough to replace our typical workstations, saving space and electricity in the process. But what happens when a manufacturer with enthusiast roots puts its own spin on this incredibly-small form factor? To find out, Gigabyte's £515 Brix Pro is on the test bench today.
Measuring 62mm x 111.4mm x 114.4mm in size, the Brix Pro has roughly the same footprint as an Intel NUC but stands almost twice as tall in order to accommodate more potent innards. And that, really, is the Brix Pro's stand-out attribute: instead of making do with a low-voltage processor, it opts for a 65W Intel Core-i7 4770R with integrated Iris Pro 5200 graphics.
It's effectively a barebone NUC on steroids, and the on-paper specification is hugely attractive. Four latest-generation Haswell cores, eight threads, a maximum core speed of 3.9GHz, Intel's very best IGP rattling along at up-to 1.3GHz, and 128MB of on-package eDRAM. Helps that it's all wrapped in such a neat and tidy form factor.
Gigabyte's glossy all-black chassis might turn out to be a fingerprint magnet, but that shouldn't detract from the fact that this is a very sleek-looking box. A single backlit power button is positioned on top, while the front of the unit carries two USB 3.0 ports and an audio output. The bulk of the connectivity options are kept round the back, where you'll find a jack for the bundled 135W external power supply, HDMI and Mini DisplayPort outputs, Gigabit Ethernet, and a further two USB 3.0 ports.
Gigabyte has the typical I/O options covered, though it might have made better use of the chassis' size. It hasn't escaped our attention that Zotac's Zbox Nano is smaller, yet manages to incorporate six USB ports (two more than the Gigabyte) as well as eSATA and full-size DisplayPort.
It's worth noting that a true 4K display is supported via the HDMI jack (Mini DisplayPort is limited to just 3,840x2,160), and that both outputs can be used to simultaneously. The only obvious snag we can think of is that there isn't a dedicated audio output around back: choose to attach external speakers via a 3.5mm jack and you'll have to plug them inelegantly into the front.
The Brix Pro's metal-framed chassis feels suitably sturdy and well-put together, though Gigabyte's bundle is a bit basic. A Vesa mount is included for mounting the entire unit on the back of a display, but the drivers are provided on CD - we'd much prefer a USB stick that can actually be used with the system.
Undoing four screws on the bottom of the chassis reveals access to the underlying hardware, and remember, the Brix Pro is sold as a barebone unit so don't expect to find all the required components present and accounted for. Despite the lofty £515 price tag, the system includes a Gigabyte M4HM87P motherboard, the Intel Core i7-4770R processor (plus cooler) and a mini PCIe Realtek 8821AE 802.11ac WiFi+Bluetooth network interface card.
Building on the out-the-box foundations, the user needs to add 1.35V SO-DIMM DDR3L memory (up to 16GB is supported), a storage device using either the available mSATA slot or the single SATA connector, as well as an operating system. Opt for, say, Windows 8.1 (£70), a 240GB Crucial M500 SSD (£90) and 8GB of G.Skill F3-1600C11D-8GRSL DDR3L memory (£75), and total build cost rises to £750.
The Brix Pro clearly isn't a budget solution - full-performance, full-towers are available for similar money - and acts instead as a high-performance alternative for users who want to downsize while retaining as much performance as possible.
Wondering where that Core i7-4770R processor is? The soldered, non-upgradable chip is on the underside of the motherboard and sat beneath a good-sized copper heatsink that's topped with a single exhaust fan. It's this cooling that results in the Brix Pro's above-average chassis height, yet questions still remain: can a compact heatsink and fan effectively cool a 65W chip in such a small enclosure?
We'll have temperature results a little later in the review, but let's start by confirming an unwanted attribute: the Brix Pro is loud when in use. And we mean really loud. When sat on top of a desk, its diminutive size is overshadowed by an audible roar: you can't help but notice that it's there. Noise levels aren't too offensive if you try not to do anything with it, but apply any sort of CPU load - even a Windows Update is enough - and the variable fan speeds become frustrating.
During our benchmarks we recorded a maximum noise reading of 52dB. It wouldn't be a stretch of the imagination to say that, despite the performance on offer, noise is very much a concern in a quiet office environment.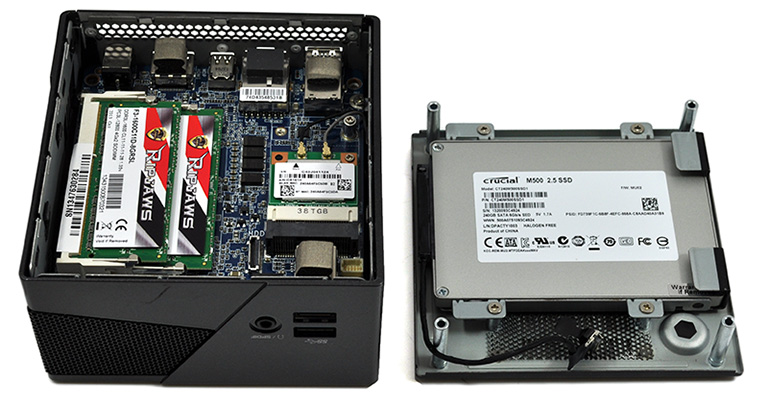 Taming the choice of processor is going to be the Brix Pro's biggest challenge, we feel. Elsewhere, the chassis and form factor works well. It seems impossibly small, and yet installing the required additional components is simple and straightforward.
A pair of SO-DIMM slots allow for dual-channel memory, the mSATA slot is readily accessible above the mini PCIe wireless adapter, and a 2.5in hard disk is easily installed in a tray attached to the bottom cover. Gigabyte uses a single proprietary cable to deliver data and power to a SATA drive (up to 6Gbps) and though installation should be straightforward, we couldn't get Windows to install on our blank SSD. We're putting that down to a faulty SATA cable, and while we await a replacement, we've been able to continue testing by using an Intel mSATA drive instead.
Let's get on to the benchmarks, shall we?