A Look Inside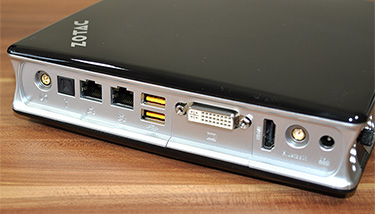 In keeping with the well-rounded supply of ports, Zotac's bundle is also well stocked. Both versions of the Zbox ID89 are shipped with Wi-Fi and Bluetooth antennas, a USB-extended IR receiver, a basic-but-usable Media Center remote control, a desktop stand and a VESA mount that allows the system to be stowed neatly behind a monitor or TV.
The IR receiver extension is a nice touch - it'll keep your remote working regardless of the Zbox's position - but Zotac hasn't taken a user-friendly approach to drivers, which are provided on an optical disc as opposed to a compatible USB thumb drive.
We expect Zotac's target audience to be able to retrieve software drivers, and it's worth reiterating the fact that the Zbox ID89 isn't exactly a plug-and-play solution. Users need to source and install their own operating system - Zotac officially supports Windows 7 and Windows 8 - while owners of the non-Plus model will need to add memory and storage.
Making the upgrade process as simple as possible, getting access to the Zbox's small interior is achieved by undoing two thumbscrews and sliding away the plastic top cover. To warrant an extra £75 for the pictured Zbox ID89 Plus, a 500GB Toshiba hard disk is included as standard, as is a 4GB stick of Samsung SO-DIMM DDR3 memory.
The Toshiba hard disk operates at a basic 5,400RPM but includes 'Silent-Seek' technology, making it one of the quieter 2.5in mechanical drives available. Zotac's pricing for the Plus model is about right, we feel - the hard disk and memory are worth around £75 when bought separately - but we suspect most users will choose to purchase the barebones unit for £350 and then add storage and RAM of their preference.
8GB of dual-channel memory would be a good fit (albeit expensive at around £50) and the system is primed for fast solid-state storage or, at the very least, a hybrid drive. Users should note, however, that the underlying HS61 chipset is limited to SATA 3Gbps, so you won't be able to take advantage of the speed available to the very latest SSDs.
Removing the graphics-card-like cooler, which blows air across a heatsink toward a rear vent, reveals the LGA1155 socket and an accompanying Core i5-3470T processor that dates back to Q2 2012. The 35W dual-core, hyper-threaded chip operates at speeds of up to 3.6GHz courtesy of Turbo Boost, and with no room for a discrete GPU, Intel's processor also takes on graphics duties via a HD 2500 IGP.
The CPU is impressive for a system of this size, but don't expect a lot from the IGP. Intel's HD 2500 is clocked at 650MHz and features just six execution units, compared to 16 on the next-up HD 4000. Outputting via either HDMI or DVI, the IGP will handle high-def video with ease and benefits from Intel's Clear Video, Quick Sync and InTru 3D technologies, however playing high-quality games is likely to be a step too far.
Using a socketed CPU allows for future upgrades, but the limited amount of space restricts the choice of chips to 45W models. Those feeling adventurous could pony up another £250 to install a 45W, quad-core Core i7-3770T with HD 4000 graphics, but such an upgrade would make little sense in a mini PC designed for bedroom or living-room use.