Introduction
Remember when getting the best of your PC content on your living room TV used to be quite a feat? Those days are long gone thanks to increasingly-popular mini PCs that aim to offer a complete desktop experience in a small pint-sized package.
Somewhat surprisingly, Zotac - a Hong Kong manufacturer known best for producing Nvidia graphics cards - has been at the forefront of mini-PC development with a range of systems launched under the Zbox umbrella. Promising a first-rate multimedia experience, Zotac's efforts have typically delivered the maximum possible performance in a given thermal design, and the company is continuing along that path with the new Zbox ID89.
Sporting a now-familiar chassis, the ID89 doesn't look particularly new from the outside, so one needs to peruse the specification sheet to see how the latest mini-PC stacks up. And there's no mistaking the headline change: this time around Zotac has crammed a third-generation desktop Intel Ivy Bridge processor into the compact Zbox frame. The 35W Core i5-3470T is the chip in question, and with dual hyper-threaded cores and a maximum operating frequency of up to 3.6GHz, it should bring a new level of performance to the Zbox range.
It's a shame, however, that Zotac hasn't seen the upgrade as an opportune moment to revamp the chassis. As it stands, the 188mm x 188mm x 51mm frame continues to use glossy plastic as its primary construction material, and though it feels reasonably well-built it's lacking the star quality of, say, an Apple Mac Mini, which is carved from aluminium.
You might assume, as we originally did, that the Zbox ID89 will undercut Apple on pricing, but that isn't necessarily the case. At the time of writing, the Mac Mini is available as a complete system - including operating system - for £499. Zotac's latest Zbox, meanwhile, will be offered in two flavours; a £350 barebones unit that lacks storage, memory and operating system; or a £425 Zbox ID89 'Plus' that includes a 500GB hard disk, 4GB of memory, but again no operating system.
Zotac has sent us the near-fully equipped Zbox ID89 Plus to have a play with, but whichever way you approach the system, you're likely to end up spending circa £500 when you factor in a license for Windows 8. Straight away, it's clear that Zotac faces a couple of key challenges; the Zbox ID89 isn't as affordable as an Intel NUC, and it simply isn't as sexy as a Mac Mini.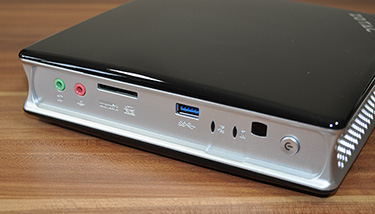 What it does have to its advantage, however, is a couple of essential PC promises - including a good amount of processing power, ample connectivity options and a certain level of upgradability. Both the standard and Plus versions of the ID89 utilise the same chassis, giving the user an array of inputs and outputs that includes HDMI and DVI, a choice of digital or analogue audio jacks powered by a Realtek ALC892 codec, a memory card reader, two USB 2.0 ports on the back panel, a USB 3.0 port on top and a second USB 3.0 port on the front panel. A blue LED ring is presented on the face of the box to indicate power, though if you find it distracting it's easily disabled in the BIOS.
Connectivity, meanwhile, comes in the form of dual Gigabit Ethernet, 802.11n Wi-Fi, Bluetooth 4.0 and an integrated IR receiver for the bundled remote control. HDD and Wi-Fi LEDs provide at-a-glance status updates, the power button is easy to press (though there's no reset button) and the bundled 90W power supply hooks up to a jack on the system's lower edge. The size of the brick isn't exactly offensive, but again, it's a shame Zotac hasn't gone the extra mile and found a way to integrate the PSU within the unit.