Extreme SFF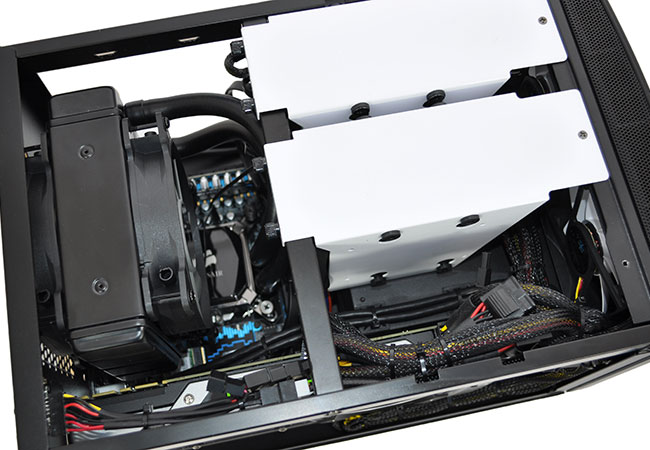 Cramming is certainly the name of the game - and we don't envy the engineer who has to put the pint-sized rigs together - as there's plenty going on inside the chassis' steel body. At the base of the box, Scan uses an Asus P8ZZ-I Deluxe, a motherboard that appears to be the go-to solution for many a high-end Mini-ITX build.
Knowing that skimping simply isn't an option at this price point, the board is empowered by a top-of-the-range Intel Core i7-3770K which, despite the tight confines, is ramped right the way up to 4.6GHz on all cores. Scan manually applies 1.3V to the chip in order to maintain stability at this speed, and the increased voltage, heightened frequency and lack of room are all certain to accelerate the production of heat. Getting around any potential temperature issues, a Corsair Hydro Series H80i liquid cooler is installed to provide high-end CPU cooling performance.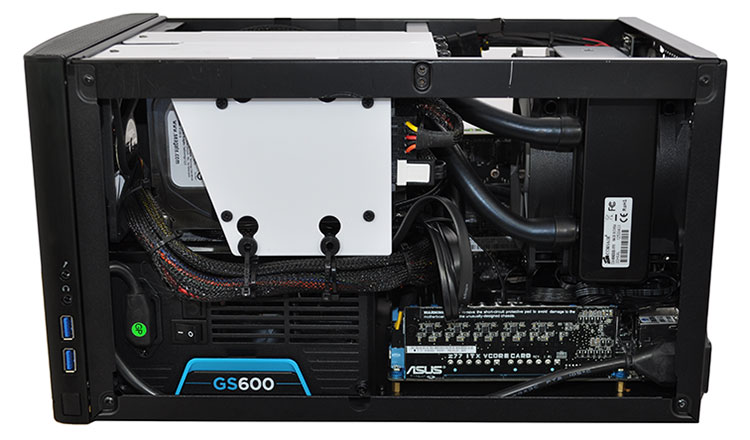 As expected, a system of this size has limitations where configuration options are concerned. In addition to the chassis, Scan's specification page doesn't allow for the motherboard or CPU cooler to be changed, though gamers who perceive little value in hyper-threading do have the option to downgrade to a Core i5-3570K, saving £80 in the process. It's a saving some of us might consider, but then again, if you're prepared to fork out two grand on a base unit, what's a couple of quid here or there?
With the extreme user in mind, Scan offers very few upgrade options. The 3XS Z77 Node Titan is shipped practically maxed-out and includes 16GB of Corsair Vengeance RAM - again, there's no option to go higher, but you can downgrade to 8GB if you're looking to bring down the total price.
On the storage front, both of the Node 304's storage bays (the bright-white mounts you see in the pictures) are used to house a 250GB Samsung 840 Series SSD that functions as the system disk and a 2TB Seagate Barracuda hard disk that provides ample secondary storage.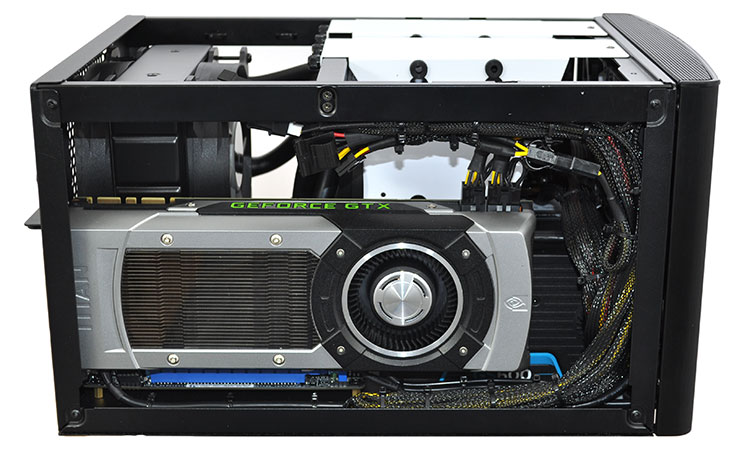 Graphics, of course, are headlined by the GeForce GTX Titan. Giving the consumer more, Scan overclocks the GPU from its default 837MHz to an enticing 961MHz, and of course GPU Boost will take it much higher in certain scenarios.
We've covered the card in an earlier in-depth review, but just to reiterate it's a beautifully engineered poster boy for the Kepler architecture. Titan is without doubt one of the most refined graphics cards we've ever seen, yet it doesn't have the muscle to knockout dual-GPU alternatives. As a result, Nvidia's fastest single-GPU offering is best suited to small-but-explosive systems such as Scan's 3XS Z77 Node Titan.
With a 4.6GHz CPU at the helm, you want a super-fast graphics card that's cool, energy-efficient and quiet; Titan, albeit at a lofty price, is a better fit than a dual-GPU behemoth. But the price remains an anathema to most, and Titan's ludicrous positioning is reflected in Scan's downgrade options. Switch to a GeForce GTX 670 - which remember is no shrinking violet - and you'll save almost £600.
Finishing off this ultimate small-form-factor build, there's a 600W Corsair Gamer Series power supply, a 64-bit install of Microsoft's Windows 8 operating system and a standard three-year warranty that provides extra protection for an overclocked system. It's a mighty-impressive specification, but the compact approach does have a long-term restriction; upgradability is limited and you'll never be able to add a second graphics card for obscene dual-Titan thrills. Then again, perhaps you'll never need to? Let's see what this machine can do.