Introduction
AMD's re-emergence in the consumer desktop space is all but complete. Having started by eating away at Intel's dominance with first-generation Ryzen CPUs back in 2017, the firm's third-generation parts now pack enough firepower to challenge at the top-end of the scale where enthusiasts spend the big bucks.
System integrators are responding in kind, with Scan Computers choosing to send in a Ryzen 3rd Gen base unit priced at a whopping £4,000. Does an AMD rig make sense in an arena which has traditionally proven to be off limits? Let's get stuck in.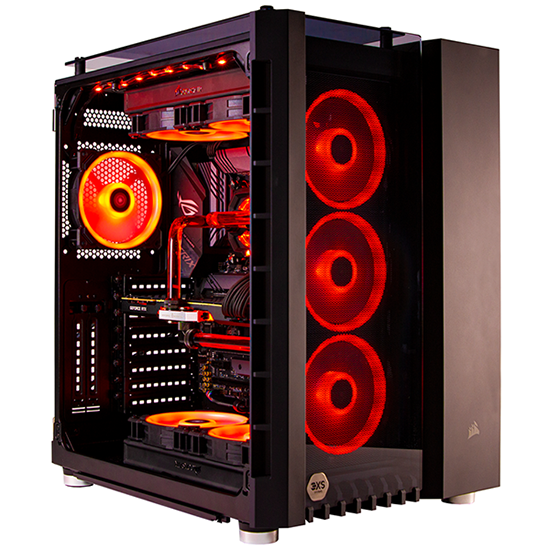 First impressions are key at this end of the market and Scan has taken the time to ensure the 3XS Vengeance RTX Ti Fluid looks the part. Using a Corsair Crystal Series 680X RGB chassis as its base, the giant cube comes across as formidable and, as you'd expect from an enthusiast rig in 2019, there are lots of RGB lights and multiple radiators.
Having previously been impressed with Corsair Hydro X cooling gear, it is no surprise to find Scan calling on the same ecosystem once again. This time around, the XC7 CPU block is fed via thicker 14mm XT Hardline tubing that's better suited to a system of this ilk, and both an XG7 RGB 20-Series GPU block and an XD5 RGB pump/reservoir are incorporated into the loop. It is interesting to note that the reservoir assembly is tucked into the chassis' rear cavern - might you prefer to have it on show? - and that Scan has decided against a front-mounted radiator. Taking the time to evolve the build, Scan's engineers found that temperatures were greatly reduced with the front radiator moved to the bottom of the case.
We're not complaining as the end result has better symmetry. 3XS Vengeance RTX Ti Fluid employs two of Corsair's XR5 240mm radiators and a total of eight RGB fans; two on each radiator; three in the front; and one at the back. The fans and a couple of lighting strips are all attached to a Corsair RGB hub for simplified synchronisation through the iCue app, and the translucent red liquid comes to life when the various LEDs are matched.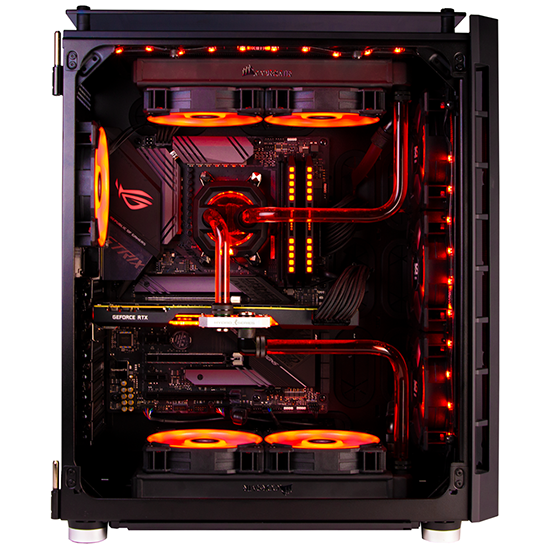 There's merit to buying a turnkey system when the cooling is so involved - the 10 per cent premium, give or take, is easier to justify given the peace of mind of a three-year warranty as standard - and Scan's component selections tick a lot of the right boxes. As expected for a Ryzen showcase, the CPU is a 12-core, 24-thread Ryzen 9 3900X. Though we expect the 3XS Vengeance RTX Ti Fluid to annihilate every other system in the multi-threaded tests, there is one small wrinkle in that the superior 16-core Ryzen 9 3950X will be released next month. If you're spending this amount of money, you might be inclined to wait.
On the other hand, if you want the best that AMD's AM4 platform has to offer today, this is pretty much it. Scan uses an Asus RoG Strix X570-F Gaming motherboard as its foundation and takes advantage of PCIe 4.0 support with a spacious and ultra-fast 2TB Corsair MP600 M.2 SSD. Memory is provided by 32GB (2x16GB) of Corsair Dominator Platinum DDR4, and best-in-class graphics come courtesy of an EVGA GeForce RTX 2080 Ti Black graphics card. High-end stuff wherever you look, though nitpicking somewhat, our own testing of Ryzen 3rd Gen has shown that AMD's latest chips really benefit from low memory latency, and Scan's 16-17-17-35-1T timings aren't as tight as they might have been.
Rounding out the build, you'll find a Corsair RM850X supply with neatly sleeved cabling, and a 64-bit install of Windows 10 that's free of any bloatware and updated with all the latest drivers. Scan's implementation is tidy throughout - there's barely a fingerprint or smudge on our review unit - and as always there are some nice touches that end users are likely to appreciate. We like the fact that a USB recovery stick is included as standard, with a full backup of the OS as well as a handful of useful diagnostic utilities, and if you want to know exactly how your build is progressing, Scan's 'track and trace' portal provides photos throughout the build process.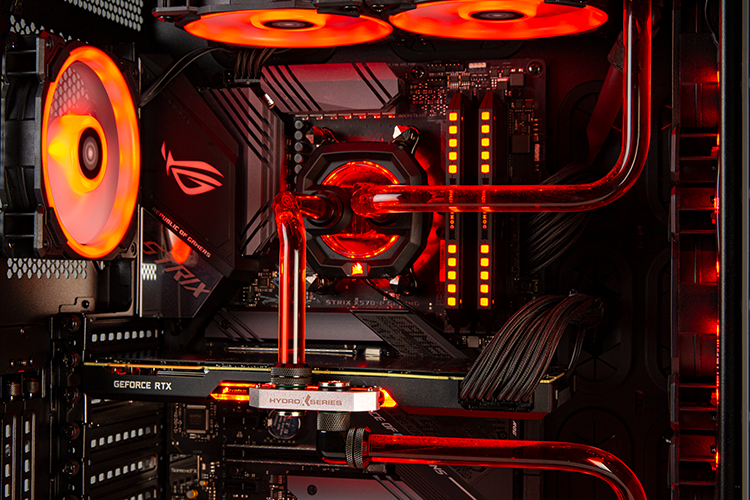 Goes without saying, a system as powerful as this is shipped with overclocks on all three fronts. Right out of the box, Scan has the CPU configured to 4.3GHz across all cores, the DDR4 memory is overclocked to 3,600MHz, and the EVGA GeForce RTX 2080 Ti graphics card sees boost clock increased from 1,545MHz to 1,735MHz, while the 11GB GDDR6 frame buffer is ramped-up to 14.9Gbps. These speeds are all guaranteed for the full duration of the warranty.
There's no longer any reason for AMD to be shy when it comes to the high-end, though for fervent followers, it's a shame there isn't a suitable Radeon to sit alongside the likes of Ryzen 9 3900X. Still, the fact that Scan Computers is pushing a £4,000 AMD rig is testament to Ryzen's momentum. Enough of the chit-chat, let's fire it up and run some benchmarks.