Introduction
The launch of Corsair's Hydro Series H50 a decade ago can be viewed as a watershed moment for all-in-one liquid coolers. Since then, anyone who's anyone in PC hardware has joined the fray, leading to soaring sales of products that were once deemed niche. Corsair has in effect made enthusiast cooling solutions more accessible to the mainstream, and in 2019 it is taking the next step forward with the introduction of its eagerly-anticipated Hydro X.
Intended to extend the appeal of custom loops beyond hardened enthusiasts, Hydro X serves as a one-stop destination for all the liquid-cooling paraphernalia needed to create a machine that's guaranteed to turn heads. Having a single source for your CPU block, GPU block, pump, reservoir, radiator, fittings, tubing and coolant sounds hugely convenient, particularly for mainstream users who've never felt ready to attempt something quite so bold, so is Hydro X any good?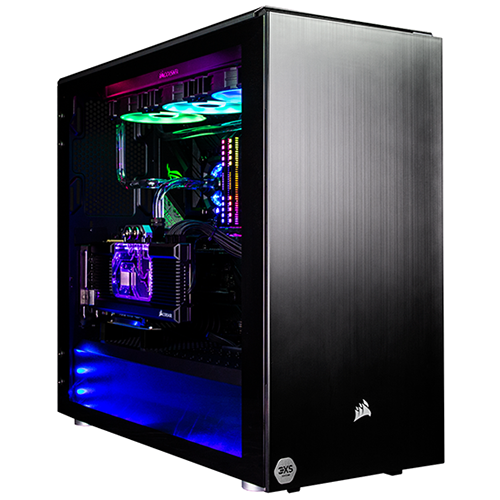 To find out, we've got our hands on the Scan 3XS Vengeance Hydro X RGB, a £3,800 enthusiast base-unit designed to champion Corsair's first-gen Hydro X products. System integrators are understandably eager to incorporate Hydro X - such cooling is ideal for premium builds - but there will be plenty of users who prefer to put together their own machine. For those inclined to take the DIY route, it's worth mentioning Corsair's rather handy Hydro X configurator.
The web-based tool lets you lets you enter your chassis, CPU, motherboard and graphics card, and then suggests a recommended loop with all the necessary fittings and adapters. It's quite fun to play with and we're pleasantly surprised to find that Corsair has managed to include a good number of third-party chassis as part of the configurator; here's hoping the list of choices continues to grow, as my own be quiet! enclosure isn't yet featured. Even at this early stage, Hydro X removes a lot of the guesswork - there's no need to hunt for fittings or coolant from different vendors, thermal paste is pre-applied, and the main components are backed by a three-year warranty from a well-known brand - for these reasons alone, we suspect Corsair's kit will prove hugely popular.
For system integrators, creating beautiful builds has never been so easy, and the Scan 3XS Vengeance Hydro X RGB sure does look the part. At the heart of this £3,800 powerhouse is an Intel Core i7-9900K processor (overclocked to 4.9GHz across all eight cores), 32GB of Corsair Dominator Platinum DDR4-3200 memory and an EVGA GeForce RTX 2080 Ti Black Edition graphics card (overclocked by 100MHz) installed on the Asus RoG Strix Z390-F Gaming motherboard.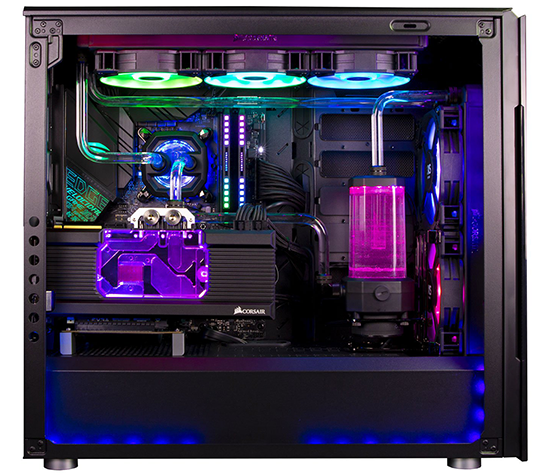 It is no surprise to see Corsair products featuring prominently in this Hydro X build. The chassis of choice is a Corsair Carbide Series 678C, power is provided by a 650W Corsair RMx supply, and a 960GB Corsair MP510 M.2 SSD serves as the primary storage device. A 2TB secondary Seagate hard disk is also installed, though, given that SSDs have fallen in price significantly, we reckon it's time for enthusiast builds such as this to drop mechanical storage altogether. A couple of high-capacity M.2 drives would be our preference on a premium rig.
Not that a Core i9-9900K and RTX 2080 Ti aren't interesting, but let's talk about the topic of the day: Hydro X. First impressions are positive, as Corsair has worked with a number of established brands in order to source the requisite parts. Hydro X radiators are manufactured by Hardware Labs, the coolant comes from Mayhems, Bitspower provides the fittings, and the reservoir assembly incorporates an Xylem D5 PWM pump.
Plenty of quality, and though building your own loop still affords greater flexibility and configuration options, Corsair has an added incentive in the form of lots of RGB lighting. There are 16 addressable RGB LEDs in both the CPU block and GPU block, plus another 10 LEDs mounted in the top of the reservoir, and when you factor in a full set of RGB fans, the light show becomes quite spectacular. Everything is hooked-up to Corsair's iCue Commander PRO Smart RGB controller, and for a complex custom loop, we're impressed with iCue's effortless management of lighting effects and fan curves. It all just works.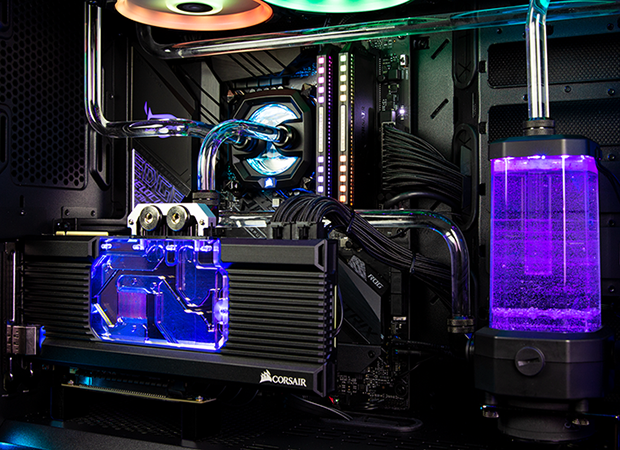 Hydro X offers the most accessible implementation of expansive liquid-cooled RGB lighting we've seen, but up close, some of the integral parts might divide users. The XC7 CPU waterblock, for example, looks and feels a tad plasticky, and the octagonal XD5 reservoir isn't as stylish as it might have been. Neither of the two aforementioned parts are quite up to the standard of the XG7 GPU waterblock, which encases the entire card in aluminium and features a transparent flow path to show off the RGB lighting and a neat little flow indicator.
We'd liked to have seen Corsair use more metal in the CPU block and reservoir, but in truth, once everything's in situ the visible flow and mesmerising lights ultimately steal the show. We also like the fact that Hydro X is configurable with a choice of tubing - fully transparent PVC soft tube or clear PMMA hard tube are available, the latter in either 12mm or 14mm diameter - and though there are already a healthy number of options, we're looking forward to seeing what else gets added to the Hydro X stable. For a modular system such as this, new additions ought to be frequent, and we suspect it's only a matter of time until coloured fittings, different reservoirs and other personalisations become available.
How about costs? Well, you're looking at £70 for a CPU block, £145 for an RTX 2080 GPU block, and radiator fees range from £40 for a 120mm XR5 to £130 for a 480mm XR7. Individual component costs are competitive - in some cases the Hydro X part is cheaper than the ODM equivalent - but of course, a complete loop, with all fixtures and fittings, will set you back a handsome sum. Scan's setup, which includes a 360mm radiator in the roof and a 280mm radiator up front, plus five LL RGB fans, would require an outlay of around £900. It sure is nice, but I for one won't be replacing my air cooler anytime soon.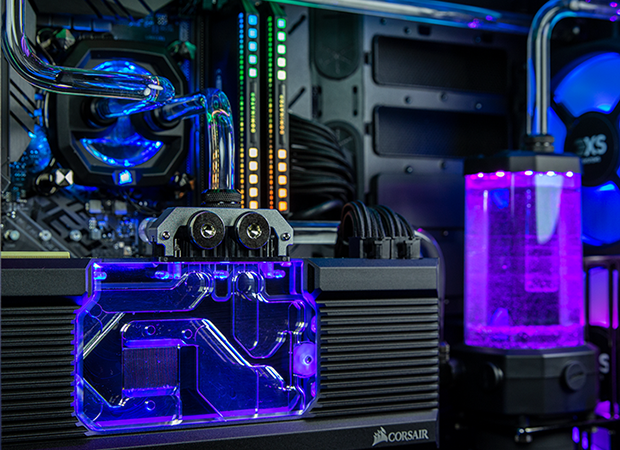 We don't see any obvious obstacles when it comes to buying and installing a Hydro X setup - anyone who has put together a PC ought to feel confident enough to at least tackle the softline tubing - but such an elaborate loop requires more consideration than your average cooler. Corsair's rubberised mounting bracket makes it easy to attach the radiator to a 120mm or 140mm fan mount, but Scan's default configuration has had to adapt to the chassis; we aren't fond of the front intakes being inside the radiator (though the RGB admittedly does look nice), and with a solid front door, the Carbide Series 678C chassis wouldn't be our first choice for this sort of setup.
Adding up the cost of the hardware in the Scan 3XS Vengeance Hydro X RGB would put the total component fee at close to £3,500, and given the added complexity of the Hydro X loop, it's no surprise to see a near-10 per cent premium for a turnkey rig that's pre-assembled, loaded with all the latest drivers and backed by a three-year warranty that includes full cover for the overclocked core components. Chart-topping benchmark results are a given, but we're fascinated to see what sort of temps we achieve during real-world use. Let's roll the benchmarks.