Meet the Modern PC
I had to visit a nearby Currys megastore a few weeks back and while browsing the broad selection of computers, I was struck by the realisation that the systems in the Windows area were, in my opinion, aesthetically more pleasing than the Apple section.
Consumers wanting their computer to double as a fashion statement have in the past relied on Apple products, but modern Windows machines are sexier than ever before. Top-tier manufacturers are keen to put stylish solutions in the hands of today's image-conscious consumers and HP has a range of eye-catching PCs on offer, including the intriguing Pavilion Wave.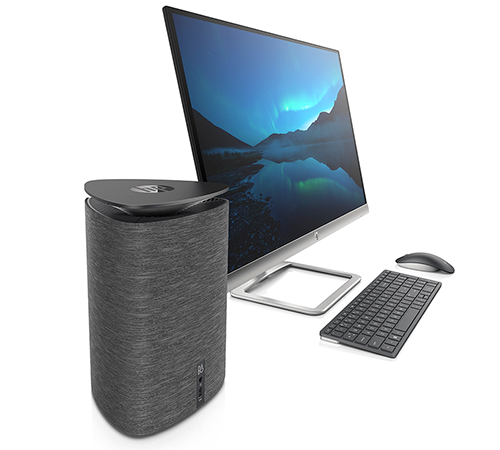 Priced at £730 and adopting a mini-tower form factor, the Pavilion Wave is a sleek 235mm x 168mm x 173mm machine promising "full desktop power" and "fully integrated audio" in one streamlined package. And it is undoubtedly a pretty piece of kit. Small enough to sit alongside a monitor, the triangular design is lined with a woven fabric that covers any interconnecting panels to create a seamless finish.
Sounds As Good As It Looks
HP's party trick, and it's a good one, is the inclusion of a B&O Play speaker near the top of the cylinder, where vented sides allow sound to be reflected in 360 degrees. Said speaker won't be replacing your HiFi equipment anytime soon, yet it packs a surprising punch, delivering rich and detailed sound with just enough bass.
There's ample volume to fill a small- or mid-sized room, and the B&O Play experience is a significant step-up from the basic speakers integrated into most monitors. We've enjoyed listening to music on it, and if you're an avid Cortana user or a frequent video caller, you'll also appreciate the internal noise-cancelling microphone array, which does a grand job of picking up voice even from across the room.
HP's chassis is a beautiful thing and with no gaudy additions or distracting LEDs ought to blend seamlessly into the modern home. The front of the unit is kept clean with only a headphone jack and USB 3.0, while the rest of the connectivity options are lined-up neatly around back. These include a 3-in-1 card reader, USB 3.1 Type-C, two additional USB 3.0, Gigabit Ethernet, DisplayPort, HDMI and a connector for the external 150W power supply.
The entire unit feels well knitted together, despite an insignificant weight of just over 2kg, and WiFi and Bluetooth duties are handled by an integrated Intel Dual Band Wireless-AC 3168 adapter. Connectivity is almost perfect, though if we're being ultra critical, we'd have preferred the power button and USB Type-C port on the front, and it's a shame HP couldn't find a way to integrate the power supply as the external brick is large and relatively inelegant.
Peripherals and Components
Given the style of the unit and the strength of the sound, it's a tad disappointing to find that the bundled peripherals offer limited appeal. HP's chiclet keyboard is adequate and has the ability to recharge via USB, but it lacks niceties such as backlit keys or tilt adjustment, and the mouse is even more basic. The bundled pointer requires two AAA batteries, isn't rechargeable, and features no forward or back buttons alongside the regular left and right clickers. Not ideal for productivity, but both peripherals do thankfully connect wirelessly without the need for a dongle, and if you're prioritising style, the overall colour scheme and design neatly blend with the tower.
The question that remains, then, is whether or not the Pavilion Wave can deliver both style and substance. At this price point you expect solid performance and the good news is that the system does feel suitably swift during everyday use. Windows and common apps load instantly, web browsing is fast and fluid, and there's enough oomph to drive 4K multimedia content without kicking up a fuss.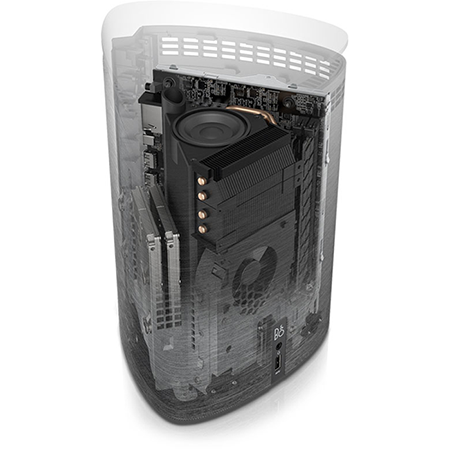 In order to deliver the hardware chops, HP has the various components arranged on a triangular internal prism. One side is home to the motherboard, an Intel Core i5-6400T processor, 8GB of DDR4 memory and a 128GB Samsung SM951 NVMe SSD. The second side carries a 1TB hard disk for secondary storage duties, while the third side is lined with a thermal system comprising copper pipes, cooling fins and a small fan tasked with pushing air up through the chassis.
There is talk of a discrete GPU being added to aid the integrated Intel HD 530 in future models, but as it stands the hardware configuration is playing it safe. The quad-core Intel CPU is a low-power 35W part from Intel's previous generation Skylake stable, the 8GB of DDR4 memory is configured in a suboptimal single-channel configuration, and the 128GB SSD, while fast, isn't particularly spacious. You need to be comfortable in knowing what you get, as the Pavilion Wave isn't designed to be upgradeable and attempting to open the chassis would void the warranty.