Multimedia Duties
Big-screen entertainment is ultimately the HS-251+'s raison d'être. Sure, it's essentially a dual-bay NAS that offers the dizzying array of functions available to most Qnap solutions, but the form factor and HDMI output combine to create what we're told is "a perfect match for home theatre enthusiasts."
Paying attention to such usage scenarios, Qnap has made a couple of small tweaks that will be appreciated by the target audience. The status LED on the front, for example, can be dimmed or turned off entirely at certain times of the day, and there's also a bundled IR remote that's handy for big-screen navigation.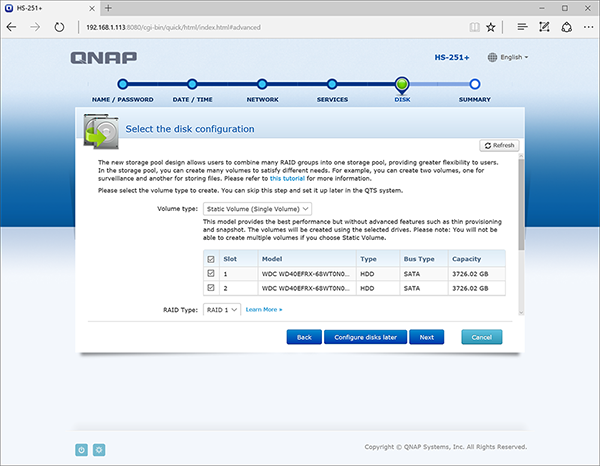 Setup is no different to any other Qnap NAS and entails plugging in your hard disks and following a step-by-step wizard accessible through any connected web browser. The process is simple enough, however the remote setup procedure might be daunting to less experienced users - the HS-251+ certainly isn't as easy to configure as, say, a games console or DVR.
Following the initial configuration, users are dropped into one of the best web-based admin panels available to a NAS device. Qnap calls it QTS, and the latest 4.2 release offers a refreshed user interface that looks clean and modern throughout.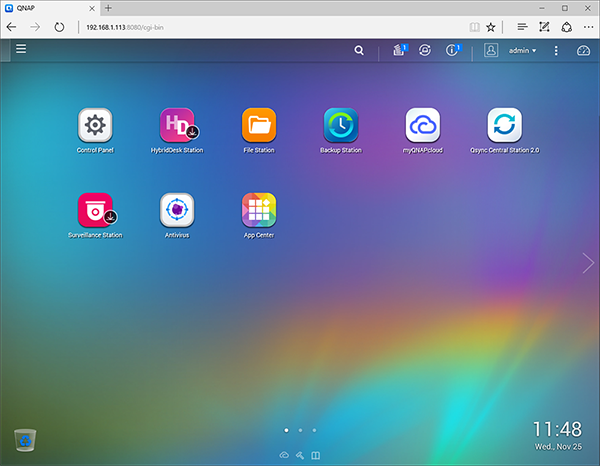 The best way to get a feel for the QTS environment is to try out the free online demo, but if you've already decided that a Qnap NAS is the right choice, you may be wondering whether or not HDMI output is as useful as it's made out to be.
It's a good question, as Qnap's TV interface, dubbed HybridDesk Station, currently suits a specific type of user. At the time of writing, the HybridDesk Station platform offers an array of apps including Kodi (formerly XBMC), YouTube, TuneIn, Spotify, Skype, Plex and Chrome.
A useful selection, and users can choose to navigate the interface using the bundled remote control, a smartphone app dubbed Qremote, or better yet a keyboard and mouse. The latter is in our estimation the best bet, and all of the keyboards we've tried worked just fine using the available USB ports.
HybridDesk Station certainly has promise, however it's clear that this is a pro-user device offering home-user features, and as such the HDMI capabilities aren't the easiest to configure. Though the interface is suitably sleek, Qnap needs to educate users on the benefits of connecting the NAS to the TV, and at the very least a HDMI cable should be included in the box.
More could be done to make HybridDesk Station accessible to novices, but for PC enthusiasts there's plenty to like and making the above-pictured apps available to a big screen via HDMI output makes perfect sense.
The HS-251+ has enough power to drive high-bitrate multimedia at 1080p with 7.1 surround sound, and with hardware transcoding and subtitle support, it's a solution that works well for users who have amassed a large library of ripped or, ahem, downloaded movies.
We noticed a brief delay when a new app is launched, but for the most part the apps are well presented and function as intended. In fact, the only obvious disappointment is that the HS-251+ doesn't do more. Native apps for the likes of Netflix, Amazon Instant Video and BBC iPlayer are conspicuous by their absence, and though Qnap's library is growing, it needs to bridge those gaps for QTS to realise its full potential.