Introduction
Network-attached storage units were once used specifically for data backup purposes, but times have changed and the seemingly-humble NAS has evolved into the swiss army knife of computing devices.
In addition to comprehensive backup, today's solutions offer a wide array of features that include a centralised data store for all our mobile devices, built-in media libraries, servers for web, email or FTP, as well as camera surveillance and much, much more. The modern NAS is a mini PC of sorts and Qnap reckons it's time to take such devices out of the closet and into the living room.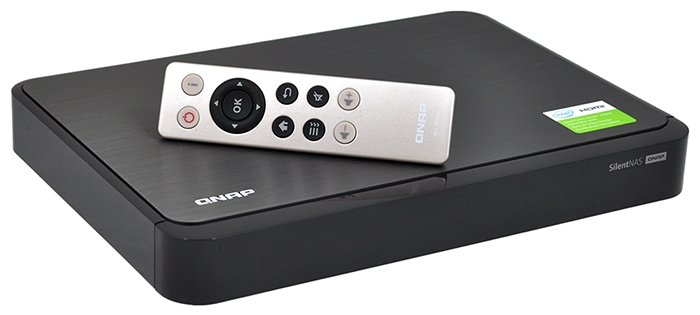 The Taiwanese firm has championed the living-room friendly NAS for a number of years and is continuing to stake its claim for a space beneath your TV with a new model dubbed the HS-251+.
Priced at £290 in a diskless configuration, the HS-251+ is the latest addition to Qnap's range of home-user devices and touts a familiar low-profile design coupled with a few internal upgrades that include a quad-core processor and, crucially, integrated HDMI output for a direct connection to your entertainment system.
The overall look-and-feel hasn't changed since the HS-210 made its debut in 2013, but that's no bad thing. Measuring 41.3mm (H) x 302mm (W) x 220mm (D) in size, the HS-251+ remains a sleek-looking unit and in keeping with its predecessor, there's no internal fan, allowing for practically silent operation.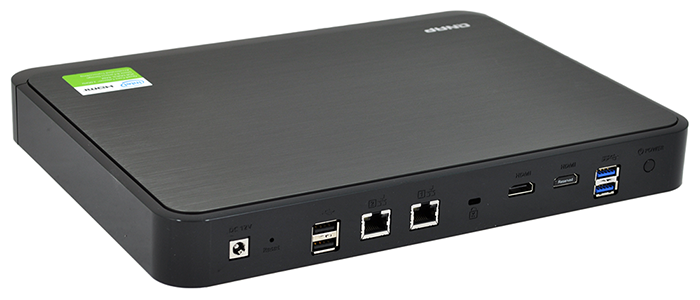 All of the connectivity options are tucked neatly around back, where Qnap includes a port for the external 60W power adapter, two USB 2.0 ports, dual Gigabit Ethernet (with support for failover or trunking), HDMI output, two USB 3.0 ports and a small power button. A useful selection, though it's a shame there isn't a front-facing USB port for easy access, and if you will be placing the HS-251+ on a TV unit, the power button isn't the easiest to reach.
Nothing's changed up front, where a glossy black cover is held in place by a magnet and comes away to reveal access to the dual internal drive bays. Each metal tray can house a 2.5in or 3.5in drive, but neither is tool free so a few screws are required.
Practically any hard disk should work, but Qnap openly states that the HS-251+ is "best used" with either WD Red or Seagate NAS drives. RAID modes 0 and 1 are supported, and with today's drive capacities, users could easily configure up to 12TB of storage space. Plenty of room to manoeuvre, though if true silence is a priority, you'll want to invest in a couple of SSDs.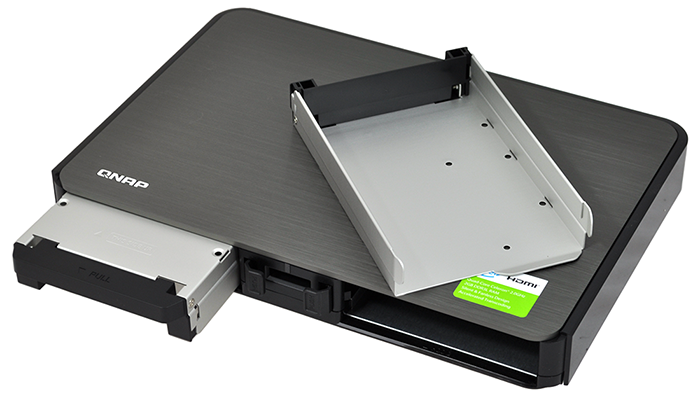 The first major changes become apparent when you consider the underlying hardware. Whereas the original HS-210 shipped with a 1.6GHz Marvell processor, the HS-251+ is outfitted with a more potent quad-core Intel Celeron J1900 capable of speeds of up to 2.4GHz.
Intel's 10W CPU is partnered with 2GB of DDR3 memory and is passively cooled via an aluminium lid that's designed to dissipate heat away from the core components. Note that the lid gets noticeably warm to the touch during use, and Qnap recommends keeping the unit from free obstruction.
We haven't run into any heat-related issues during testing, yet we don't feel entirely comfortable running hard disks without active airflow. It's an unnecessary risk, we feel, and the potential for heat build-up may discourage users considering the HS-251+ as a primary backup device. For added peace of mind, we'd prefer to see Qnap include a fan that only kicks in when temperatures reach a certain point.