Introduction
Creating a centralised storage solution for all the devices in your home has to be one of the most satisfying hobbies a PC enthusiast can have. Few things are as enjoyable as serving your media collection across multiple devices from your own personal server; and it never fails to impress the technophobes.
Trouble is, making your own server can be a time-consuming process, and if you decide to buy an off-the-shelf network-attached-storage (NAS) solution, you're often left with two choices; a premium box that touts high performance; or an affordable unit that's somewhat lacking in speed and functionality.
Hoping to find a better middle ground, Buffalo has introduced its first diskless enclosure, the LinkStation 421DE.
Priced competitively at £140, the LinkStation 421DE is a two-bay enclosure that touts "noticeably improved performance", a "new intuitive interface" and "a free personal cloud for remote access from anywhere via web browsers or smart devices."
Everything an affordable, home-user NAS ought to be, and Buffalo's design is well-suited to the task at hand. The compact box is barely bigger than two 3.5in hard disks, measuring just 87mm x 205mm x 128mm in size and weighing 800g with no drives installed.
The hardware feels well built, and users will appreciate the rubber base, which helps soak-up a certain amount of vibration and prevents the NAS from slipping on most surfaces. There is a small external power adapter to contend with, but on the whole the grey-and-black box looks reasonably attractive and will live inconspicuously on a desk or a bookshelf.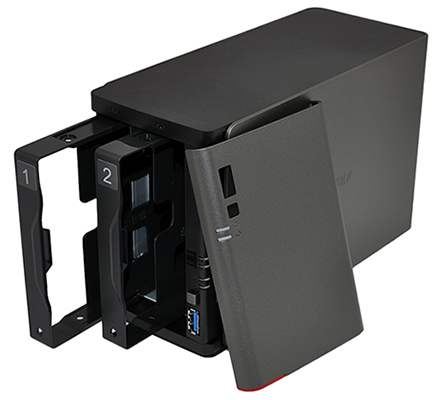 Keeping the design as clean and uncluttered as possible, the front of the LinkStation 421DE offers just two status LEDS - power and drive activity - alongside a small reset button and a SuperSpeed USB 3.0 port. Around back, a power on/off switch is joined by a USB 2.0 port, a solitary Gigabit Ethernet jack, a Kensington lock and a connector for the bundled power adapter.
Getting access to the dual drive bays entails pulling away the plastic front fascia. The lightweight cover clips on and off with ease, and similarly, the two plastic drive trays pull out with a gentle tug.
Neither bay is lockable, but they are numbered to help prevent any mix-ups and pre-drilled holes offer support for your choice of 2.5in or 3.5in disks. RAID modes 0 and 1 are supported, and the availability of 4TB disks gives the LinkStation 421DE a current maximum capacity of 8TB.
It's good to see Buffalo putting forth a diskless enclosure, and though most SATA hard drives should function as expected, a compatibility list that identifies tried-and-trusted drives is available at Buffalo.com.
On the inside, the LinkStation's claim of improved performance is backed up by a dual-issue 1.2GHz Marvell Armada 370 processor and 512MB of DDR3 memory. Performance isn't likely to match some of the premium Intel-based solutions, but Buffalo quotes transfer speeds of up to 100MB/s - a healthy figure from hardware that should keep power consumption down to a minimum.