Introduction
Western Digital has been at the forefront of the storage industry for about as long as we can remember, but only in recent years has the outfit attempted to master the needs of SMB environments.
The quest began with the launch of the Sentinel DX4000, a network-attached storage (NAS) solution aimed squarely at small-office users. In an effort to keep the Sentinel range moving forward, WD has now let loose a top-of-the-line 16TB model priced at £1,400.
Visually, not a lot has changed. This is the same DX4000 chassis that's been doing the rounds since late 2011, but that's no bad thing; WD's 206mm x 224mm x 160mm enclosure remains well built and has a real quality feel about it. A mesh front door is easily opened to reveal access to the unit's four spring-loaded, hot-swappable drive bays, and just above that a two-line LCD display provides at-a-glance status information that can prove helpful during setup.
Around the back, the Sentinel DX4000 carries dual Gigabit Ethernet ports with fallover support (but not link aggregation, surprisingly), two USB 3.0 ports for attaching additional storage, and a pair power connectors. WD includes two external power supplies as part of the 16TB bundle, giving users an out-of-the-box backup should one fail. Cooling, meanwhile, is provided by a 92mm fan that, while boisterous and noisy during the initial setup phase, is controlled through software and quietens down to an acceptable level during everyday use.
Speaking of software, one of the DX4000's primary draws is that it runs Windows Storage Server 2008 R2 Essentials and supports up to 25 clients. Unlike the vast array of Linux-powered alternatives, Western Digital's decision to opt for a Windows-based environment makes the DX4000 an obvious fit for many small-office businesses. The software will feel familiar to users of Windows machines, and of course integration of Microsoft services such as Windows Domain and Active Directory should prove to be straightforward.
We're often pleased by the simplest things, so it's no surprise that we're fond of the tool-free drive bays; simply open the bay covers and the drives slide out on metal rails. The process of chopping and changing drives couldn't be easier - you'll never be left searching for the screwdriver - but there are a couple of caveats. Only 3.5in drives are supported, so don't contemplate adding high-speed 2.5in SSDs, and "in order to provide the highest reliability to customers" the Sentinel DX4000 has a rather short list of compatible hard drives.
Our 16TB review sample came equipped with a quartet of 4TB, 5,400RPM Hitachi GST Deskstar 5K4000 drives (model number HDS5C4040ALE630), and this is the only drive officially certified as compatible with the box. Hitachi GST (now a subsidiary of Western Digital) has designed the drive with an emphasis on low-power operation, hence the average speed of 5,400RPM, and while it represents a good fit for NAS environments, we suspect future Sentinel models will utilise WD's own NAS-specific drive; Red.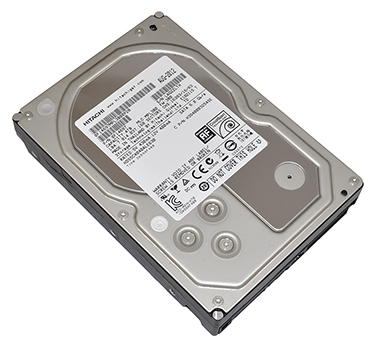 Drive availability continues to be patchy following the floods in Asia, but the 5K4000 model can be acquired in the form of an official WD replacement priced at around £360 per 4TB drive.
Sitting just above the hard-drive bays, the DX4000 has a compact PCB connected to a perpendicular SATA backplane. At the heart of the system you'll find a 1.8GHz Intel Atom D525 processor that dates back to 2010 and it's accompanied by a 2GB DDR3 memory module. The aforementioned Intel Atom processor officially supports up to 4GB of memory - suggesting that the module could be upgraded by the user - but WD has kept the hardware simple throughout. An NEC chip powers the two USB 3.0 ports, Intel 82574L controllers drive the Gigabit Ethernet ports and a three-pin header is used to connect the bundled system fan.
It's worth noting that the Windows Storage Server operating system is stored on the RAID array itself - it simply isn't lightweight enough to reside on a separate flash module, as is the case with most Linux-based solutions - and as a consequence needs to be backed-up by the user. No installation discs are provided, and if you do happen to run into trouble without a backup, you'll need to download the 8GB image from the WD website in order to return to a factory-fresh state.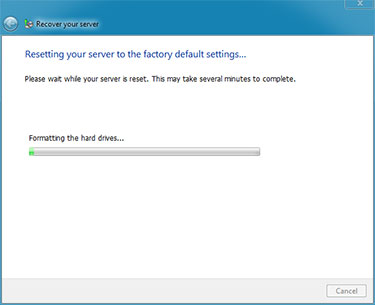 And be warned - the recovery process, which entails formatting the hard drives, reloading the OS and rebuilding the RAID array (with the fan running noisily at high speed), can take a very long time. We're currently in the midst of resetting our 16TB server to factory defaults, and the progress bar has barely moved after 40 hours. It will be the best part of a week before our box returns to a usable state, and these long recovery times are a cause for concern.
Should the NAS experience an inadvertent power less, the system will automatically enter a RAID initialisation mode on restart, and again, this is likely to take days and not hours. We appreciate the importance of resynchronising the array, but it's a slow process on the DX4000 and during this period all connected clients will suffer from significantly-reduced performance as well as the potential risk of data loss - there's no fault tolerance during the rebuild.
Rebuilding the RAID array isn't something that should happen on a frequent basis - it may not even happen at all - but in knowing that it could severely hamper your business' storage repository for a couple of days, we'd strongly recommend using a UPS to protect against sudden power loss.