Introduction
It's been quite a journey for solid-state drives. Just a few years ago, SSDs were a treat for only the super-rich, but today, the majority of HEXUS readers use them and many admit that there's no going back.
SSDs offer near-instant access, fast data transfers, no noise and high tolerance against shock or vibration. They're the ideal storage device and they've come good at the right time; SSDs are getting cheaper while hard-disk prices have increased due to unforeseen circumstances.
One of the names at the forefront of SSD development has been OCZ. Having bowed out of the memory business, the Californian manufacturer has almost exclusively turned its attention toward championing high-performance solid-state storage devices, and with considerable success, too.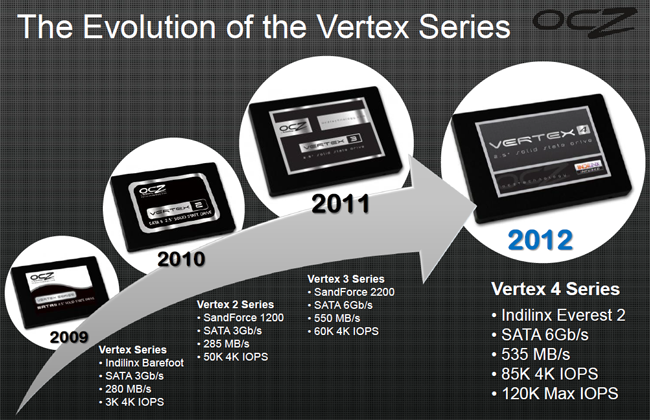 In 2009, the company's first Vertex Series SSD arrived on the scene armed with an Indilinx Barefoot processor that provided a glimpse at what SSDs were capable of. In 2010 along came the Vertex 2, a SandForce-powered drive that came close to saturating the bandwidth on offer from the SATA 3Gbps interface. Building on the promise of the Vertex 2 and cementing its position as a champion of the SandForce processor, OCZ then introduced the Vertex 3 - a drive that to this day remains one of the fastest available solutions.
On the face of it, OCZ SSDs are the place to be for anyone looking to live on the bleeding-edge of solid-state technology. But it hasn't quite been as simple as that, as OCZ's desire to be first to market has stained these high-profile launches with firmware bugs and blue screens of death that have dented the company's reputation as a reliable SSD manufacturer.
OCZ's working hard to restore some of the respect it deserves, and it's betting heavily on its big-money acquisition of Indilinix. With the South Korean flash processor manufacturer under its belt, it's now launching the first drive based on the new Indilinx Everest 2 chip; the Vertex 4. We've got two variations of the drive in our labs for closer inspection, so let's crack 'em open and see what OCZ has in store.