Introduction
It's hard work choosing the right high-speed SSD, isn't it? Extreme SandForce solutions tout supreme out-and-out performance, Intel's drives are widely regarded as some of the most robust (and they come with a five-year warranty), while drives based on the resurgent Marvell controller have proven to be solid all-rounders. Heck, even a cheap-and-cheerful SATA 3Gbps solution can work wonders in the right scenario.
As we've often said before, in most usage scenarios, it's tough to tell one fast SSD from another; they're all silent, they all offer near-instant access, and if you're coming from a traditional hard disk, they'll all feel like a significant upgrade. Our advice has typically been to choose a drive from a well-regarded manufacturer that performs well in benchmarks and comes bundled with a decent warranty.
But for certain manufacturers, getting those key ingredients to fall into place hasn't been as easy as you'd think. OCZ, for example, has led the line with innovative SandForce solutions such as the rapid Vertex 3, the mind-boggling RevoDrive X2, and a couple of clever hybrids, but working on the cutting edge of SSD technology resulted in firmware bugs and blue screens of death that have put something of a dent in the company's reputation. To OCZ's credit, the aforementioned issues appear to have been identified and eradicated, but a bad rep's hard to shake in today's web-connected world, and the manufacturer needs something that'll help earn back the trust of would-be customers.
That's where the Octane comes in. Introduced as OCZ's latest Performance Series SSD, the Octane is one of few SSDs where both the PCB and controller are built by the manufacturer. That rare occurrence is made possible by OCZ's 2011 acquisition of Indilinx, and as a result, the drive's PCB, controller and firmware are all designed in-house. In theory, that should result in all components working in harmony - and if they don't, OCZ won't need to wait for third parties such as SandForce to provide an answer.
This drive is OCZ through and through, and it's targeted at both mainstream and performance users. A choice of SATA 3Gbps and SATA 6Gbps models are available, and in the case of the latter, available capacities include 128GB (£150), 256GB (£290), 512GB (£700) and 1TB (TBC).
Octane is the first 2.5in SSD to offer a 1TB capacity, but we're starting by taking a look at the more modest 128GB model. The eagle-eyed reader will note that the smallest option still fetches £150 at retail, and that's more than a well-respected Crucial M4 of the same capacity, or high-speed 120GB SandForce drives such as Corsair's Force GT and OCZ's own Vertex 3.
The Octane - at least early on - isn't going to stand out through value for money, so it needs to compete in terms of speed, and OCZ is paying particular attention to "high performance in low queue depths," "stable overall performance regardless of the type of data," and " latency reduction technology to enhance system responsiveness."
According to the manufacturer, the idea isn't to compete with the maximum burst speeds available from the SandForce crop, but to focus instead on the real world usage of the "normal user."
To that end, the Octane employs a new Indilinx Everest controller (model IDX300M00-BC) coupled with a 512MB cache (split across a pair of 256MB chips) and 16, 25nm Intel synchronous NAND devices weighing in at 8GB apiece.
The Indilinx controller offers eight channels with up to 16-way interleaving to allow it to communicate with all 16 NAND devices, and there are other integrated goodies, too. TRIM support is of course included, as is background garbage collection, and the controller features a proprietary Indilinx Ndurance Technology that vows to "increase the lifespan of the NAND flash memory and minimize performance degradation," as well as class-leading latencies as low as 0.06ms.
Based on the specification alone, the drive should be incredibly nippy, performance should be consistent regardless of whether or not the data is compressible, and the promise of longevity is backed up by a three-year warranty.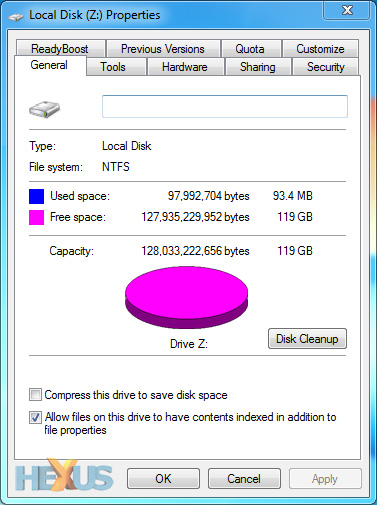 Read and write speeds of up to 560MB/s and 400MB/s on the 1TB model will help the Octance get headlines, but as with most other SSDs, the drive's top-line speed is relative to capacity. The performance of the 512GB model dips to 535MB/s and 400MB/s, respectively, the 256GB model gets knocked down another notch to 535MB/s and 270MB/s, while the 128GB model we're looking at today comes in at 535MB/s and 170MB/s. Having fewer NAND memory devices clearly impacts write performance, but let's plug the drive in and see how it compares.