Introduction
Second-generation SandForce SSDs have dominated the storage headlines in 2011 for both the right and wrong reasons. The drives have been found to be blisteringly quick, but they've also had to endure recalls and firmware updates in an effort to address early problems.
The initial bumps appear to have been ironed out, but consumer confidence in the SandForce controller isn't what it might have been, and the window of opportunity has been left slightly ajar for manufacturers of rival solutions.
One such manufacturer is Crucial, whose M4 Series SSD - equipped with a Marvell controller - delivered stonking performance at an agreeable price. The M4 drive has continued to prove popular, and recent firmware updates have promised to further improve performance.
The M4 has proven to be a strong alternative to the multitude of SandForce solutions, so it's no surprise to see other manufacturers adopting the technology. One of the latest big names to do so is Corsair, who is launching a new range of Marvell-powered drives just in time for Christmas.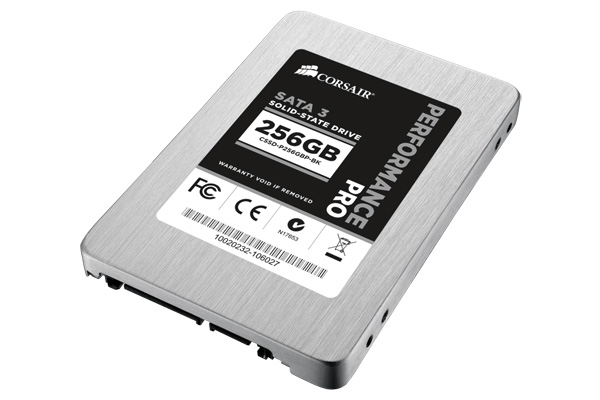 Dubbed the Performance Pro series, Corsair's new range will initially be available in 128GB (£165) and 256GB (£320) capacities, and touts read and write speeds of up to 515MB/s and 440MB/s, respectively.
Those figures aren't a match for the headline-grabbing numbers attached to the top-of-the-range Force GT, but the way in which Corsair describes the different options is interesting to say the least. While the Force GT is said to be "built for speed" and "on another level," the Performance Pro is described as "flexible," "consistent" and "reliable."
The message is subtle, and perhaps not intended, but it suggests that the Performance Pro is geared toward those who continue to carry lingering doubts about SandForce longevity. So, what exactly do you get when you opt for the seemingly-safer choice?
As expected, cracking open our 256GB review sample reveals that Corsair's Performance Pro uses the same Marvell controller as found in Crucial's M4 - the 88SS9174-BKK2.
The brain of the operation is paired with Toshiba's performance-orientated 32nm Toggle Mode NAND, served up as eight 32GB chips, and a pair of 256MB Nanya DRAM modules that act as a 512MB cache. It's all routed to a high-speed SATA 6Gbps interface, and the components - at least on paper - have plenty of appeal. Corsair's using the nippy controller found in drives such as the Crucial M4, ultra-fast Toshiba NAND found in drives such as the Patriot Wildfire, and a good-sized cache.
TRIM support, of course, is built into the controller, and Corsair's choice of accompanying NAND suggests strong performance with both compressible and incompressible data types.
The £165 price tag currently attached to the 128GB model makes lower-capacity offering an obvious choice, but be aware of the performance drop off. With fewer NAND memory devices operating in parallel, the 128GB drive tops out at maximum sequential read and write speeds of just 500MB/s and 340MB/s, respectively.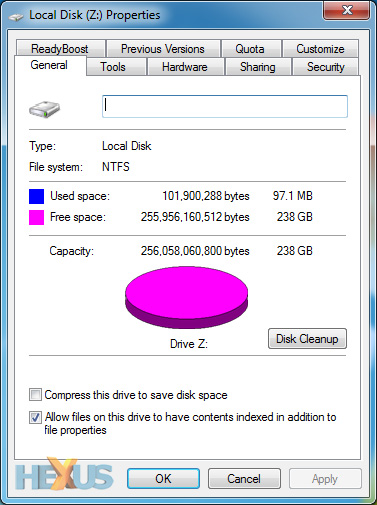 Our 256GB review sample isn't cheap at £320 (though a price of £1.25-per-gigabyte is competitive), but when formatted it offers a healthy capacity of 238GB. The drive looks good, and it performs even better. Read on to see the numbers.