Introduction
It was back in January 2009 that Corsair first announced plans to dabble in the SSD market and it did so with an S128 drive capable of read and write speeds of 90MB/s and 70MB/s, respectively.
Doesn't seem that long ago, does it? Perhaps not, but a lot can change in a relatively short period of time. Over the past 30 months, we've witnessed a relentless pursuit for performance, with various manufacturers exploring new controllers and new NAND flash memory technologies in search of breakthrough speed at a lower price point. For Corsair, that journey has culminated with the launch of the Force Series GT.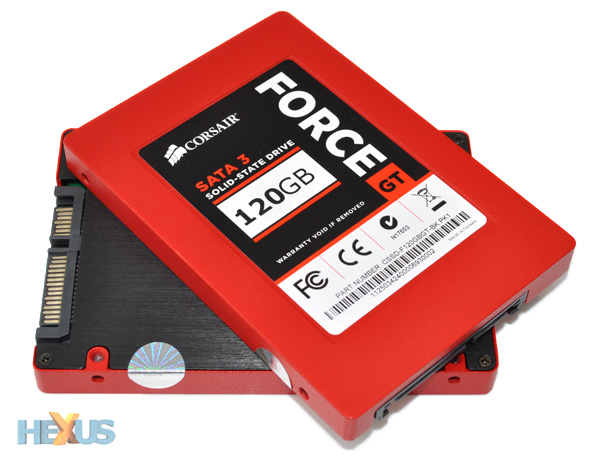 Moving leaps and bounds ahead of 2009's introductory S128, the Force GT touts scintillating read and write speeds of up to 555MB/s and 525MB/s respectively, and rightfully takes its place at the pinnacle of Corsair's SSD product range.
Finished in a flaming red colour scheme that you'll either love or hate, the drive claims to be "built for speed", and while we know that most SSDs are quick, Corsair has no hesitation in stating that the Force GT is "on another level". That's music to an enthusiast's ear, but is the Force GT really that much quicker than everything we've seen thus far - and how does it differentiate itself from the recently-released Force Series 3?
Force Series 3 vs. Force Series GT
Corsair's current crop of high-performance SSDs are available in two flavours that are difficult to tell apart at a quick glance. The Force Series 3 and the Force Series GT are both powered by a SandForce SF-2281 controller, they're both available in 60GB, 120GB and 240GB capacities, and they both claim to be capable of carrying out up to 85,000 input/output operations per second (IOPs) via a high-speed SATA 6Gbps interface.
Looking solely at each drive's respective specification suggests that the Force GT is 5MB/s quicker than the Force Series 3 at sequential read and writes, but that hardly accounts for the gulf in price. Whereas a 120GB Force Series 3 is available for £160, a Force Series GT of the same capacity will set you back somewhere in the region of £200 - so what's causing the price discrepancy?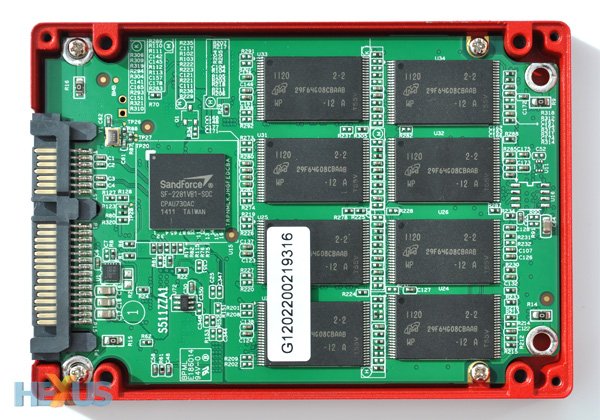 Like many of the SandForce SF-2281 drives now hitting the market, Corsair's Force Series 3 and Force Series GT are set apart by their unique implementation of NAND flash memory.
At one end of the scale, the existing Force Series 3 makes use of affordable 25nm asynchronous NAND, and at the opposite end, the new Force Series GT attempts to maximise performance through the use of 25nm synchronous NAND. There's an 'a' separating the two, in case you hadn't noticed, and Corsair suggests that the use of premium synchronous NAND flash memory will allow the Force Series GT to deliver "significantly faster" performance when dealing with compressed data sets.
What we want to know is whether or not the performance gain warrants the £40 premium, and to help get the answers, we've got not one but two 120GB Force Series GT drives to play with.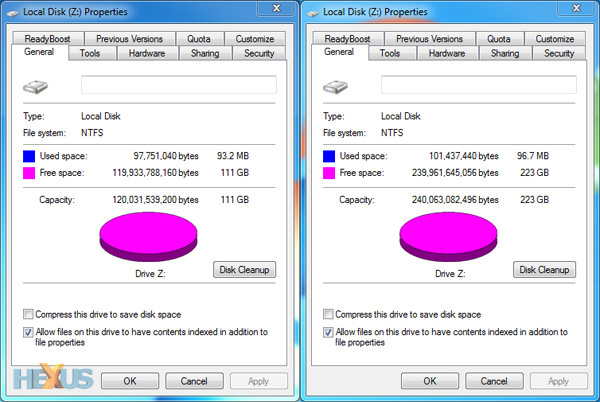 As shown by the image above, a single drive - with 16, 8GB Micron 25nm synchronous NAND flash memory devices - provides the user with a formatted capacity of 111GB. Combining two in a RAID 0 array provides double the capacity at a cost of £400. Can any amount of performance warrant that price tag?