Introduction
The second-generation SandForce SF-2000-series controller has been promising ultra-quick SSDs for over eight months, but a wide range of drives based around the new chip are only now beginning to filter through to retail. The delay suggests that validating the firmware accompanying the high-speed controller hasn't been a straightforward process, and recent evidence intimates that some drive manufacturers have experienced more issues than others.
Corsair, for example, was forced to recall its first batch of 120GB Force Series 3 drives having identified that "a significant percentage" did not operate to specification. The manufacturer opted not to go into specifics, but added that the faulty drives required changes to both the SSD's firmware and hardware components.
The drive has had a turbulent route to retail, but Corsair has responsibly dealt with the recall and has no hesitation in stating that the 'fixed' model now sitting on store shelves is "one of the best PC performance investments you can make". Let's find out if that's true.
Introducing the Force Series 3
Designed to make use of the high-speed SATA 6Gbps interface, the Force Series 3 family of SSDs arrives armed with a latest-generation SandForce SF-2281 controller and touts read and write speeds of up to 550MB/s and 520MB/s, respectively.
That's enthusiast-class performance, but the drives - available initially in 120GB and 240GB capacities - aim to deliver "impressive speed at an attractive price". Ambitious claims, but a quick scout around the virtual shelves of various online retailers suggests that pricing is very competitive. At the time of writing, the 120GB Force Series 3 drive carries an asking price of £170 - identical to that of Corsair's previous-generation Force F120.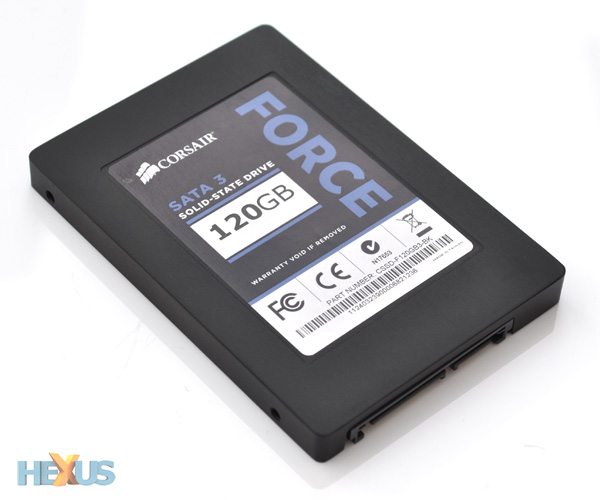 Corsair's keen pricing should make the SATA 6Gbps model a no-brainer for consumers in the market for a Force Series SSD, but the Force Series 3 won't be positioned at the top of Corsair's performance line for long. That spot's reserved for the soon-to-be-unleashed Force GT - a revised version of the Force Series 3 that swaps out affordable asynchronous NAND flash memory in favour of quicker synchronous NAND.
The Force Series 3 should offer plenty of speed, but the premium Force GT will almost certainly be quicker - particularly when dealing with compressed data sets. And Corsair isn't the first manufacturer to offer a two-tier SandForce SF-2281 product range - its Force Series 3 and Force GT drives will go head-to-head with OCZ's Agility 3 (asynchronous) and Vertex 3 (synchronous).
A closer look at the 120GB Force Series 3 SSD
The 2.5in 120GB Force Series 3 drive arrives bundled with a 3.5in mounting adapter and is finished in a matte-black shell that's a perfect match for Corsair's Obsidian Series chassis.
Peeling back the enclosure provides us with a good look at the drive's key components.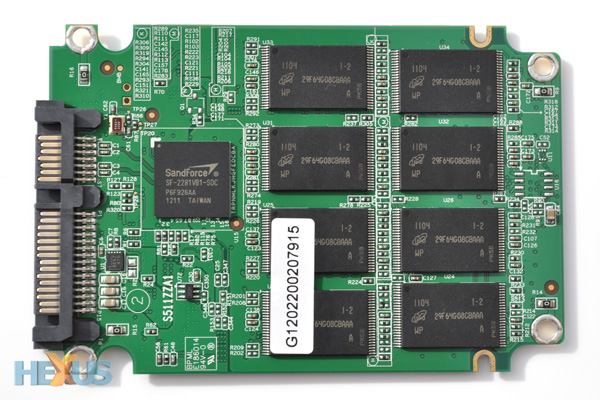 As pictured above, Corsair's PCB is equipped with a SandForce SF-2281VB1-SDC controller - the same processor found in OCZ's Agility 3 - and a collection of 25nm, 8GB Micron asynchronous NAND flash memory devices.
What's important here is that each flash memory device consists of a single 64Gbit die, whereas higher-capacity 240GB drives generally feature a pair of 64Gbit die per device. This means the 120GB model has far fewer NAND die communicating with the controller in parallel, and we'll see how that impacts performance a little later in the review.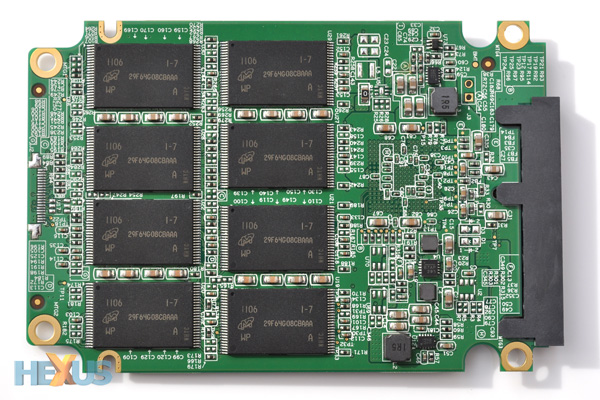 A total of 16 chips - eight on the front, eight on the back - give the drive a total capacity of 128GB, but a single 8GB die is set aside for RAISE - a RAID-like protection mechanism integrated into the SandForce controller to protect against flash block failures.
Working with what's left gives Windows 7 a healthy formatted capacity of 111GB.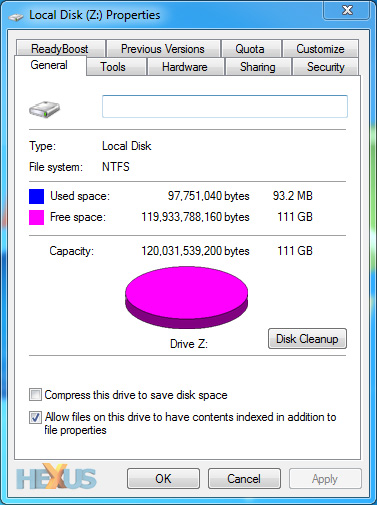 What's interesting is that Crucial's award-winning m4 SSD offers an extra 8GB at the same £170 price point, but does Corsair's SandForce-powered drive have the edge in performance?