Introduction
The Intel brand carries such gravitas that today's tech industry often finds itself in limbo as it waits for the manufacturing giant to deliver the next major innovation.
And that doesn't apply solely to microprocessors, either. In recent years, Intel has positioned itself as a key player in the development of NAND Flash memory and has championed the growth of solid-state storage (SSD) by launching its own range of drives. One of the company's first models - the X25-M - has become an all-time best seller and continues to prove popular following its transition from 50nm to 34nm technology.
But as with so many new technologies, many consumers will have remained on the fence as they await a second-generation product that remedies any early shortcomings. After all, Intel's initial crop of SSDs launched without TRIM support and offered lacklustre sequential write performance.
What many will be seeking in a high-end, modern-day SSD is SATA 6Gbps connectivity and a controller/firmware combination capable of delivering strong all-round performance. Enter the Intel SSD 510 Series.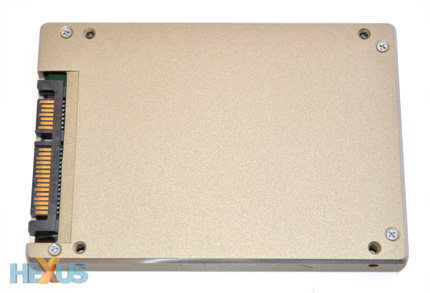 Launched at CeBIT earlier this month and marketed as the SSD that "takes full advantage of 2nd generation Intel Core Processors", the 2.5in 510 Series drive (codenamed ElmCrest) is available in 120GB and 250GB capacities, and claims to be one of the fastest SSDs to date.
Armed with a high-speed SATA 6Gbps interface, the range-topping 250GB model touts sequential read performance of up to 500MB/s (that's double the speed on offer from Intel's previous 3Gbps drives) and sequential write performance of up to 315MB/s (that's a considerable 3x increase). The numbers are quick, and the £445 250GB model is probably the drive Intel would like to see reviewed, but we're turning our attention to the less-spectacular-but-more-affordable alternative we think most consumers will be looking to buy; the £220, 120GB model.
The reduction in capacity results in a drastic drop in price, but the 120GB drive sees cuts in other areas, too. With lower-density flash chips and less room for over provisioning, performance takes a hit and the lower-capacity drive is capable of read and write speeds of only 450MB/s and 210MB/s, respectively, on a SATA 6Gbps interface or 265MB/s and 200MB/s, respectively, via SATA 3Gbps.
That's still quick in the grand scheme of things, but Intel's latest doesn't appear to have the performance required to out-do the imminent crop of drives based on a competing SandForce SF-2200 controller that touts sequential read and write speeds in excess of 500MB/s. And it isn't just sequential performance where SandForce appears to have the edge. Intel's 510 Series drives offer 4K random read performance of up to 20,000 IOPs, whilst random writes are rated at a mere 8,000 IOPs. That's lower than the company's own last-gen X25-M, and the figures pale in comparison to the 4K random write performance of 60,000 IOPs being claimed by next-gen SandForce drives.
Let's not beat around the bush, we were expecting a little more from a new high-end Intel solution, but here's the thing; this isn't entirely an Intel SSD.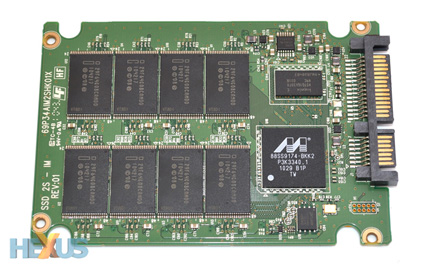 Inside the 120GB 510 Series drive, Intel's green PCB houses a third-party Marvell 88SS9174-BKK2 controller. Said chip is a new revision of the controller previously seen in Crucial's C300 drive, and the new silicon isn't exclusive to Intel - the very same chip can be found in competing drives from the likes of Corsair. It's unusual to see Intel using a controller that isn't its own, but it does attempt to differentiate by implementing a firmware heavily optimised for sequential performance. Hence the 510 Series on paper touts quicker speeds than any Marvell-based drive before it.
Pushing performance further, the controller is paired with a 128MB Hynix DDR3 cache - that's four times the amount of cache on Intel's existing X25-M - and support for the performance-prolonging TRIM command is included. The improvements are evident, but one area in which Intel has opted to stick with the tried-and-trusted is the drive's NAND flash memory. Unlike many of its competitors - who're racing to make the transition to 25nm - Intel's 510 Series continues to utilise 34nm chips produced by IM Flash Technologies, a joint Intel/Micron venture.
A total of 16 8GB memory chips are employed - eight pictured above and eight on the rear of the PCB - providing a capacity of 128GB. Roughly seven per cent of that is reserved for over-provisioning, and what's left over translates to a formatted capacity of 111GiB.
It's very much a case of evolution as opposed to revolution, but the 510 Series SSD does have another ace up its sleeve; reliability and support. Few SSD manufacturers have managed to escape the pitfalls of erroneous firmware - Intel included - but the company has an otherwise strong record and bundles its solid-state drives with a useful array of hardware and software. Inside a 510 Series retail box, you'll find a 3.5in mounting bracket, a SATA cable, a four-pin molex to SATA power adapter, data migration software to ease the transition from HDD to SSD, and the ever-useful Intel SSD Toolbox - a software utility designed to maintain the health of Intel SSDs and optimise performance to "fresh-out-of-the-box" levels.
Is it enough to make the 510 Series stand out in what's becoming an increasingly-crowded marketplace? Only one way to find out.