Testing results
We test the drive by hooking it up to an ASUS P6X58D Premium motherboard that's equipped with a USB 3.0 chip from NEC. The drive's performance is tested by running it in both USB 3.0 and 2.0 modes, to see what effect transitioning between the ports has on performance. The drive is formatted to the NTFS filing system before benchmarking.

The first test uses AS SSD to determine peak sequential read and write speeds.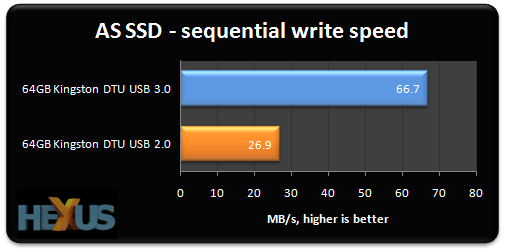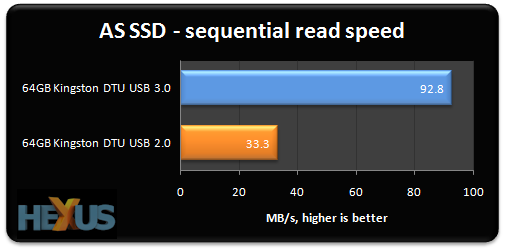 The numbers are impressive from USB 3.0, which is almost three times as fast at reading and comfortably over twice as nippy at writing when compared to plugging the Data Traveler Ultimate into a USB 2.0 port.



Real-world tests



A single 8GB file - Iometer's test file, if you were wondering - is transferred to and from the drive. We run the test twice and report the average time taken.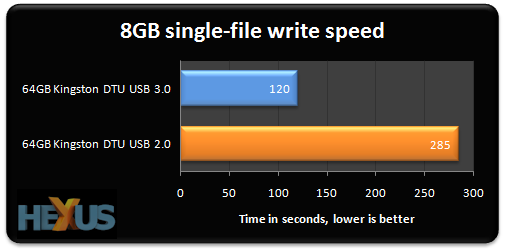 In this case, the data is written on to the pen-drive from the host system's Corsair Nova SSD. Moving 8GB across takes just two minutes via USB 3.0, whereas the USB 2.0 time is closer to five minutes. Assuming a worst-case scenario that involves filling the drive with large files, USB 3.0 could save you over 20 minutes.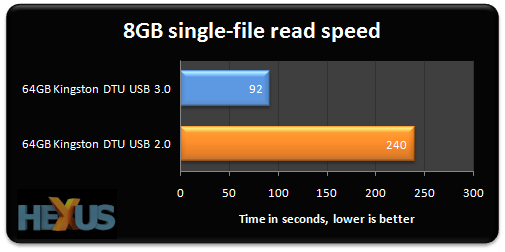 This test reads back the data and writes it to the host drive. Reading is significantly quicker than writing, to the tune of being almost three times as fast as USB 2.0, and it averages over 80MB/s here.

But not all files are huge. The mixed-file test moves 10,086 files from our benchmarking folder to and from the pen-drive. The files range from 1KB through to 346MB, providing a good spread.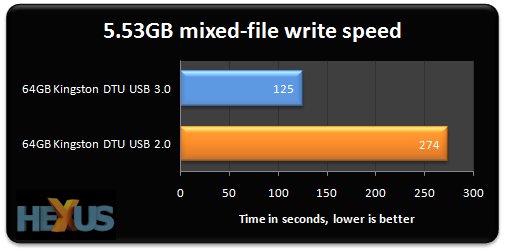 The average transfer speed drops when moving and writing lots of files around, naturally, but USB 3.0 performance remains sharp.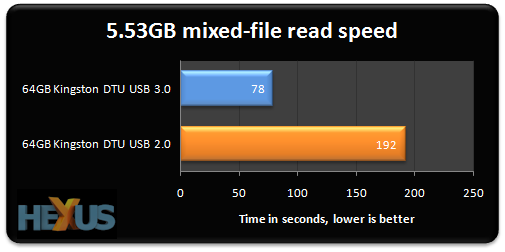 Kingston's DTU 3.0 drive averages 70MB/s in the variable-file reading test. Tasty!