Introduction
Network-attached storage solutions are becoming increasingly popular - both at home and in the office - and there's no shortage of options from Taiwan's three main contenders; Synology, Thecus and QNAP.
In the SMB space, the aforementioned trio have been vying for market domination in 2010 with the launch of new four-bay NAS solutions armed with Intel's second-generation low-power processor, the 1.66GHz Atom D510.
In QNAP's corner, there's the TS-459 Pro, Thecus has the HEXUS-rated N4200, and Synology is now joining the scene with a unit it's calling the DiskStation DS411+.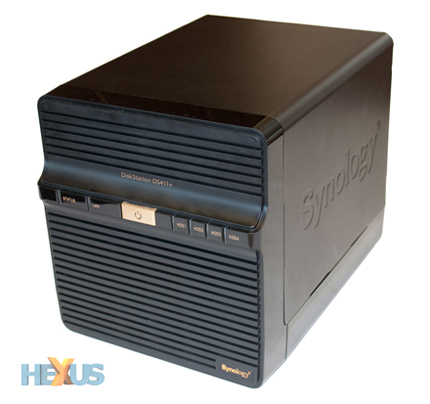 Priced at £505, the unit arrives as an upgrade to the recent DS410 and features a couple of useful improvements within.
Moving up from the DS410's 1.06GHz Freescale processor and 512MB of memory, the new-and-improved DS411+ touts greater performance courtesy of a dual-core 1.66GHz Intel Atom D510 and 1GB of DDR2 memory.
In honour of said upgrade, the familiar-looking chassis has also been handed a slight makeover; the previously silver front-panel accents are now a premium-looking gold.
To Synology's credit, the end result doesn't look at all gaudy. In fact, we'd argue that the DS411+ is one of the most attractive four-bay NAS boxes we've come across.
Measuring 168mm x 184mm x 230mm, it's a suitably compact design, but it isn't the most user friendly. Like the DS410 before it, the front panel on the DS411+ offers no quick-access USB/eSATA ports, and instead provides just a solitary power button and six LEDs; status, LAN, and four indicators for the internal hard disk bays.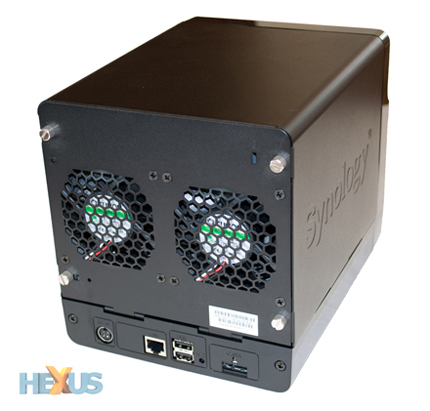 Speaking of hard drive bays, drive installation isn't quite as easy as competing solutions, with users having to remove four thumb screws to open the back panel and reveal access to the plastic internal bays.
Also at the rear of the box, you'll find a power connector for the bundled 12V power adapter, one Gigabit Ethernet port - meaning no supports for link aggregation - two USB ports, a reset button and a single eSATA port.
As far as hardware is concerned, this isn't by any means the most feature-packed NAS we've ever come across, but it's the entire Synology package that makes the unit stand out.