Introduction
Having ventured into high-performance consumer SSDs with the launch of FireCuda 510 M.2 drives back in the summer, Seagate is hoping to get a jump start on many competitors by being one of the first to market with a PCIe Gen 4 successor.
Dubbed the FireCuda 520, Seagate's refreshed range is marketed as a perfect companion for 3rd Gen AMD Ryzen, which currently serves as the only consumer desktop platform to support PCIe Gen 4 speeds.

At launch, FireCuda 520 is being made available in a choice of 500GB (£120), 1TB (£210) or 2TB (£380) capacities, and each drive employs a Phison E16 controller, 96-layer TLC NAND memory from Toshiba and 1GB of DRAM cache per terabyte of storage. The same combination of controller and memory is present on the vast majority of PCIe Gen 4 solutions thus far, however Seagate does set itself apart in a couple of ways.
Firstly, FireCuda 520 ships with a custom firmware designed to tap into a dynamic pool of SLC cache, and secondly, there's no heatsink included in the box. Is the lack of out-the-box cooling a downside? Potentially, though Seagate's reasoning is that a great number of AMD Ryzen motherboards include M.2 heatsinks as standard; that has certainly been the case for every board that has passed through the HEXUS labs.
Seagate M.2 2280-D2 NVMe SSDs

Series

FireCuda 520

FireCuda 510

Capacity

500GB

1TB

2TB

500GB

1TB

2TB

Controller

Phison PS5016-E16

Phison PS5012-E12

NAND

Toshiba 96-layer BiCS 3D TLC

Toshiba 64-layer BiCS 3D TLC

Interface

PCIe Gen 4 x4

PCIe Gen 3 x4

Cache

Dynamic SLC

Dynamic SLC

Sequential Read Speed

5,000MB/s

5,000MB/s

5,000MB/s

3,450MB/s

3,450MB/s

3,450MB/s

Sequential Write Speed

2,500MB/s

4,400MB/s

4,400MB/s

2,500MB/s

3,200MB/s

3,200MB/s

Random IOPs (4KB Reads)

430K IOPs

760K IOPs

750K IOPs

420K IOPs

620K IOPs

485K IOPs

Random IOPs (4KB Writes)

630K IOPs

700K IOPs

700K IOPs

600K IOPs

600K IOPs

600K IOPs

Active Power

4.6W

5.6W

6.0W

4.7W

5.5W

6.0W

Idle Power (PS3)

12mW

15mW

25mW

16mW

20mW

26mW

Low Power (L1.2)

2mW

2mW

2mW

2mW

2mW

2mW

Endurance

850 TBW

1,800 TBW

3,600 TBW

650 TBW

1,300 TBW

2,600 TBW

Life Expectancy

1.8m Hours

1.8m Hours

1.8m Hours

1.8m Hours

1.8m Hours

1.8m Hours

Warranty

5 Years

5 Years

5 Years

5 Years

5 Years

5 Years

Current Retail Price
The key selling point, of course, is performance, and peak sequential read and write speeds of up to 5,000MB/s and 4,400MB/s are not to be scoffed at. A near-45 per cent uptick in read performance is reason enough for most enthusiasts to want to upgrade, and the refreshed components bring about slightly lower idle power consumption and improved endurance at 1,800TBW on the 1TB model. That equates to being able to write almost the complete drive capacity every day for the duration of the five-year warranty period.
Seagate has also taken the opportunity to switch to a black PCB, which is far better suited to most builds than the standard blue colouring of the original FireCuda 510, and pricing is more competitive this time around. The £210 1TB model is the same price as the equivalent PCIe Gen 4 Aorus SSD (£210) and only marginally dearer than the Corsair MP600 (£200). Seagate is hoping its position as a well-known storage specialist will help sway consumers to its drives.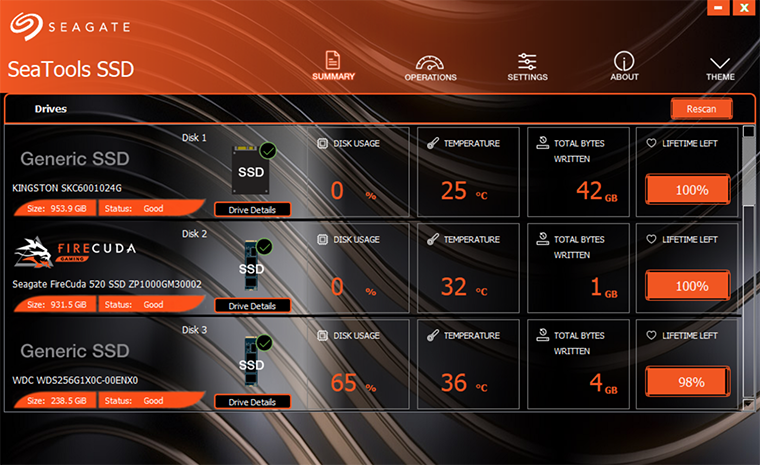 Drive management continues to be handled by the free-to-download SeaTools SSD utility. The lightweight package serves as a useful tool for checking drive health and carrying out firmware upgrades, with the latest at the time of writing identified as STNSC011. As before, do note that certain functions within SeaTools aren't applicable to consumer FireCuda drivers - tunable capacity, for example, will show as not supported and is only applicable to Seagate's NAS-specific IronWolf series.
The big question mark is whether or not a PCIe Gen 4 solution does enough to warrant the extra expense over mature PCIe Gen 3 drives that are readily available at almost half the price. Any noticeable performance increase isn't likely to be anywhere near as dramatic as moving from a hard disk to a solid-state drive, but let's run the numbers and see how things pan out.