Introduction
The incredible evolution of solid-state storage has inevitably run into an age-old computing problem; pack high-performance components into increasingly small form factors and the need for cooling rises exponentially. The preferred choice for most manufacturers is to equip an M.2 drive with an aluminium heatsink tasked with drawing heat away from the underlying processor and memory chips.
A safe, sensible solution, but it was only a matter of time until someone decided to try something a little more adventurous. That someone is Taiwanese manufacturer Team Group, who reckons the time for liquid-cooled SSDs is upon us.

In theory, there's some justification in Team Group's line of thinking. Liquid is known to be a highly effective cooling mechanism, and perhaps more important for enthusiasts, it happens to look way cooler than a plain ol' heatsink. If showing off your drive is a primary concern, there's no two ways about it, the Cardea Liquid is easily the most eye-catching consumer M.2 drive we've seen to date.
Building out from the standard M.2 2280 form factor, the drive's 84mm length and 24mm width feel familiar, but height increases to a fraction over 14mm in order to facilitate the water-cooling module. In that space, Cardea Liquid squeezes a silicone thermal pad, an aluminium alloy heatsink, an o-ring and a transparent reservoir pre-filled with blue liquid. A tidy assembly, but the dimensions do mean that compatibility on various X570 motherboards is hit or miss, and there are other elements that raise a few eyebrows.

It won't have escaped your attention that the drive isn't designed to be part of a larger loop, meaning the liquid isn't transferred to, say, a radiator in order to dissipate heat. Instead, the small pool is intended to draw heat away from the aluminium pad, and then, in Team Group's own words, "the heat of the water cooling M.2 SSD module can be transferred with convection produced by the computer case fan." Begs the question, if there isn't much airflow, will the liquid become detrimental as it begins to warm?
There are a couple of other caveats, too. On closer inspection, our 512GB review sample reveals that the thermal pad lining the aluminium heatsink makes reasonable contact with the NAND memory chips but doesn't actually touch the controller or cache; there's a clearly visible gap, which doesn't bode well for heat transfer. Furthermore, the entire cooling assembly is clasped to the drive using four plastic clips that are worryingly fragile. Removing the cooler would void the three-year warranty, so it is isn't something we'd openly recommend, but if you do need to disassemble, do so with care.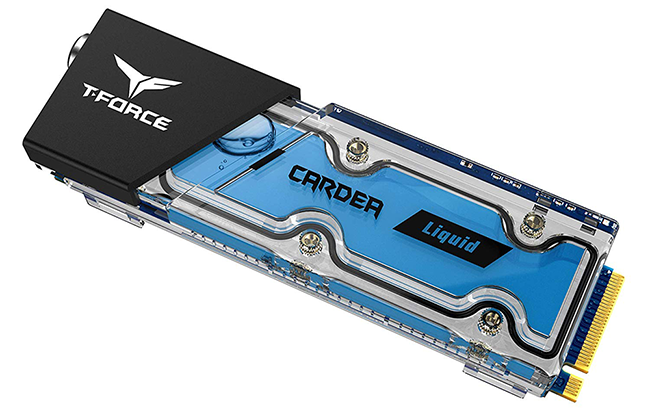 We are admittedly sceptic, but Team Group reckons its patented cooling module can lower operating temperatures by up to 10 degrees, and there are some nice touches. Notches on the drive's side allow the user to check liquid levels are above the highlighted minimum, and if the need for a top-up arises, the T-Force metal trim slides across to provide access to the screw cap. A spare vial of liquid is included as part of the bundle, but remember, the cooling module can't be removed from the PCB without voiding warranty, and it'll take a brave soul to want to inject liquid in such close proximity to a storage device.
For Team Group to go to such lengths, you might imagine a cutting-edge PCIe 4.0 drive lies beneath the liquid cooler. That isn't the case; at its heart, Cardea Liquid is a regular PCIe 3.0 solution employing the tried-and-trusted combination of Phison E12 controller and Toshiba TLC NAND. The same core ingredients power the likes of Corsair's Force Series MP510 and Seagate's FireCuda 510, but note that said drives have the advantage of a five-year warranty as standard.
Team Group Cardea Liquid M.2 PCIe SSDs

Capacity

256GB

512GB

1TB

Controller

Phison PS5012-E12

NAND

Toshiba 3D TLC

Interface

PCIe Gen 3 x4

Sequential Read Speed

3,000MB/s

3,400MB/s

3,400MB/s

Sequential Write Speed

1,000MB/s

2,000MB/s

3,000MB/s

Random IOPs (4KB Reads)

200K IOPs

350K IOPs

450K IOPs

Random IOPs (4KB Writes)

200K IOPs

300K IOPs

400K IOPs

Endurance

380 TBW

800 TBW

1,665 TBW

Life Expectancy

2.0m Hours

2.0m Hours

2.0m Hours

Warranty

3 Years

3 Years

3 Years

MSRP

$TBC

$99.99

$160.99
As expected, perusing the specification table reveals Cardea Liquid to be similar to the existing Corsair MP510. Team Group is a little more conservative when it comes to peak IOPs performance, but the drives have plenty in common, which puts pricing into sharp focus. At the time of writing, Corsair's 480GB and 960GB MP510s are available at a cost of $75 and $130, respectively, meaning on average a near-30 per cent premium for Team Group's liquid-cooled variant.
UK availability isn't expected until September, but the manufacturer's decision to describe Cardea Liquid as "a combination of craftsmanship and fashion" has us thinking this could be a classic case of style over substance. Let's run some benchmarks and see what's what.