The Drive
Having a decent amount of external storage is becoming easier as capacities increase over time. Remember when the ubiquitous USB stick cracked the 1GB barrier - if not, you are probably way younger than me - but now it's easily possible to go beyond 1TB of speedy storage connected to your computer via USB3.0/3.1.
For those who want their precious data to be protected in both an encryption and ruggedised sense, industry giant SanDisk has been steadily building up its Extreme range over time. With respect to the Extreme 500 portable SSD range, the company offers capacities ranging from 240GB to 1TB, all presented in the same ruggedised form factor and housing the firm's own TLC NAND chips.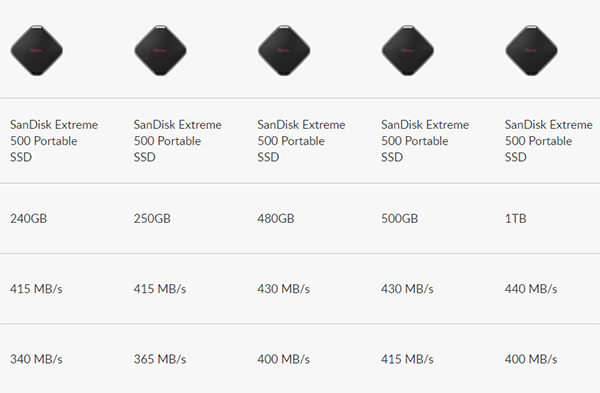 The above picture shows the five drives on offer. As you would expect, the writing speed goes up as capacity increases, hitting a sweet spot in the 500GB range. It so happens we have the 500GB model in for review today.
I've been using a 240GB Extreme 500 for the past year or so, and it functions as the go-to drive for holding all of the regular HEXUS benchmarks, including backups of multiple Steam games. As occasion demands, I stick entertainment on any spare capacity when travelling with my Surface 4 Pro that's equipped with only a 128GB SSD.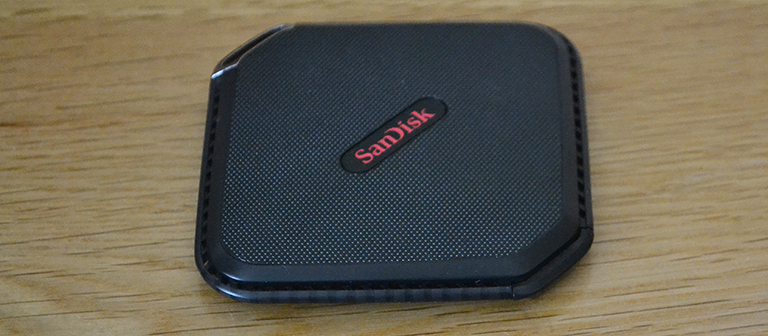 The 500GB is no different from a visual perspective. Both drives measure 75mm by 75mm, are 10mm thick and weigh 80g or so. They easily slip into a laptop bag and the rubberised, grippy top is complemented by a similar base. Even the outer circumference of the drive is rubber coated, and SanDisk reckons it'll survive a drop from six feet without issue. Having accidentally dropped the 240GB drive on to concrete before, I can vouch for the basic ruggedisation and protection.
That said, the Extreme 500 isn't waterproof. For that you'll need to invest in the 480GB-only Extreme 510. Pricing for the Extreme 500, however, ranges from £70 (120GB) through to £335 (1TB). Our sample weighs in at £165 or so, which is consistent with other, similar external SSDs.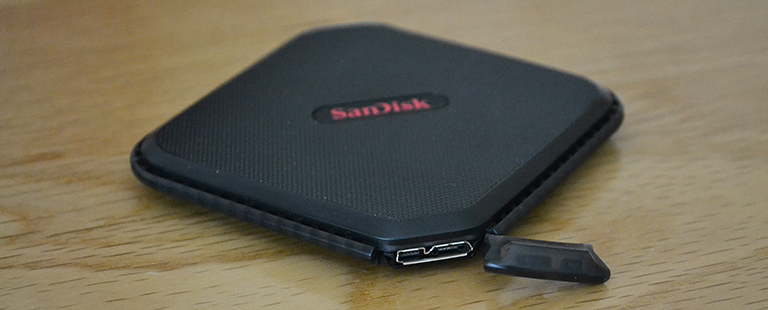 With no visible connectors the corner cover needs to be flicked open before the standard USB 3.0 interface is revealed, meaning the drive uses a Sata-to-USB bridge. Slipping the cover back on after use is simple, too, and going back to the 240GB that I've been using for a while, the cover still remains attached to the drive, boding well for your long-term usage. Some may argue that a modern external drive should have a USB Type-C connector, though we're happy enough with the more prevalent, though arguably more inelegant, USB 3.0 on show.
There are no lights or any other indicators showing the host-powered drive is connected, mind, but it's a genuinely plug and play solution out of the box, which also contains a 40cm USB 3.0 cable. There is a satisfying click as the cable engages the drive and it is firm enough to let the Extreme 500 dangle without issue. The other side of the drive has a small plastic section that functions as a clip, but we'd ideally like to see it made of metal instead.
Once fired up the drive offers 476GB of formatted capacity under Windows 10. SanDisk includes a couple of folders for its SecureAccess utility - one for Windows and one for Mac - and it auto-updates to the latest version as you begin the installation. The software provides 128-bit AES support and is powered by EncryptStick.