Introduction
It feels like only yesterday that SSDs (solid-state drives) arrived to transform our storage experience, and for those who have made the switch there really has been no looking back. SSDs are faster, quieter, more resilient and smaller than traditional mechanical drives, making them the preferred solution if budget permits.
Many of today's computing devices, be it laptop, tablet or smartphone, come equipped with a solid-state drive as standard, but one area that lags behind is external storage, where high-capacity hard disks continue to offer plenty of appeal at mainstream prices. A 4TB USB-connected hard disk can be had for under £100, but if capacity isn't the top priority, there are genuine reasons to consider an external SSD.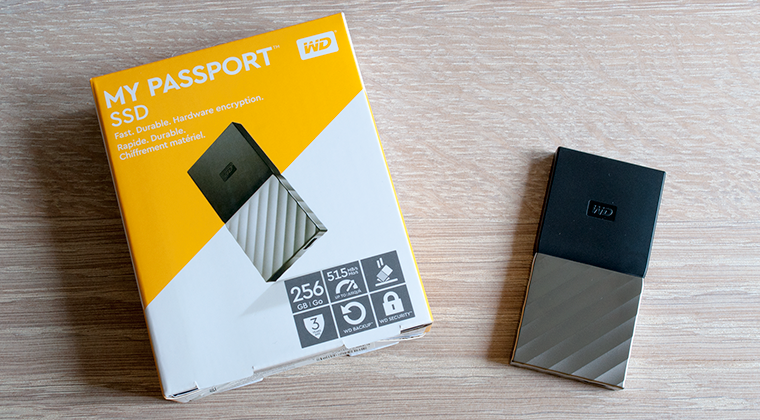 Appreciating that this irreversible swing from hard-disk to solid-state is happening, WD, a stalwart of mechanical drives, has introduced the first external SSD in its popular My Passport range. Dubbed simply the My Passport SSD, this compact and elegant-looking drive is available in 256GB (£110), 512GB (£185) and 1TB (£365) capacities, and we have the most affordable variant in for review.
Before we extol the drive's capabilities, it is worth reflecting on the obvious proviso: SSDs can't match hard disks on a gigabyte-per-buck basis. The 256GB My Passport SSD costs as much as a 4TB hard disk, however that rather large downside is offset by plenty of positives. Firstly, this is one of the smallest My Passport solutions to date, measuring just 90mm x 45mm x 10mm in size and weighing only 40g - it can easily go unnoticed in a pocket.
Secondly, it is more resilient than your average hard disk, with WD claiming drop-resistance at a height of up to 6.5 feet. And thirdly, My Passport SSD is suitably fast with file transfers supported at speeds of up to 515MB/s. It's a neat-looking piece of kit, too, though do be aware that the silver bottom half has a tendency to attract fingerprints.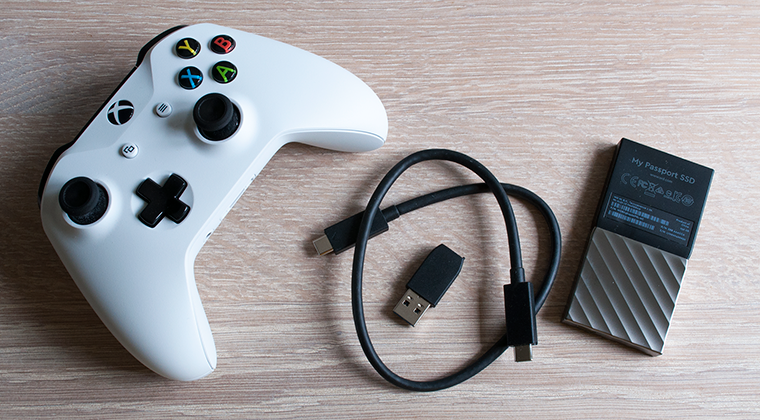 The good news for anyone who is confused by recent USB standards is that WD has all bases covered. My Passport SSD comes equipped with a USB Type-C port located along the bottom edge, and the bundle includes a short Type-C cable as well as a Type-A adapter, ensuring compatibility with your choice of USB 3.1, USB 3.0 or USB 2.0 port.
A tidy, hassle-free package and one that offers a few added extras. These include a three-year warranty as standard, as well as a trio of free apps; WD Drive Utilities provides easy diagnosis; WD Backup allows automated backups on a user-defined schedule; and WD Security paves the way for 256-bit AES hardware encryption. The only thing missing is a physical status LED - the drive has no means of displaying activity, which is something you may or may not miss.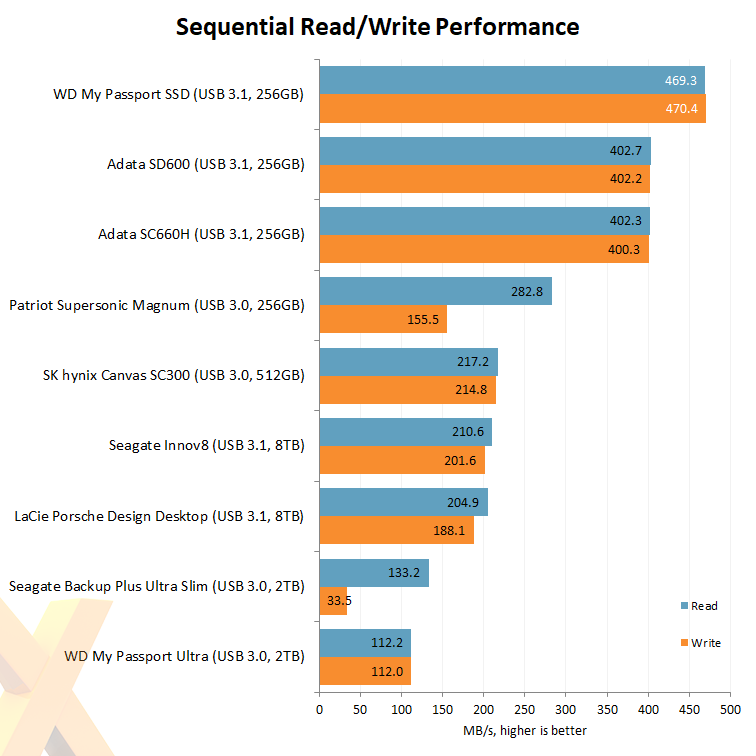 There are plenty of reasons to consider an SSD rather than a HDD, and performance is arguably the most compelling. Connected to our test platform via USB 3.1 Type-C, the 256GB My Passport SSD delivered best-in-class sequential read and write speeds of up to 470MB/s.