UAC renovated
Selling millions upon millions of copies, Microsoft Windows remains a constant target for security threats. Yet, it wasn't until 2001 - a year in which high-profile hacking of Windows XP resulted in widespread criticism of the software - that Microsoft moved to make "Trustworthy Computing" its highest priority.
Following years of focusing heavily on security, Microsoft delivered Windows Vista early in 2007, with company founder Bill Gates describing it as "dramatically more secure than any other operating system released".
That description may have been accurate, but the extent of Microsoft's security ambition may have proven to be overly dramatic, and Vista's constant attempts at protecting the user were quickly subjected to ridicule. At the heart of the so-called problem, User Account Control (UAC), a technology new to Vista, attempted to improve security by limiting application privileges until admin authorisation. In terms of security, UAC could have been dubbed a success, but its tendency to pop up authorisation prompts for relatively mundane tasks quickly became infuriating.
With 7, then, Microsoft needs to achieve Vista-like security in a package that doesn't annoy the customer. The first step is Action Center, a new one-stop security solution that replaces Vista's Security Center.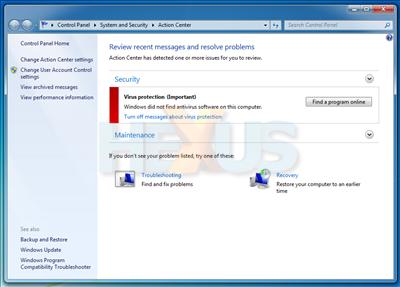 Similar in appearance to Security Center, the newly named Action Center provides an at-a-glance look at system security, detailing whether or not services such as virus protection, Windows updates, and network firewalls are enabled.
For every clean install of Windows 7, Action Center will advise the user to seek virus protection as Windows, despite its close relationship to security threats, continues to ship without built-in virus protection as standard.
Considering that a firewall and anti-malware (Windows Defender) solution are bundled into the OS, we believe the lack of built-in virus protection to be a shortcoming. Microsoft's own Security Essentials anti-virus software (which replaces Windows Defender, by the way) is available as a standalone download, but we'd like to see it as part of Windows. The EU might take a different view to the bundling, however.
What is useful, however, is the new-found ability to customise the level of protection offered by UAC.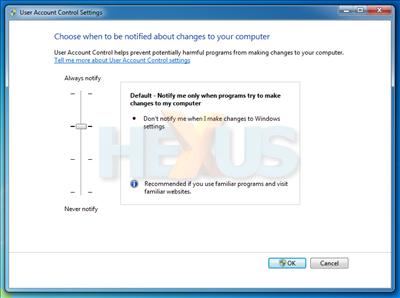 Action Center enables the user to choose between four UAC security settings:
Always notify me
Notify me only when programs try to make changes to my computer (default)
Notify me only when programs try to make changes to my computer (do not dim my desktop)
Never notify me
It's a useful choice to have, but although the anti-Vista crowd may be quick to disable UAC completely, it's no longer a hindrance when left in its default state. Hoping to make UAC more palatable, Microsoft has combed through the various tasks that triggered UAC prompts in Windows Vista, disabling by default those that aren't deemed a threat.
As a result, UAC does what it needs to do without constantly annoying the user.