New-fangled DDR4
The biggest innovation of the Intel X99 platform is the introduction of DDR4 memory. It has been a long time coming, too, as the new memory standard was mooted to be introduced in 2012, but with chipset support not available due to the joint procrastination of Intel and AMD, memory vendors had no choice but to keep talking about technology without having a working platform to build it into.
Now, though, Intel has greenlit DDR4 for the consumer segment via the launch of the long-awaited X99 chipset. Introduced three years after X79, X99 also brings support for the new Haswell Extreme (HSW-E) processors. You can learn all about DDR4 right over here.
The initial batch of DDR4 kits is based around four modules each supporting a 4GB capacity. The 16GB kits range from 2,133MHz speeds, the minimum mandated by governing body JEDEC, through to 3,000MHz-plus. Entry-level kits start at £170 or so, increasing to a barely palatable £650 for a 32GB (4x8GB) package of 3,000MHz memory.
Vendors are understandably keen to promote their DDR4 memory. A combination of a new standard and a new platform is just the ticket for invigorating interest into what has, for the past several years, become a commodity market.
The same memory vendors also know that 2,133MHz speeds have been reached rather easily by DDR3, together with lower latencies, so something faster is needed to whet the appetites of enthusiasts. Corsair sent us a 16GB (4x4GB) pack of Vengeance LPX 2,800MHz memory for review.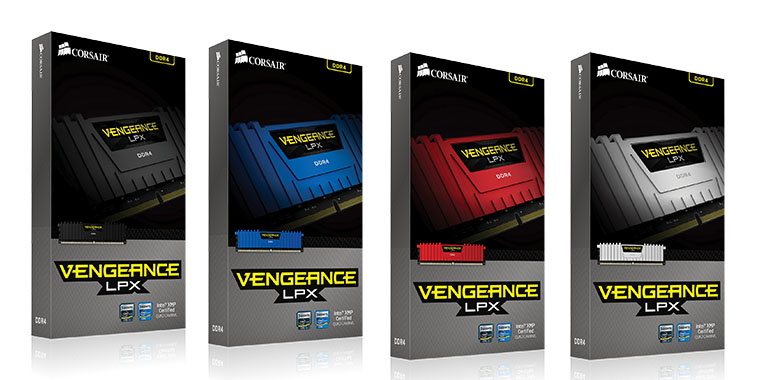 Available in four colours, to suit your system, the quad-module packs are also available in 2,600MHz, 2,800MHz and 3,000MHz speeds. We find it interesting Corsair is retailing an 8GB pack consisting of two modules, going against the quad-channel architecture of the X99 platform. 16GB (4x4GB), 32GB (4x8GB) and 64GB (8x8GB) packs are available, too. We expect to see 16GB sticks available in 2015, paving the way for a potential 128GB on an eight-DIMM motherboard.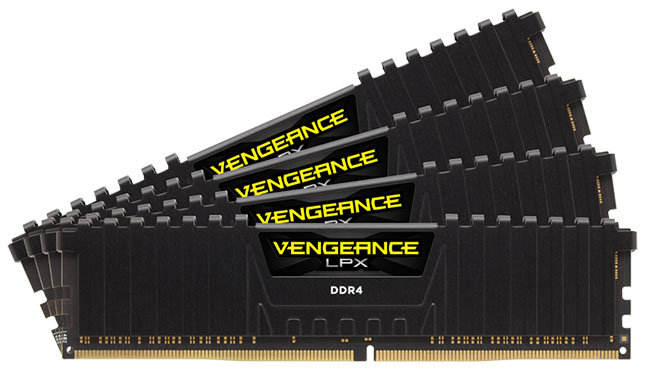 The four modules in our pack are presented in a low-profile form factor that is identical to that used on the equivalent DDR3 memory. Module width remains the same, at 133.35mm, but DDR4 increases the number of pins from 240 to 288. DDR3 and DDR4 modules are notched differently to avoid confusion. Pointing out the obvious, DDR4 does not work in DDR3-based motherboards, and vice versa.
Heatspreader design has been overhauled since the LP version. Now offering a little more surface area through the flared sections at the top, build quality, as usual, is very good. Corsair's Vengeance LPX operates at a JEDEC-approved 1.2V, and equipped with Intel XMP configuration settings, enabling the speed is a 10-second job in most motherboards. Corsair claims compatibility with all the major brands, including Asus, ASRock, EVGA, Gigabyte, and MSI.
Just like DDR3, the vast majority of the actual DRAM is sourced from one of three suppliers: Micron, Hynix or Samsung. Each partner then qualifies it for a certain speed and latency rating, with Corsair opting for 16-18-18-36-2T, as validated by our Asus X99-Deluxe motherboard.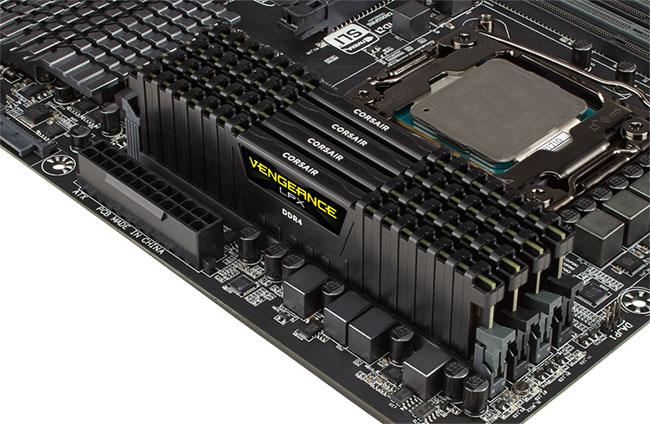 Most high-end X99 motherboards feature eight DIMM slots. Colour coded to show how quad-channel memory is activated when only using four - with two on each side - installation is a cinch. We like the low profile nature of the sticks, which helps when large coolers are installed over the top.
There's a reasonable pricing premium when choosing 2,800MHz memory over 2,133MHz/2,400MHz DDR4. Research shows the slower kits are to be made available for £170 while this Corsair pack chimes in at £250. An £80 price premium needs to be reflected in substantially better performance, so let's get on over to the benchmarks.