New range for Haswell
Reading our review of the Core i7-4770K Haswell chip tells you that Intel's latest processor technology is now more focussed on mobile usage than for desktops. That said, Haswell remains a very competent platform on which to base a new PC build.
Intel has made numerous changes to the fourth-generation Core processor, including a move to a newer socket, but one fact remains the same: Haswell requires dual-channel DDR3 memory. It is this system RAM that also feeds the upgraded integrated graphics, so running faster memory is likely to pay larger dividends than on last-generation Ivy Bridge.
It's no surprise, then, that all major DDR3 companies have been using Haswell as the technological impetus for driving sales. The new chip's memory controller scales better than ever before, evidenced by the current frequency world record standing well in excess of 4,000MHz.
Corsair has also used Haswell's arrival to introduce a sixth family into its DDR3 line-up. Vengeance Pro Series are "memory modules are designed for overclocking on the latest 3rd and 4th generation Intel® Core™ platforms, with ICs specially selected for performance potential," the company says, and the range of modules ship with an all-new heatsink design.
Corsair manufactures 26 Vengeance Pro kits in total, and each kit is split via various metrics: capacity, frequency, latency, heatsink colour, and number of modules. Disregarding the additional products that simply have a different-coloured heatspreader, here is how they pan out:
Model

Kit Size

Modules

Speed

Latencies

Voltage

Vengeance Pro 1,600

8GB

2

1,600MHz

9-9-9-24-2T

1.50V

16GB

2

32GB

4

Vengeance Pro 1,866

8GB

2

1,866MHz

9-10-9-27-2T

1.50V

16GB

2

32GB

4

Vengeance Pro 2,133

8GB

2

2,133MHz

9-11-11-31-2T

1.65V

8GB

2

11-11-11-27-2T

1.50V

16GB

2

32GB

4

Vengeance Pro 2,400

16GB

2

2,400MHz

10-12-12-31-2T

1.65V

32GB

4
Opt for DDR3-1,600 or 1,866MHz memory and the latencies/timings are fixed; the choice is down to overall capacity and cost. Jumping up to DDR3-2,133 brings the only non-standard pack into play, for Corsair specifies an 8GB set (2x4GB) with 9-11-11-31 timings, while the remaining packs use looser 11-11-11-27 latencies and a lower standard voltage of 1.50V.
Vengeance Pro isn't designed for ultimate performance - Corsair has the Dominator line for that - so frequencies currently top-out at 2,400MHz, though there are plans to scale the line all the way up to 2,900MHz. Be aware that the high-performance packs require 1.65V operating juice which, we believe, is the absolute highest for long-term stability on a recent Intel chip. All modules carry easy-configuration XMP settings, too.
These new kits typically have a 10-20 per cent price premium over generic sets, with Corsair claiming better overclockability for Pro variants. The company sent us a 16GB (2x8GB) pack of DDR3-1,866 - model CMY16GX3M2A1866C9 - to review on our shiny, new Haswell platform.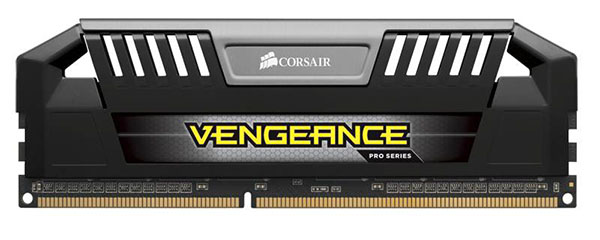 Here's one of the two sticks outfitted with a silver-accented heatspreader, and it's also available in blue or red with matching labels. Complicating matters further, the DDR3-1,600MHz kits also have a gold-coloured heatspreader option that's a good fit for new-look Asus Z87 boards. The premise here, we suppose, is to enable enthusiasts to match the memory to their motherboard design. You wouldn't want clashing colours, right?
So what's actually new here? The modules stand at 44mm-high but are a few millimetres shorter than regular Vengeance. The heatspreader feels as if it's made of the same aluminium adorning standard Vengeance though, subjectively speaking, the new design is nicer. The Corsair-embossed silver accent slides away to leave an all-black spreader, but Corsair isn't planning on releasing any optional accents - the colour of the sticker would be at odds with the changed accent.
Underneath, there's now an eight-layer PCB, instead of the usual six-layer, and extra layers can help reduce electrical noise and enable manufacturers to optimise the layout because shorter traces are required. These factors should help the Pro series overclock better.
Our 16GB kit costs around £130, or £15 dearer than a fairly generic DDR3-1,600 CL10 pack from the Vengeance line. Let's now examine performance and see if Corsair's newest RAM is worth it.