Introduction
Gigabyte is probably better known to you as a provider of a wide range of motherboards. Industry estimates put its annual shipments at around the 20m mark, and the company vies with Asus for the title of world's biggest producer. That said, like any good company, it has diversified outside of its core competency and now has a range of graphics cards, PCs, peripherals and power-supply units.
And the firm is looking to make a bold statement in the ultra-high-end segment of the market by releasing a single 'Xtreme Gaming' PSU dedicated to the true enthusiast. The vital specs of this beast are impressive enough, with 1,200W capacity, fully-modular cabling, and 80 PLUS Platinum certification. Priced at £240, this is a PSU for the big boys who have big toys.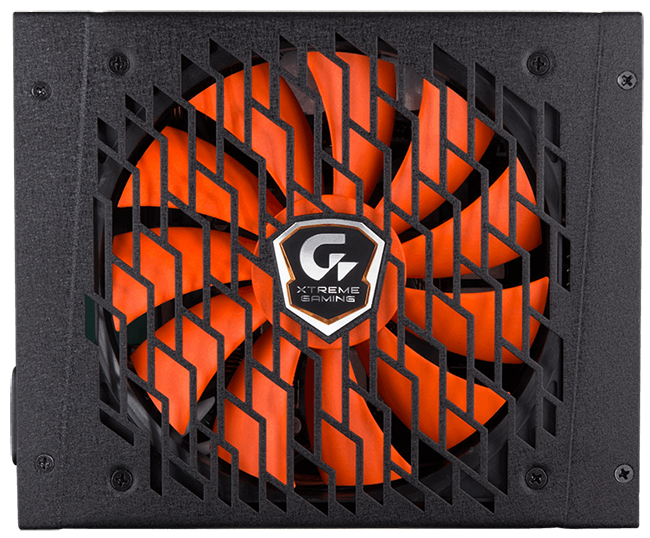 The sturdy unit measures 150mm wide, 86mm high and, of most importance, 180mm deep, which is about the limit for most mid-tower chassis, though do check before purchase. The standout aesthetic features are the 140mm orange fan, interesting grille design, and smooth-touch casing.
The worst-kept industry secret is that only a handful of companies manufacturer PSUs, including CWT, Seasonic, Flextronics, Super Flower and Enhance, and it's very reasonable to assume that any branded PSU's provenance rests with one of these companies. It so happens that Gigabyte uses Enhance as the go-to builder for the XP1200M, and it's been used by other companies, including Rosewill, before.
Enhance rates this platform to an ambient 40°C temperature, which is 10°C below the best in the industry. This rating is an indirect means of gauging the quality of the components, though in our experience Enhance tends to veer on the conservative side. The design elicits a Marmite response. Some may consider the branding a little over the top but you're unlikely to see it once ensconced inside modern chassis that tend to hide the PSU section.
Such huge capacity usually means the PSU runs without the fan spinning when the load is below 40 per cent (480W) on rival solutions. Gigabyte, however, opts to keep the fan switched on at all times, and we feel it is a trick missed for those who consider such PSUs for their ability to run silently at practically all times. The XP1200M is bereft of fancy RGB lighting that seems to be in vogue today, and it is no worse off for it.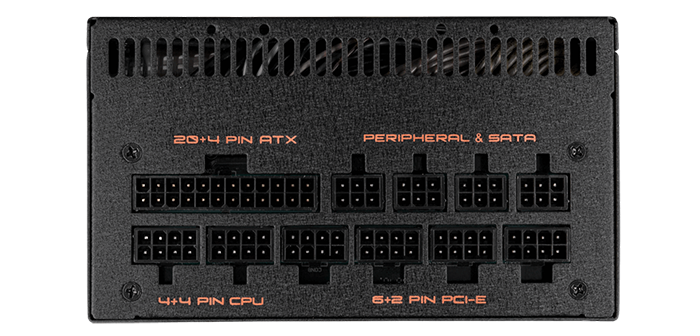 Fully-modular cabling is the only way to go on a premium PSU. Gigabyte is commended for a lot of cables and ensuring their lengths will be adequate even when housed in a full-tower chassis. All told, there are 12 SATA, eight Molex, six 6+2-pin PCIe, two 4+4-pin and the main 24-pin connector. Lengths are rarely less than 650mm and stretch out to over a metre for the SATA. Perhaps our only small criticism is that there's graphics power for three high-end cards (six connectors) rather than four, which the supply can most likely support. Cables are flat and flexible, mind.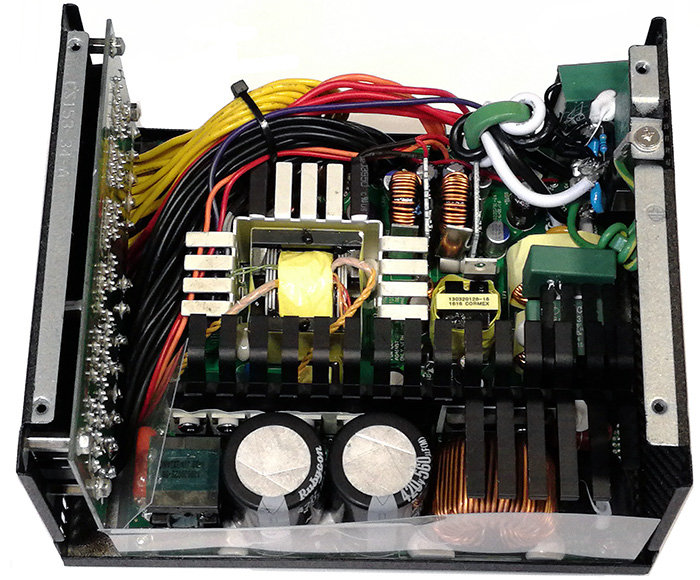 Input filtering is good, with four X and Y capacitors apiece. The MOSFETs come from Infineon, the filtering caps are all rated to 105°C and made by Nippon Chemi-Con, United or Rubycon. Voltage for the lesser 5V and 3.3V lines is derived directly from the 12V - this, then, is a standard DC-to-DC supply. Gigabyte decides to use a single-rail topology which means that all the supply's output can be shunted down the 12V line.
Amps/watts and voltage

3.3V

5V

12V1

12V2

-12V

-5VSB

Rail amps

25A

22A

100A

28A

0.3A

2.5A

Maximum rating

120W

1,200W

3.6W

15W

Maximum rating continuous

1,200W @ 40°C ambient
It used to be the case that such high-power supplies had huge heatsinks attached to the heat-generating components. The pursuit of 80 PLUS Platinum efficiency means this is no longer the case - there's less than 50W of heat generated at full steam.
Backed by a five-year warranty, let's now examine how it performs against a couple of established 80 PLUS Platinum 1,200W PSUs.