Introduction
Power-supply units (PSUs) have become big business for a large number of players over the past five years. While you can spend hundreds of pounds on 1,500W monsters capable of powering esoteric builds, the truth is that energy-efficient computing, where even high-end PCs consume less than 300W at full chat, means that mainstream PSUs needn't cost a lot or be that powerful.
And what if you're just selling PSUs for truly budget systems where a £20 total price can mean the difference between winning or losing? What's needed in this case is an entry-level supply from a well-known manufacturer who is versed with a solid retail presence and proven track record of low failure rates.
Step forward be quiet!, a company whose premium PSUs tend to receive considerable press attention. Building upon its name, the German cooling giant has recently introduced the System Power 8, designed with the 'price-conscious PC builders in mind.'
Said range has seven PSUs - 300W-600W - though only the 400W, 500W and 600W are meant for PC enthusiasts. The other quartet are geared toward SIs for use in turnkey systems. Costing between £30 and £40, value really is paramount. So what do you get for that modest outlay? Let's take a look at the 600W model and find out.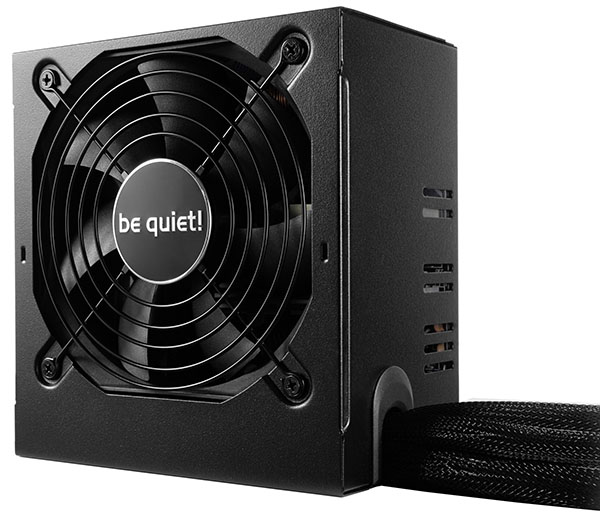 The obvious departure from what we'd term premium supplies is totally captive cabling and therefore no modular ports for connecting only those cables that you need. Nevertheless, build quality doesn't suffer due to the £40 retail price point. A discrete be quiet! logo is on one side while the usual sticker denoting wattages is on the other.
be quiet! creates value by eschewing the typical ball-bearing fans and using a sleeve-bearing 12cm spinner that remains on at all times, so no semi-passive mode, and it can spin at up to 2,100rpm under extreme load. According to be quiet! it's practically inaudible at up to 50 per cent load (300W) and then rises steadily and predictably until full chat.
System Power 8 needs to be installed into a wide range of chassis - big and small - so the 140mm depth makes sense. The other dimensions are typical, too, at 150mm wide and 86mm high.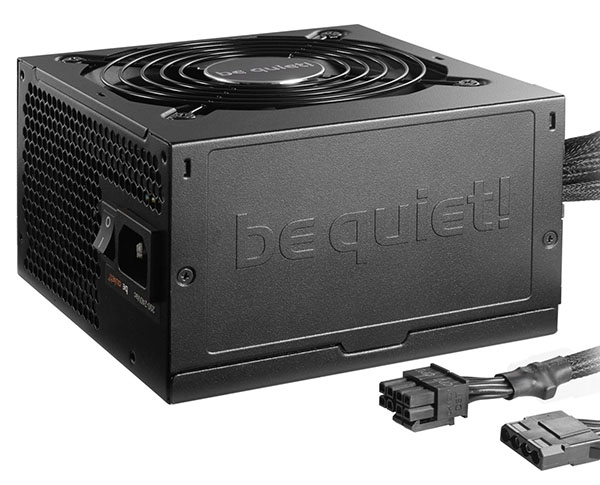 The glut of cabling is more than reasonable. There's a 550mm-long 24-pin ATX cable and a couple of 600mm P4 connectors for the motherboard. It's handy that there are two runs of 6+2-pin PCIe connectors for graphics, enabling dual-card usage, and their maximum length of 650mm is nice, as well. Another cable includes three SATA and one Molex, with the first SATA starting at 550mm.
If your chassis is smaller and you don't want the excess cable becoming a nuisance, the same peripheral combination is repeated on another cable where the first SATA is at just 350mm. All in all, we have 4x PCIe, 6x SATA, and 2x Molex - or more than enough for a mainstream build. The cables are thin, very flexible and fully-sleeved from top to toe. If we were constructing a budget PSU this is a good blueprint to follow.
The electrical performance is another area in which budget PSUs aren't as robust as their premium counterparts. The System Power 8 has basic 80 PLUS certification, which has no fixed specification on a 230V source. We expect it to be at least 80 per cent efficient across a wide load range, though. It's actually worth noting the input voltage because, as far as we can tell, this supply's voltage is limited to 200-240V.
Amps/watts and voltage

3.3V

5V

12V1

12V2

-12V

-5VSB

Rail amps

24A

28A

22A

0.3A

3.0A

Maximum rating

120W

576W

3.6W

15W

Maximum rating continuous

600W @ 40°C ambient
We're used to seeing single-rail (12V) supplies in the main, but be quiet! uses dual rails in this instance. What's more impressive is that 600W is rated at a reasonably toasty 40°C. Peering inside the chassis is instructive because it shows the underlying platform. In the case of the System Power 8, be quiet! is using what looks very much like an entry-level HEC platform also seen on a previous Xilence PSU (now part of the be quiet! stable) and, it must be noted, on be quiet!'s own Pure Power 630 supply from yesteryear.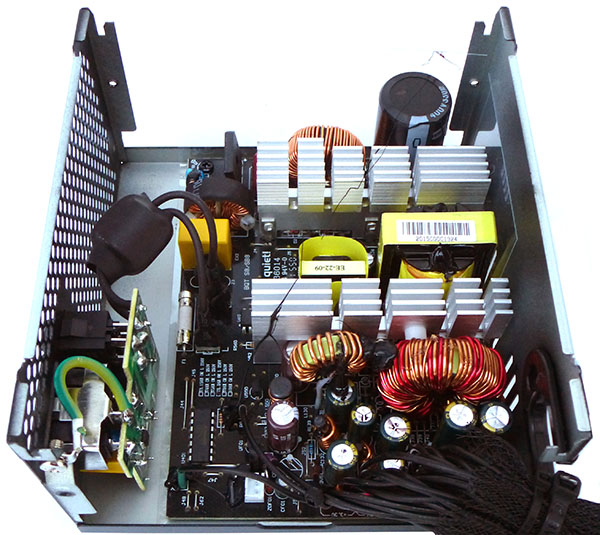 An attractive price, three-year warranty, and widespread availability from leading retailers. There's much to like on the first page. Let's now run the numbers on the monster Chroma machine.