Introduction
German PSU manufacturer be quiet! released an update to its popular, premium Dark Power Pro line just a short while back. Now referred to as the 11-series range, the original trio, understandably, focused on higher wattages and premium pricing. The 850W, 1,000W and 1,200W models performed well and were ripe for a recommendation to the enthusiasts who wanted super-stable power at high loads, but those with more modest energy requirements were left wanting 80 PLUS Platinum-level efficiency.
Though that isn't the case as of today; be quiet! has extended the Dark Power Pro 11 range to accommodate 550W, 650W and 750W capacities. Designing for lower capacities is inherently more tricky, explaining why the mainstream supplies are later to market.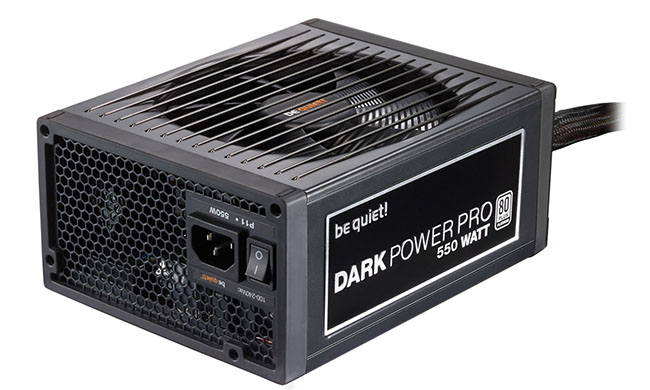 be quiet!'s thinking is squarely on not changing an aesthetic and build that's worked well over the years. The casing quality is top-notch and, as far as we can tell, an exact replica as found on the larger-capacity designs.
The visual similarity is only skin deep, mind, as the 135mm SilentWings 3 fan profile is differently for each supply. Take the review 550W as an example, whose speed is deliberately limited to 1,200rpm at full chat. That may not sound like much, but it's enough to push 55.35CFM through the casing.
Dark Power Pro 11 eschews the silent-fan mode commonly found on other quality supplies. Rather, the fan operates at all times but is reckoned to be so quiet as to be virtually inaudible. Indeed, the company has measured the fan at 8.5dB when at 10 per cent load and at just 10.1db when operating at 100 per cent. This sounds preposterously low, as the noise floor of our lab is approximately 28dB, but each manufacturer has their individual testing regime that is often impossible to cross-compare.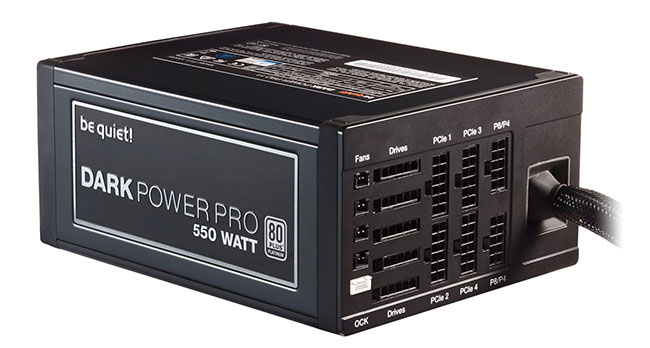 We like the way in which the modular cabling is arranged, enabling easy access to the various ports. As usual, the supply has four fan-header ports that can be used in lieu of the motherboard's for controlling attached fans, while the OCK port, connecting to a supplied bracket, bonding the various 12V rails together, is now resident below fan control.
Excellent build quality remains a hallmark of be quiet!'s premium supplies and the Dark Power Pro 11 is no different. Rubber bumpers line both sides and cover the screw holes. be quiet! has taken the opportunity of redesigning the various connectors on the front, now grouping the graphics-orientated PCIe in the same section as peripherals and fan control.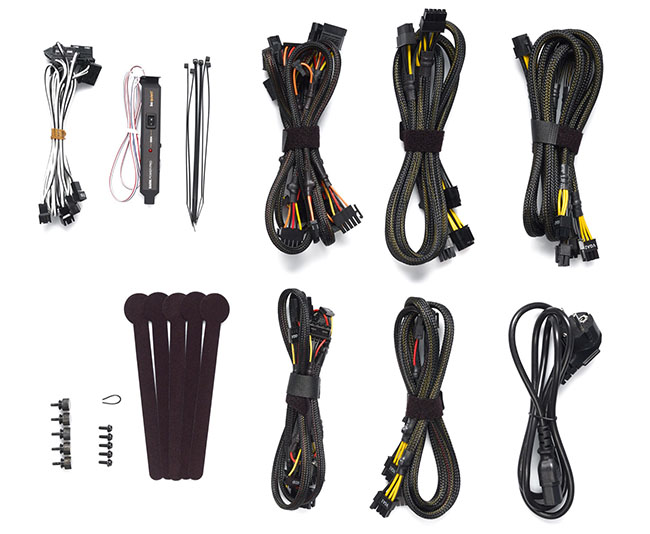 Cabling is of high quality but, once again, we believe that be quiet! should be using flat cables for its premium supplies; getting them through the motherboard holes and arranging a super-neat build is so much easier than with the regular round ones contained in the package. This fact is particularly true when all of the cables are used at once.
Cables
Length, plugs
Main (24-pin)
60cm x1 (fixed)
ATX/EPS (8-pin)
70cm x1
PCIe (6+2-pin)
60cm x2
60cm x2
60cm x1
SATA
60-90cm x3
60-90cm x3
60-75cm x2
Molex

70-85cm x2 (on SATA cable)
60-75cm x2


Floppy
1x on SATA and Molex connector
Cabling isn't as extensive as, say, on the 850W, though it doesn't need to be.
The supply uses a conventional four-rail supply to the 12V line but the PSU can be set to shunt all of its power down a single rail by using the overclocking key switch or by a supplied jumper that shorts the OCK port. Speaking of power, here's how the Dark Power Pro 11 550W shapes up.
Amps/watts and voltage

3.3V

5V

12V1

12V2

12V3

12V4

-12V

+5VSB

Rail amps

25A

22A

20A

20A

25A

25A

0.5A

3A

Maximum rating

110W

550W combined

6W

15W

Maximum continuous rating

550W @ 50°C ambient
Nothing untoward here, and we like that the full capacity is rated at a toasty 550W.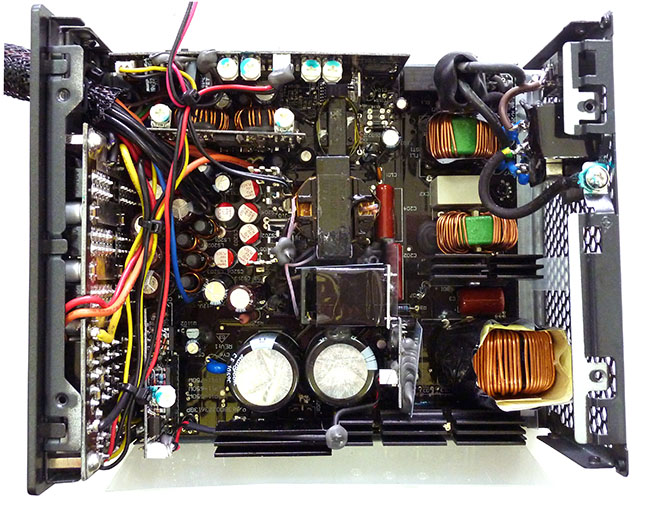 Inside, as usual, there are no major surprises. Filtering is good, general layout clean - though the soldering could be a touch better - and be quiet! uses premium-quality capacitors on both the primary and secondary sides.