Introduction
Corsair continues to revamp its range of power supplies in 2015. Incremental improvements to long-standing ranges make each series that little bit better. The HXi is a case in point, which is now very close in specification to the range-topping AXi released a while back.
This year-on-year improvement is also in evidence for Corsair's latest premium supply. The RM series was launched about two years ago, focussing on low-noise operation, but is now superceded by the RMi that arrives with a handful of improvements over an already-decent design.
Interestingly, looking at Corsair's website shows that RMi will co-exist with regular RM for a while yet. Outfitted with a new livery, 650W, 750W, 850W and 1,000W models are now becoming available, and we take a look at the 850W variant today.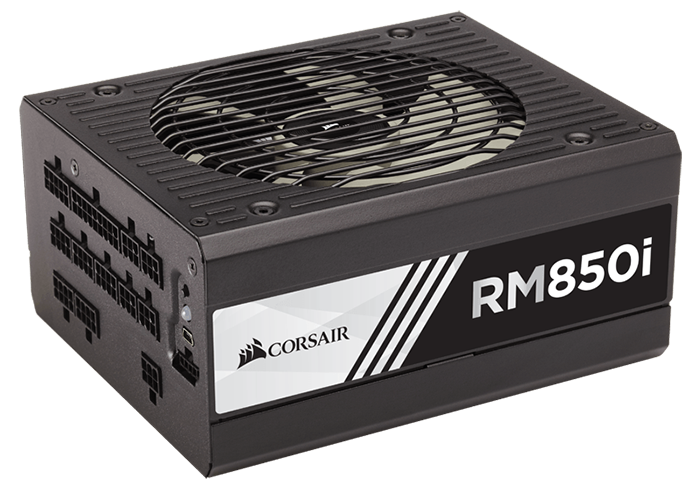 Little appears to have changed on the outside as the RM-based PSUs occupy what appears to be an identical chassis measuring 180mm x 150mm x 86mm. Both feature fully-modular cabling, Corsair Link compatibility and a fan that only turns on once load has reached approximately 40 per cent of total capacity, or 340W in our case. The firm reckons this remains true if the ambient temperature is 25°C or less.
There's a fair chance the fan will never switch on in a modern PC housing a single graphics card; our test system equipped with a reference GTX 980 Ti doesn't reach this figure at the wall. It's no surprise that Corsair has a prominent label pre-attached that informs the user the fan is supposed to remain off at low loads - this has been a cause of unnecessary RMA returns in the past. There's a fairly linear ramp in fan speed once 40 per cent is breached, and Corsair reckons it never goes above 21dBA in its own internal testing.
So what has changed, you may ask? Corsair improves the basic fan in the RM line by now using a dual ball-bearing, 135mm spinner that's quieter and longer lasting. A revised internal platform is able to offer the full capacity at an ambient 50°C, or 10°C higher than its predecessor. Corsair bumps up the warranty to seven years instead of five, and RMi is also equipped with far closer integration with the aforementioned Link software.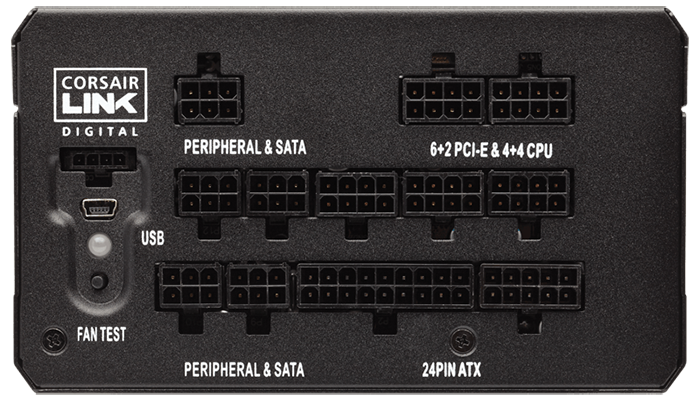 Note the deliberate placement of the 'fan test' button? That's one way to avoid non-faulty units being sent back. Outputs-wise, Corsair jigs the various ports around - the peripheral and main 24-pin ATX are now at the bottom - but keeps the number the same at 12. The package includes a healthy array of flat, sleeved cabling, comprising of a single 24-pin ATX, two 4+4-pin ATX12V/EPS, six 6+2-pin PCIe, 10 SATA, eight Molex, two Floppy and a couple of Corsair Link cables for good measure. And good measure they all are, too, with SATA running up to 850mm and the shortest motherboard cable being 610mm long.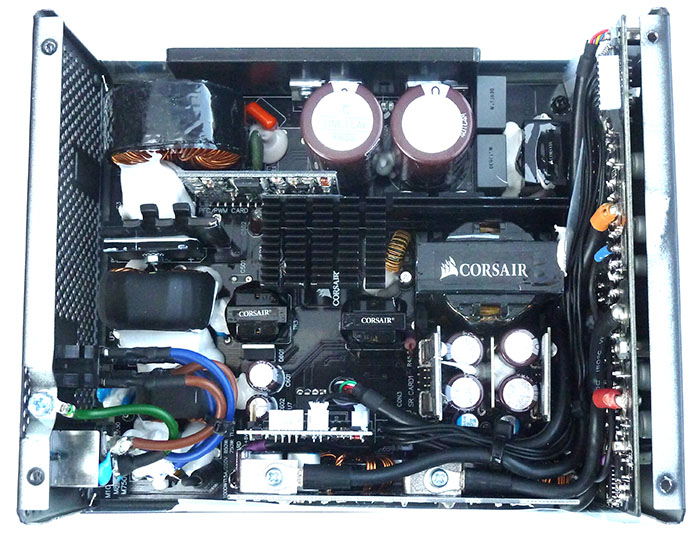 Speaking to Corsair, the focus of the RMi is on the dual aspects of quietness and excellent ripple suppression. A peek inside shows that to achieve this the company has deepened the relationship with OEM-maker CWT and opted for a newer platform that covers the 750W, 850W and 1,000W models.
Now, this RMi uses all-Japanese capacitors for both primary and secondary stages. We'd usually see large heatsinks in evidence everywhere inside a high-wattage PSU but this isn't the case here. Corsair clearly believes that CWT's platform is good enough to produce very little heat when running below 40 per cent capacity, hence the semi-passive nature of the supply. We're a little surprised therefore that this is an 80 PLUS Gold-rated model, not Platinum, but there has to be some meaningful differentiation between this and the dearer HXi range.
Amps/watts and voltage

3.3V

5V

12V1

-12V

-5VSB

Rail amps

25A

25A

70.8A

0.8A

3A

Maximum rating

150W

850W

9.6W

15W

Maximum rating continuous

850W @ 50°C ambient
It's very common to see modern supplies offer all of their capacity down a single 12V line. The RM850i does this too though the Corsair Link software can force it to run in multi-rail model where the 12V output is separated into five lines. Why? Because you may want explicit over-voltage/current protection on a particular rail when using watt-guzzling CPUs and GPUs.
Equipped with a number of advancements over the older RM, this 850W model fetches £120 at retail. Let's run the numbers to see if it's worth investing in.