Introduction
There is no shortage of quality power-supply units (PSUs) on the market. The sweetspot, as far as we're concerned, is with 80 PLUS Gold-rated models that offer fully-modular cabling. Significantly cheaper than Titanium supplies but offering almost all of the performance, these £70-£100 models are a good fit for anyone looking to power a new PC build.
Stepping into this market is Antec with the release of a trio of new supplies that are marketed under the EDGE banner. Now available in mainstream 550W (£75), 650W (£90) and 750W (£100) capacities, the EDGE series combines high efficiency and modular cabling in one tidy package.
The 650W model, in for review today, looks a little different due to the red bumpers on each side. These are easily removed and replaceable by a couple of black ones also included in the box. The supply can also be fitted without them, but it looks surprisingly good with the bumpers attached... assuming the insides of the chassis are also red. They are for more than looks, too, as Antec claims the bumpers reduce vibration in the chassis.
But there is a potential downside. Using the bumpers increases the PSU thickness by a few millimetres, enough for it to be a tad difficult to install in some tighter chassis. Being fairly standard in size, measuring 170mm x 150mm x 86mm (DxWxH), and equipped with a 135mm fluid-bearing fan, Antec's bumper-less supply should fit just fine into most cases, however.
Fully-modular cabling is always appreciated here at HEXUS. Antec has flat cabling for all but the main 24-pin cable destined for the motherboard. Flat cabling not only looks better but provides opportunity for cleaner airflow through the chassis. The EDGE is different from most insofar as it has two 16-pin connectors on the bottom, into which two standard 8-pin models can be fitted. The larger number of pins enables bigger cables to be used in the future.
The little LED I/O button does exactly what it says, that is, provide lighting for the fan. Other supplies use a similar button to switch between regular and hybrid-fan modes where the fan remains inactive until a reasonable load level is reached. We'd have preferred this feature to the lighting.
Cables
Length and plugs
Main (24-pin)
55cm x1
ATX/EPS (8-pin)
55cm x1
PCIe (6+2-pin)
50-60cm x4
SATA
50-80cm x9
Molex
50-80cm x6
Floppy
Extended from Molex
The clean design is certainly a step up from most, and this EDGE has overtones of be quiet!'s styling about it. Cable lengths are reasonable but it's the quantity of cabling that's good. Used concurrently, the power supply can, wattage permitting, drive two high-end graphics cards, a raft of hard and optical drives and enough peripherals for a premium build. As you would expect from a supply in 2014, the EDGE is Haswell-compatible, meaning the 12V rail(s) don't go out of spec if there's substantial load on the minor lines.
We like to see bigger, wider fans incorporated into supplies. Notwithstanding the dead-spot, larger fans can spin more slowly and produce the same airflow as smaller ones. Known as HA13525H12F-Z, Antec's fan is manufactured by Ong Hua and is also used in some rival supplies. Specifications are generic enough, with the 25mm-thick spinner operating at a maximum 2,300rpm. The size and maximum speed feels overkill for a quality 80 PLUS Gold supply.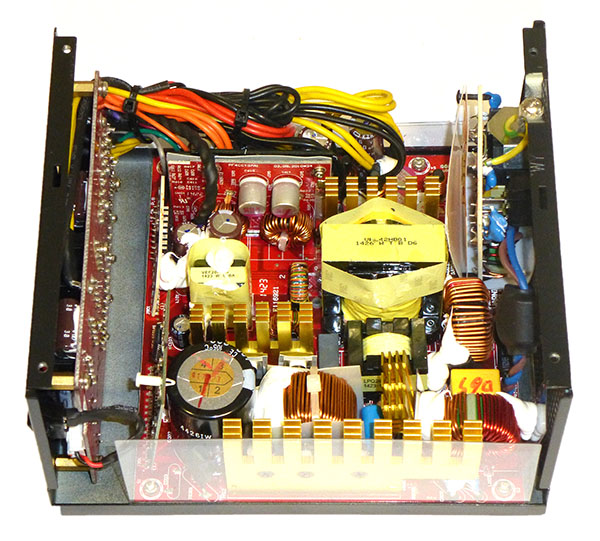 Inside, Antec goes with a Seasonic base platform first seen on the company's G-series. The similarities between this and the XFX XTR, which uses the same base, extend to the fan, too. The two PSUs are therefore very closely related. Drilling down, Antec/Seasonic's version has primary-side filtering taken care of by a Rubycon capacitor rated at 105°C. Secondary-side ripple filtering is handled by quality Enesol and Nippon Chemi-Con caps rated at the same 105°C.
Soldering quality is excellent. The recent trend has been to push all the supply's available capacity down a single 12V rail. Antec, on the other hand, splits it into two. The minor rails still branch off the main 12V, meaning this is another example of a two-module DC-to-DC supply.
Amps/watts and voltage

3.3V

5V

12V1

12V2

-12V

+5VSB

Rail amps

20A

20A

35A

35A

0.3A

2.5A

Maximum rating

100W

648W

3.6W

12.5W

Maximum continuous rating

650W @ 40°C
The two 12V rails offer 35A apiece but combine to push very nearly all the capacity down the important rail. We can generally infer the quality of a PSU by the ambient temperature of the continuous rating. The best supplies offer full power at 50°C, due to higher efficiency and better engineering. Antec strikes a mid-balance with the 40°C figure.
Based on a Seasonic design and all the better for it, the Antec EDGE series has, on first inspection, a solid array of good technology.