Plain exterior, superb interior
Our buying advice pertaining to PSUs has fluctuated over time. In light of significant energy efficiency improvements made by manufacturers of CPUs and GPUs, where a high-end system chews through no more than 300W, we have wondered at the need for 800W-plus supplies.
Yet the nascent craze of coin mining has brought high-wattage, high-efficiency PSUs back into the spotlight. Ideally such a supply would have a long warranty, 80 PLUS Platinum efficiency and a roster of fully-modular outputs that cater for every need. Antec believes it has such a supply in the High Current Pro Platinum (HCPP) 850W.
Also available in 1,000W and 1,350W capacities, the HCPP line arguably represents the best of what Antec has to offer. Pricing is suitably premium, with the 850W unit fetching £185 at retail, which is up to 25 per cent higher than competitors' Platinum-rated PSUs.
Fully-modular design
The fully-modular HCPP 850W is a plain-looking unit that measures 190mm (L) x 150mm (W) x 86mm (H). Build quality is good but the sticker denoting the capacity seems like an afterthought. Compared side by side against the best that companies such as Be Quiet! and Seasonic have to offer, the staid looks make it feel like a cheaper unit. Yet it's what's on the inside that counts.
Cooled by a 135mm fan from Delta Electronics - model number AFB1312M - regulated by a dedicated fan controller, there is, unlike others, no zero-RPM mode for low loads, where the fan is switched off. We believe this to a missed opportunity on Antec's part, especially given the super-high efficiency. Having a 'silent' PSU at up to, say, 250W loads is a feature we've come to like.
Antec's made a few changes since the original HCPP 1,000W was debuted over 18 months ago. The plug connectors are now black, instead of red, but the arrangement is the same. Antec continues to use five 16-pin connectors on the HCPP 850, which, even now, isn't common fare for even high-end supplies. The company says it uses such a setup for maximum flexibility, where dual pairs of 8-pin plugs can be attached without problems.
The main motherboard 24-pin connector is non-standard as it requires the use of the 'MB' socket and, like the HCPP 1,000W, half of any the five 12V sockets on the bottom half. What's new, however, is the OC-Link connector. This allows two (non-matching) HCPP supplies to be tied together for extra wattage. The two function as one as far as the system is concerned, so a potential 1,700W is available if you have space for two 850W models in your chassis. This feature makes more sense on this 850W model than the 1,000W or 1,300W - there are very few, if any, rigs that require that much power.
Matching the black PSU sockets is all-black cabling that has the stealth aesthetic going on. All cables are labelled for easy identification and fully sleeved. Purely from a subjective point of view, we'd prefer the flat, ribbon-like cables that are now available on rival supplies. What Antec may lose in appearance it makes up for in quantity.
Cables
Cables, type, length, plugs on cable
Main
24-pin (55cm) x1 cable
ATX/EPS
8-pin (65cm) x2 cables - 2 in total
PCIe
6+2-pin (55-70cm) x3 cables - 6 in total
Cable 1
3x SATA (55-85cm) x3 cables - 9 in total
Cable 2
3x Molex (55-85cm) x1 cable - 3 in total
Cable 3
3x Molex (75cm) and floppy x1 cable - 3+1 in total
Cable 4
OC Link
Six 8-pin PCIe, six Molex and nine SATA represent a decent haul for a upper-mainstream supply. All can be simultaneously connected to the supply, as well.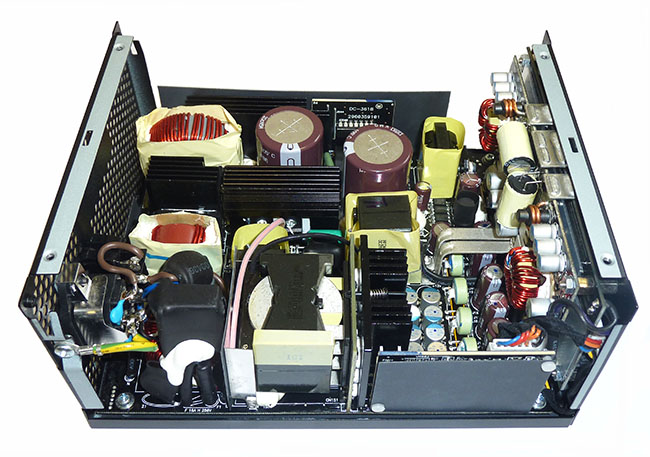 Top-class internals
Open her up and familial similarities are hard to ignore. Delta Electronics is the OEM for this model and, from a cursory examination, the innards are practically identical to the HCPP 1,000W. Delta is a top-tier manufacturer with considerable history is designing server-class PSUs... and it shows. If there was a beauty contest for constructing a high-quality consumer PSU, Delta would likely win. The supply uses a DC-to-DC design, carries excellent filtering, and employs premium Japanese capacitors throughout.
Amps/watts and voltage

3.3V

5V

12V1

12V2

12V3

12V4

-12V

+5VSB

Rail amps

25A

25A

40A

40A

40A

40A

0.5A

3.5

Maximum rating

130W

850W

6W

15W

Maximum rating continuous

850W @ 50°C ambient
One of the reasons why we're making regular references to the HCPP 1,000W rests with how this 850W unit is plumbed out. The per-line maximum rating is the same, albeit with lower total continuous power. It wouldn't surprise us in the least if this unit used a 1,000W core.
Backed by a seven-year warranty and based on top-class internals from Delta, performance should be excellent.