The supply
They say you can't have too much of a good thing. Component manufacturer Corsair is clearly of this thinking as the company is adding yet another range of power supplies to its burgeoning line-up, now encompassing eight distinct models. The latest entrant is dubbed the CS Series Modular, available in capacities from 450W through to 750W, and rated to the 80 PLUS Gold standard with respect to efficiency.
| | |
| --- | --- |
| Capacity | Recommended Price |
| 450W | $89.99 |
| 550W | $99.99 |
| 750W | $119.99 |
Sitting between the recently-reviewed RM Series and TX Series in terms of pricing and performance, these semi-modular supplies overlap on the features of other PSUs in Corsair's arsenal.
We're a little confused with the US pricing of the units, as the equivalent-wattage RM supplies cost just $10 more in each instance, and for that outlay you receive a Corsair LINK-compatible fully-modular supply that has a zero-RPM fan mode - silent at low loads - as well as a higher-quality noise-reducing fan.
What's more, the RM supplies have a five-year warranty, as opposed to three here. That's a whole bunch of worthwhile extras for, really, minimal additional spend. But hey, when specifying a build, especially on the budget side, every penny counts, and we're glad to see that UK pricing makes a lot more sense - the CS Series Modular 550W model costs £65, compared with £85 for the equivalent RM.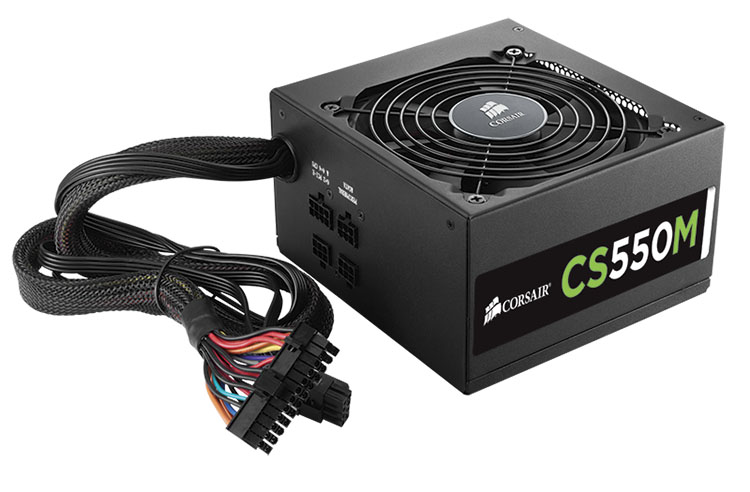 The 550W model, measuring 150mm x 86mm x 140mm, is 20mm shorter than the equivalent RM. Perhaps more importantly, this means the fan is smaller; Corsair uses a 120mm sleeve-bearing fan instead of a 135mm rifle-bearing present in the RM. The fan remains on at all times, though Corsair's internal measurements reckon it produces about 10dB of noise at 50 per cent capacity. As you can see, the main 24-pin ATX (60cm) and 4+4-pin EPS (65cm) are hardwired to the chassis.
There are four available connectors on the supply, and Corsair provides four runs of cabling to fill out the CS550M. Here's how they are arranged.
Cables
Cables, type, length, plugs on cable
Main
20+4-pin (60cm) - hardwired
ATX/EPS
P4+P4 (65cm) - hardwired
PCIe 1
2x 6+2-pin (up to 75cm)
Peripheral 1
2x SATA (up to 60cm)
Peripheral 2
3x SATA (up to 70cm)
Peripheral 3
4x Molex (up to 75cm) + 1 floppy
A couple of eight-pin PCIe connectors enable the supply to power almost all the graphics cards on the market, including the GeForce GTX 780 Ti and Radeon R9 290X. Folk wanting to run two such cards will need to look towards the 650W and 750W models, outfitted with double the PCIe connections.
Five SATA, four Molex and a floppy extension all make good sense for a PSU of this capacity. The cables are flat and easy to push through the holes in most chassis.
Amps/watts and voltage

3.3V

5V

12V1

-12V

-5VSB

Rail amps

25A

20A

43A

0.8A

3A

Maximum rating

110W

516W

9.6W

15W

Maximum rating continuous

550W @ 40°C ambient
Power-wise, Corsair adopts the single 12V rail that's become increasingly popular of late. One can shunt 94 per cent of the maximum continuous power down the primary line. The PSU uses a DC-to-DC architecture that's consistent with the way the RM Series is designed. Pragmatically, this means the 5V and 3.3V rails tap off the main 12V's.
Inside, Corsair uses a new OEM here, Great Wall. Examination of the unit shows that the CSM uses Nippon Chemi Con for the primary caps, albeit rated at 85°C, not 105°C, and Teapo for the secondary caps. Soldering can be considered average and the relatively small dimensions of the supply means there's not a whole heap of spare space.