Filling out the high-end range
Corsair's branching out into PSU retailing has, in hindsight, been a good move. Debuting with the HX range back in 2006, Corsair's current catalogue numbers seven different series that span from 350W-1,200W capacities, often with overlapping wattages present in different families.
The newest member is the RM Series, released a couple of weeks ago. The all-new RM sits third in the PSU hierarchy behind the AX(i) and HX models. But third doesn't mean bronze, literally, as the RM, available in capacities from 450W to 1,000W is rated at 80 PLUS Gold, uses fully-modular cabling and has a zero-fan mode at low loads. In effect, then, it takes some of the good bits out of other Corsair supplies and amalgamates them into one new model.
Corsair says RM is optimised for silence, backing up the assertion with knowledge that the 135mm fan isn't activated until 40 per cent load, based on an ambient 25°C room temperature. Even when it does kick in, the company informs us, the fan is markedly quieter than rival solutions.
We have the 750W version in for review today, available right now for £99. Measuring a standard 180mm (d) x 150mm (w) x 86mm (h), the styling is typically understated Corsair. The metal chassis and grille design are familiar, though the grey fan colour juxtaposes against the all-black exterior. Build quality is very solid; there are no squeaks or rattles and the unit is well put together.
The left-hand connector hooks up to an optional Link interface, pioneered by Corsair to provide real-time feedback via on-screen GUIs. Link hasn't been the success that the company had hoped, but the relevant cabling is included in the bundle.
Peripheral connections are arguably more important. The ATX connector, split on the PSU side, takes a complete row, while PCIe (graphics) and 4+4-pin CPU populate the space underneath. Two 8-pin PCIe give rise to four 6+2-pin connectors on the graphics side, which is enough to power a couple of GeForce GTX Titans without issue.
Four SATA/Molex/floppy runs can supply up to 17 connectors (8/7/2, respectively) meaning Corsair has a good balance between capacity and connections.
Cables
Cables, type, length, plugs on cable
Main
20+4-pin (60cm)
ATX/EPS
P4+P4 (65cm)
PCIe 1
2x 6+2-pin (60cm-75cm)
PCIe 2
2x 6+2-pin (60cm-75cm)
Peripheral 1
4x SATA (70cm)
Peripheral 2
4x SATA (70cm)
Peripheral 3
4x Molex (75cm) + 1 floppy
Peripheral 4
3x Molex (75cm) + 1 floppy
You can use every single cable and connector by populating all slots on the PSU. You lose a Molex if a floppy is required, though we don't imagine this will apply to many users. The cables are nice and flat and therefore relatively easy to massage through the usual cutouts found in modern chassis.
Amps/watts and voltage

3.3V

5V

12V1

-12V

-5VSB

Rail amps

25A

25A

62.5A

0.8A

3A

Maximum rating

150W

750W

9.6W

15W

Maximum rating continuous

750W @ 40°C ambient
Power delivery is standard for a supply of this ilk. 12V power is crucial when running overclocked CPUs and graphics cards and Corsair is able to shunt the entire 750W of continuous power, at up to 40°C ambient temperature, down the single-rail 12V line if needs be.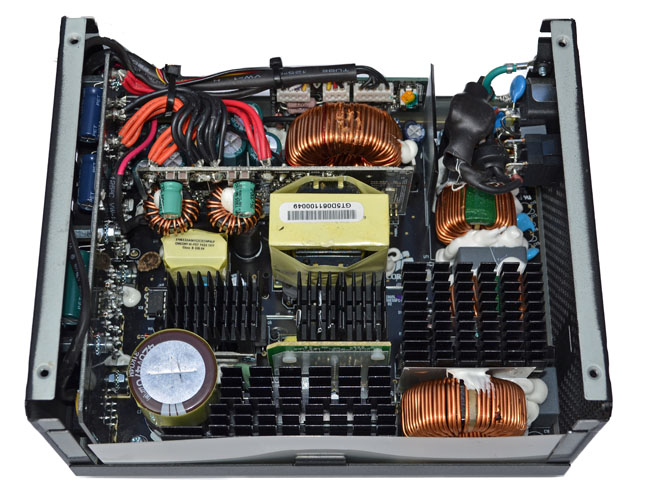 Opening her up reveals no unexpected surprises. Corsair has three platforms for different-wattage models. The one above is also shared by the 850W version. Modern supply design grabs the output for the minor lines - 3.3V and 5V - by tapping into the 12V, and Corsair has done just that here. Filtering is good, as are the heatsink-covered bridge rectifiers and MOSFETs.
Corsair uses Japanese-made, 105°C-rated main hold-up and secondary capacitors, which is good news, and the 80 PLUS Gold certification means that there isn't a great deal of heat produced when converting AC to PC-friendly DC, enabling the RM750 to be equipped with a quiet fan that, at most times, doesn't even switch on until 300W or so is being pulled from the wall.
Backed by a five-year warranty and, on first inspection, striking a nice balance between features, performance and cost, can the numbers reinforce the RM750's appeal?